Another Podium for CRG at the WSK: Bortoleto Conquers Third Place in Sarno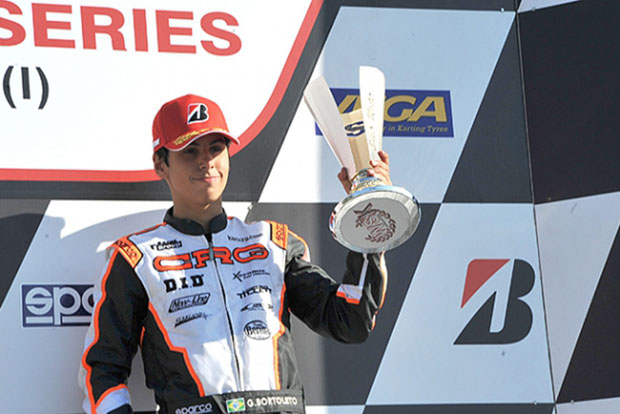 Positive balance for the CRG drivers in Sarno during the last round of the WSK Super Master. Bortoleto conquered his first podium in OK, whilst a contact during the final deprived Hiltbrand (OK) and De Conto (KZ2) of a good result. In OK Junior good also Trulli.
At the 4th and last round of the WSK Super Master, held in Sarno at the Naples International Circuit, the work to prepare for the FIA Karting Championships continued with positive results.
Gabriel Bortoleto was in evidence in Sarno and he earned the podium of the WSK, excellent performer of the OK where he managed to be among the major protagonists and conquered a nice 3rd place. It didn't go well for Pedro Hiltbrand instead, after being on the podium in La Conca during the previous round. In Sarno, Hiltbrand showed an excellent potential again, but after the 4th place in prefinal, he had to retire for an accident. Positive race for Kas Haverkort, racing with CRG Keijzer Racing, 13th on the finishing line. Dexter Patterson was the winner of the Series in OK.
In KZ2 Paolo De Conto confirmed to be among the fastest, third in Prefinal after being at the head of the race, but during the Final an accident in the first laps put out the Italian driver from the top of the race in Sarno. In KZ2 Jean Luyet with DEL Motorsport ended 12th, whilst Benjamin Tornqvist with CRG Holland finish 14th, Javier Sagrera 15th. Filippo Berto had to retire too. The victory of the Series went to Bas Lammers.
In OK Junior excellent race for Enzo Trulli, 9th on the finishing line at the end of an escalating weekend after a difficult beginning in the qualifying practice. Lucas Pons qualified for the Final as well, finishing 29th, whilst Enzo Scionti had to surrender to the Prefinal with the CRG Keijzer Racing Team. The Series was won by Andrea Kimi Antonelli.
The FIA Karting international season will start on April 21st in Angerville, France, with the first round of the OK-OKJ European Championship.
Gabriel Bortoleto (OK): "I am very happy about my first podium in OK, but we are especially satisfied with our speed. After the positive weekend in Muro Leccese, also here in Sarno on a track with different features, our chassis proved to be competitive in all the race phases. We tried a lot in view of the European Championship and we are all very satisfied with the work done."
Paolo De Conto (KZ2): "It was a very productive weekend from the technical point of view. We could have won or go on the podium, but it wasn't the most important thing today. What counts is that our technical pack chassis-engine works well and this will allow us to be protagonists in the FIA championships."