Race Report: Sunshine State Karting Challenge – Round One and Two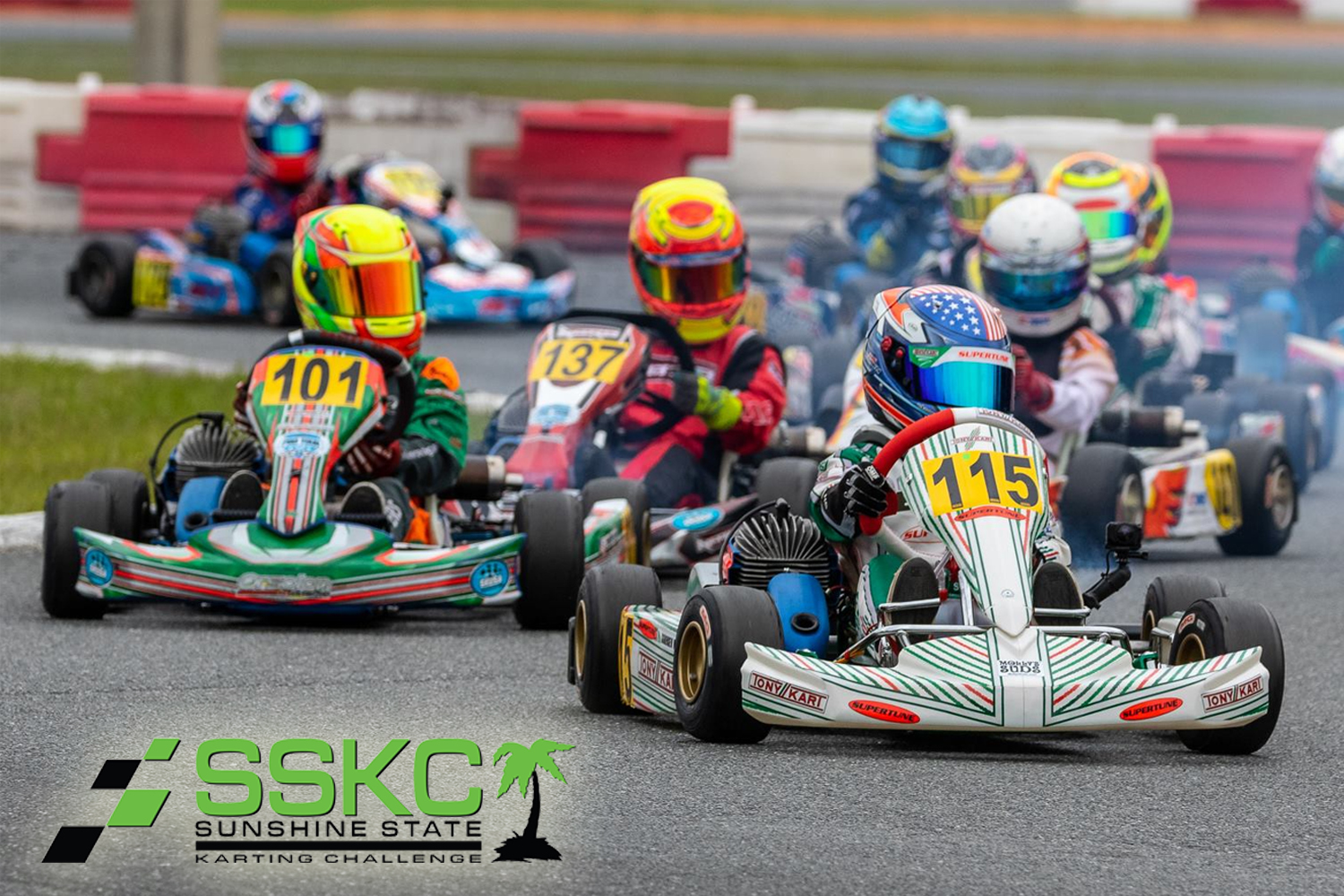 The opening two rounds in the 2019 Sunshine State Karting Challenge took drivers to a familiar sight in Ocala, Florida. The closest track to a "bullring" in top-level karting continues to host national-level events each year and hosted the season finale of SSKC's inaugural championship in 2018.
More than 100+ drivers were in attendance, blowing the previous entry record out of the water. They were greeted with sunny skies and warm weather on Saturday. Sunday saw a much more overcast picture, with rain threatening the event all day. However, outside of some light showers during the lunch break, the weekend remained dry.
IAME Bambino / Comer Kid Kart
Benja Fernandez (Birel ART / VMotorsport) spent the majority of Saturday chasing down fellow BirelART driver Alessandro Truchot (Birel ART / Pole Position Motorsports). However, Fernandez rose to the occasion in the Final. He passed Truchot early on and never looked back, setting fast time of the day in the process. Maxwell Macha (Birel ART) ended 3rd while Andrew Swatiek (Top Kart) scored the inaugural victory in the Comer Kid Kart division.
Truchot remained determined on Sunday for Round 2, and when the rain slickened the racing surface for the Final, he drove a flawless race to score his first SSKC victory. Fernandez struggled slightly in the wet, but he held off Macha for 2nd with Swatiek sweeping the weekend in the Comer Kid Kart division.
IAME Micro Swift
A number of drivers poked their heads at the front of the IAME Micro Swift division, with 11 total taking to the racetrack on Saturday. Enzo Vidmontiene (Benik) struck first, scoring the pole. Oliver Wheldon (Kosmic / JC Karting) then went on to win the Pre Final from second on the grid and take the Round 1 victory. However, Vidmontiene remained close in second and Nitro Kart's Carson Weinberg (Nitro) put in a solid drive to end his day on the podium in third.
Sunday saw a reversal of roles with Vidmontiene scoring a birthday win in dominating fashion. Wheldon struggled to start the day and was set to finish third before lapped traffic backed up Weinberg enough for Oliver to slip by into second. Weinberg held onto P3 for a double podium weekend, although a one lap shorter Final could have put him a step higher.
Shifter
Michael Stevens (TB Kart) was absolutely unstoppable in Round 1 on Saturday. He completed a perfect day with snagging the pole award in qualifying, leading all laps to win the Pre Final, and leading every lap to win the Final. Zachary Hollingshead (TB Kart) and Vincenzo Sarracino (TB Kart) placed best of the rest in 2nd and 3rd, but neither of them had anything for their teammate in Stevens.
Round 2 saw Stevens step out of the driver's seat, opening the door for a new winner on Sunday. Keith Spicer (TB Kart) made some overnight gains to put in the fastest lap in qualifying, but from there on it was all Zachary Hollingshead. Hollingshead got the holeshot in the Pre Final and went on to sweep the afternoon's races. Spicer did hold on for second, with Vincenzo Sarracino getting by TB Kart USA team boss Farshad Bagheri (TB Kart) late in the Final to take third.
IAME KA100 Junior
Kyffin Simpson (Tony Kart / Speed Concepts Racing) was absolutely dominant in KA100 Junior on Saturday, with Marcos Telle (Kosmic / JC Karting) and Gianpaolo Andreasi (Tony Kart) rounding out the podium. Simpson was absent from competition on Sunday, though, opening the door for Andreasi to snag the victory with Telle right behind.
Briggs Senior
While it was not the biggest class, the Briggs Senior division definitely saw the most chaos throughout the weekend. Numerous incidents on the opening laps of each race session shook up the running order. Nearly every driver on the grid was involved in some kind of crash over the course of the weekend except for one: Colin Warren (VLR / TS Racing). Warren took full advantage of the clean weekend by sweeping all four race sessions for another dominant outing in Briggs 206 action.
Behind Warren, the podium saw quite a few different drivers standing on the steps over the two rounds. Jack Copeland (Birel ART / RYSA Racing) and Dylan Amundsen (MGM) ended second and third on Saturday, while Hunter Fox (Margay) and Jed Perkins (Margay) put the long time American manufacturer on the box at Round 2 on Sunday.
Briggs Heavy
Jorge Ruiz (TB Kart) was practically untouchable in Briggs Heavy all weekend, laying down a performance that was mostly unprecedented. The vice champion from 2018 came up just 10 points short on the championship to Neil Breitenbach (MGM), the closest title fight of that season.
Breitenbach had a solid outing himself, snagging a second and a third place finish on the weekend. Newcomer Gabe Kuret (Tony Kart) impressed many with a double podium as well, filling in the gaps between the two championship contenders from last season.
IAME Mini Swift
The IAME Mini Swift division was bursting at the seams with competition this weekend, boasting 21 drivers on the entry list. Supertune USA's leading point-scorer in Kai Sorensen (Tony Kart / Supertune USA) was phenomenal all weekend long, scoring a double victory to earn himself a fully-funded entry into the USPKS season opener in Ocala.
Sorensen was challenged tremendously, though. On Saturday, Miguel Costa (Parolin / MC Racing), Max Garcia (Kart Republic / KartSport North America), and Jack Jeffers (Benik / Orsolon Racing) all went after the lead. Sorensen remained out front far enough for them to begin to battle amongst themselves, which was all he needed to secure the victory. Jeffers would edge Garcia out at the stripe to take second on Day 1, with Garcia splitting the middle in third between Jeffers and Costa.
Round 2 still saw Sorensen leading the train, but a sea of green followed him out front. Jorge Ortiz (Tony Kart / Supertune USA) got a solid start to the Final and drove a very smart race to end on the podium in third, while Anderson Leonard (Tony Kart / Supertune USA) had a heck of a drive coming through the grid to end second. What makes Leonard's run stand out even more is the lack of seat time he had on the weekend, just barely making Saturday's Final and only having Sunday to really get dialed in.
TaG Senior / TaG Master
Colin Warren (TB Kart) drove a mistake-free Round 1 to pick up a hotly-contested win to open the season. Diego Ramos (Kosmic) and Brandon Simeone (Kart Republic) both pressured him tremendously throughout the Pre Final and Final, but to no avail. They completed the podium in that order with Ramos second and Simeone third.
While Ramos was unable to compete in the 2nd day of action, Simeone was and he was ready. He stole the pole in qualifying from Warren and went wheel-to-wheel with him throughout the day. Power seemed to be a bit of an issue for Warren on Sunday's Final, and Simeone was able to blast on by him at the stripe for his first career SSKC victory. Without Ramos in contention, the midfield got an opportunity to battle for the final step of the podium with Julia Boos (Kosmic / REM) edging out Jacob Andrew (Tony Kart / OGP) and Andrew Burley (Tony Kart) to take third.
TaG Junior
Joey Atanasio (Kosmic / REM) held off a hungry lead group of five in the end of the Saturday final. Alessandro de Tullio (Exprit / AM Racing Team) and Dale Curran (Kosmic / REM) both took the point throughout the 18 lap race, but eventually Atanasio was able to get to the lead and hold the gap for the victory.
Sunday saw de Tullio turn up the wick on the Canadian-based Kosmic team, scoring the pole in qualifying by just under two tenths. A jump start infraction in the Pre Final was the only blemish on the day for the Floridian, as he would go on to win the Final even without starting on the pole. Curran finished runner-up for the second day in a row, and Atanasio rounded off the podium in third to follow up his win on Saturday.
IAME X30 Junior
In his first full Junior season, Jeremy Fletcher (Tony Kart / Zanella Racing) has already suffered a rib injury, a broken arm, and had to drive with the flu. Whether that toughened the central Florida kid up or held him back remains to be seen, but he was absolutely phenomenal this weekend. The only session that eluded him was qualifying on each day, but his racecraft showed through by sweeping all four race sessions.
Fletcher didn't completely dominate each lap, though. A number of drivers poked their noses out at the front, including Lucas Rodriguez (Kart Republic / KartSport North America), Michael Mallardi (Birel ART / Andersen Racing Team), and Hayden Bradley (Birel ART / Andersen Racing Team).
Saturday saw Mallardi snag a P3 finish trailing runner-up Kyffin Simpson (Tony Kart / Speed Concepts Racing). On Sunday, though, it was an all-rookie podium with Fletcher on top, Nikita Johnson (FA Kart / AKT Racing Team) second, and Paul Bocuse (Tony Kart / Speed Concepts Racing) rounding off the steps in third.
Rounds Three and Four of the Sunshine State Karting Challenge takes the series down south to AMR Homestead-Miami Motorplex presented by MG Tires on May 18-19. For full results, point standings, and info on how to join in on the action, visit SSKC's official website at http://sskckarting.com