Bedrin Takes Podium Position at La Conca for Tony Kart Racing Team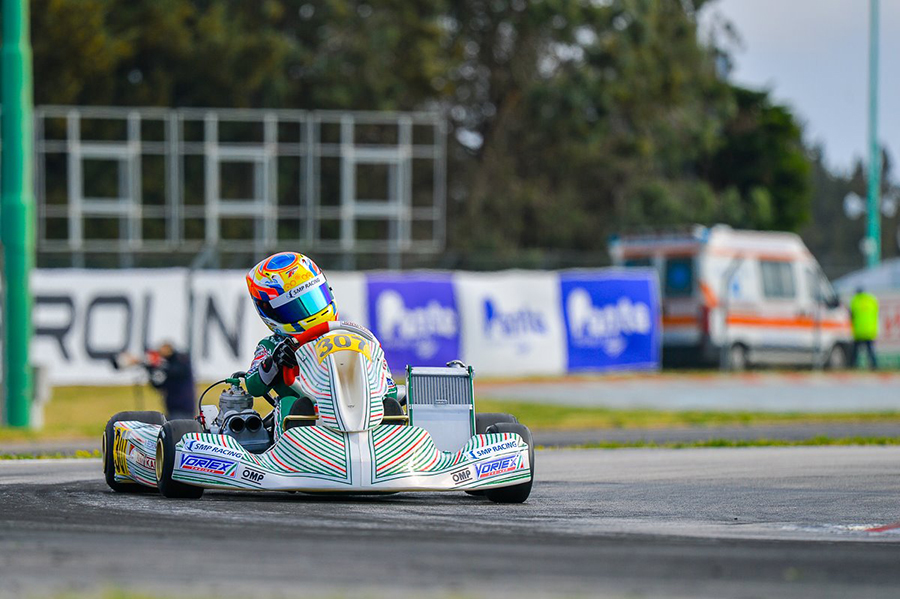 Nikita Bedrin continued showing a great pace at the International Circuit La Conca and took his maiden podium of 2019 during the third round of WSK Super master Series.
The weekend in Muro Leccese has been positive for our OKJ drivers, with Nikita Bedrin taking a podium in the final. The Russian was 7th in qualifying practice while Josep Maria Martí got 18th place.
The qualifying heats were good for both drivers who were fighting for top 5 positions all the time, with Nikita Bedrin finishing as the 4th best while Josep Maria Martí comeback to 8th.
Bedrin got the victory in prefinal A and showed his credentials to ace for the victory in the final, Martí was 7th. Then in the final, Bedrin battled for the race victory and finished 3rd taking his first podium of the season. Martí comeback from 14th to 11th.
Bedrin is now second in the general standing with 154 points.
In the OK class, our drivers started very strong with Noah Milell finishing fourth while Joe Turney was 9th overall. Matheus Morgatto managed to finish 16th, while Sami Meguetounif was 26th and Li Mingyang 35th.
Milell performed so well during the qualifying heats where he always was driving in the top 6 positions together with Joe Turney. Morgatto and Meguetounif also had a good pace in the heats driving their Tony Kart Racer 401 R in the heats for top10 places.
Prefinals were good for our racing team with Morgatto, Turney and Meguetounif stepping positions in their prefinals. In the final, Joe Turney battled for podium positions to finish in a solid 5th place, Morgatto was 8th while Milell step up to 16th place with a comeback of 8 positions. Meguetounif unfortunately had to retire.
In the Mini 60, our racing team was rapresented by James Egozi, Jules Caranta, Yanpu Cui and Jimmy Helias. The good performance of the Tony Kart EV was also underlined by the results of Andrea Scognamiglio, Andrea Filaferro, Oleksander Bondarev (9th in the final) and Francesco Marenghi (10th).
The next event for our drivers will be in Sarno for the fourth and final round of WSK Super Master Series where all categories, including KZ2, will be back on track.