Mallalieu Wins Caribbean Junior Karting Academy Trophy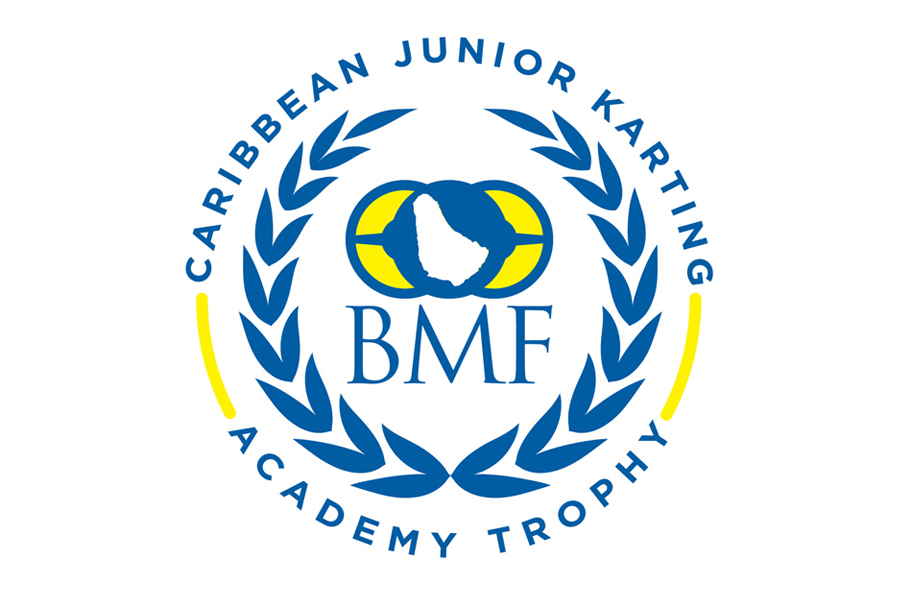 Adam Mallalieu was crowned Champion of the inaugural Caribbean Junior Karting Academy Trophy (CJKAT) after the final double-header at Bushy Park Barbados over the weekend (March 2/3). The 14-year-old Harrison College student claimed four more victories to bring his total of wins to 10 in the 24-race series, which was supported by the FIA's Sport Grant Programme and fought out by young karters from Barbados, Guyana and Jamaica.
After Sunday's Prizegiving, Mallalieu said: "So far, this is my biggest achievement. I never really knew for sure that I would win it, so I just took every race one step at a time and made sure I did well." He wins a fully-paid entry and X30 Junior kart for one Sunshine State Karting Challenge (SSKC) weekend in Florida, valued at more than US$3,000.
His closest challenger throughout the series had been 12-year-old Calem Maloney, who started the weekend just two points adrift and won Race 1 on Saturday; a racing incident in the next event resulted in him missing Race 3, a zero score which effectively ended his title bid, despite winning nine CJKAT races. He said: "I was thrilled to have taken part in the first-ever Caribbean karting championship and want to thank the organisers, officials, marshals and all who gave their time." Mallalieu scored 451 points to Maloney's 385.5.
Jamaica's Tommi Gore enjoyed his most successful weekend, two more race wins bringing his total to four, including the Final on Sunday, when he was the day's top points-scorer; he finishes fourth (319), between compatriots Ryan Chisholm (325), and Zander Williams (248). Kayleigh Catwell became the fourth CJKAT race-winner in her strongest weekend of the series, climbing from eighth to sixth in the final standings with 207 points, while Rayden Persaud remained top of Guyana's karters, finishing eighth on 187.
The weekend's action moved on to a third different track configuration, including the National Circuit link with its challenging jump, for a lap of 1.17kms and race distances of 10 and 15 laps for Races 1 to 3 and the Final respectively. Having come close in the earlier rounds, Mallalieu claimed his first CJKAT Pole Position for Saturday's fifth round, also fastest in both Free Practice sessions. When a sharp rain shower at the start of Qualifying required a quick tyre change for the challenging conditions, the entire Jamaican team were caught unprepared and missed the session, as they were unable to swap to wets in time. Maloney was just 16/100ths adrift of Mallalieu, with 14-year-old Catwell another six-tenths behind, ahead of Guyana's Zachery Persaud, the best grid position so far for each.
Race 1 continued the pattern of the previous rounds, Mallalieu and Maloney swapping the lead back and forth, Maloney ahead when it mattered. Catwell looked set for her first CJKAT podium, but 13-year-old Gore passed her two laps out, her disappointment compounded by a 10secs bumper infringement penalty that dropped her to sixth behind Chisholm (13) and Zachery Persaud, the 14-year-old claiming his best result so far.
A major collision between Mallalieu and Maloney on the penultimate turn of Race 2 took both competitors out in spectacular fashion, with the race red-flagged and the result based on the positions on the previous lap, a lucky break for both boys. While the crash was ruled a racing incident by the Stewards, Maloney's kart was completely destroyed; his team faced an uphill task to build a replacement from scratch, but did so in time for the Final, although a no-score from missing one race had seriously dented his championship aspirations.
Mallalieu led Race 3 throughout, easing ahead to leave Chisholm 3.8secs adrift at the flag, with Catwell third from early on and Rayden Persaud fourth, his best CJKAT result. Mallalieu was never headed in the 15-lap Final either, claiming his third win in the high-scoring climax to each raceday, the 30 points scored moving him further ahead of Maloney, who finished second; Chisholm and Gore again flew the flag high for Jamaica, with Zachery Persaud's fifth place his best result in a final.
After Mallalieu had claimed his first CJKAT Pole on Saturday, Gore became the fourth driver in the six rounds to do so on Sunday, also ahead in both Free Practice sessions. Compatriot Chisholm joined him on the front row, with Mallalieu next up, just 15/100ths spread across the trio. Catwell was fourth, with Jamaica's Zander Williams (12), Maloney and Rayden Persaud completing the seven karts within 1sec of pole.
Gore took the advantage early in Race 1, but Mallalieu was rarely far behind – indeed, he led briefly at half-distance – but the Jamaican was three-tenths ahead at the flag, to maintain his record of one win each weekend; Chisholm was another tenth behind, with Maloney heading the rest of the field home. For the second day running, Race 2 provided some drama, another incident involving Mallalieu and Maloney resulting in the former retiring early on, while Mallalieu sliced through the field to take the chequered flag. In post-race scrutineering, however, it was found that the chain guard had been dislodged before the race start and he was disqualified from the results, resulting in a zero score. Catwell, who held off Gore and Chisholm in fine style to finish second – her best result – inherited the win, with the two Jamaicans completing the podium and 10-year-old Guyanese Jeremy TenPow claimed his best CJKAT result in fourth.
The damage to Maloney's steering caused him to miss a race as he had done on Saturday, Mallalieu leading Race 3 from flag to flag to secure the CJKAT title; Gore, Chisholm and Williams were all within 3secs of the winner. Gore and Chisholm fought hard at the front of the 15-lap Final, with the latter looking set to become the fifth different winner of the weekend, leading from lap four to 11. Gore had different ideas, however, squeezing past for one of the closest finishes of the series, just 8/100ths between them at the flag. Mallalieu was third, while Maloney brought an ill-handling kart home fourth and TenPow logged his best finish in a Final, in fifth place.
Sponsored by Bushy Park Circuit Inc (BPCI), Chefette, Sol and Terra Caribbean, CJKAT is modelled on the CIK-FIA Karting Academy Trophy, which has been the first rung on the ladder of the Federation Internationale de l'Automobile's (FIA) single-seater path to F1 since 2010; it is supported by the FIA's Sport Grant Programme.
Caribbean Junior Karting Academy Trophy, round 5 (March 2)
Qualifying: Pole – Adam Mallalieu (BAR), 62.242s; 2nd Calem Maloney (BAR), + 0.165s; 3rd Kayleigh Catwell (BAR), + 0.809s; 4th Zachary Persaud (GUY), + 1.618s; 5th Jeremy TenPow (GUY), + 1.796s; 6th Rayden Persaud (GUY), + 2.571s; 7th Colin Bradshaw (BAR), + 3.003s; 8th Paige Mendonca (GUY), + 3.803s. * DNQ Adam Marshall (BAR), Nathan Rahaman (GUY), Tommi Gore (JAM), Zander Williams (JAM), Ryan Chisholm (JAM) * final grid positions decided by lot
Race 1 (10 laps): 1st Maloney, 10m 03.970s; 2nd Mallalieu, + 0.625s; 3rd Gore, + 7.445s; 4th Chisholm, + 8.388s; 5th Z Persaud, + 17.801s; 6th Catwell, + 18.126s; 7th Marshall, + 19.344s; 8th Bradshaw, + 19.514s; 9th Mendonca, + 19.908s; 10th, N Rahaman, + 20.612s; 11th, R Persaud, + 20.814s. DNF TenPow, Williams Fastest lap: Maloney, 53.281s, 78.719kmh/48.91mph
Race 2 (9 laps): 1st Mallalieu, 9m 03.464s; 2nd Gore, + 4.296s; 3rd Catwell, + 6.865s; 4th Chisholm, + 8.648; 5th Maloney, + 10.243s; 6th Williams, + 10.468s; 7th TenPow, + 10.739s; 8th, R Persaud, + 11.206s; 9th Z Persaud, + 12.594s; 10th N Rahaman, + 17.997s; 11th Mendonca, + 18.392s; 12th Bradshaw, + 18.984s; 13th Marshall, + 24.335s Fastest lap: Mallalieu, 52.975s, 79.174kmh/49.20mph
Race 3 (10 laps): 1st Mallalieu, 8m 50.208s; 2nd Chisholm, + 3.804s; 3rd Catwell, + 7.995s; 4th R Persaud, + 13.296s; 5th Williams, + 13.538s; 6th Gore, + 14.084s; 7th N Rahaman, + 17.834s; 8th, Mendonca, + 22.388s; 9th Bradshaw, + 22.490s; 10th Marshall, + 54.405s; 11th Z Persaud, + 69.456s. DNF TenPow DNS Maloney Fastest lap: Mallallieu, 52.739s, 79.528kmh/49.42mph
Final (15 laps): 1st Mallalieu, 13m 12.714s; 2nd Maloney, + 6.146s; 3rd Chisholm, + 7.226s; 4th Gore, + 17.039s; 5th, Z Persaud, + 23.435s; 6th N Rahaman, + 25.816s; 7th TenPow, + 27.451s; 8th Marshall, + 31.042s; 9th Bradshaw, + 37.881s. DNF Catwell, Mendonca, R Persaud, Williams Fastest lap: Mallalieu, 52.411s, 80.026kmh/49.73mph
Caribbean Junior Karting Academy Trophy, round 6 (March 3)
Qualifying: Pole – Tommi Gore (JAM), 52.526s; 2nd Ryan Chisholm (JAM), + 0.115s; 3rd Adam Mallalieu (BAR), + 0.155s; 4th Kayleigh Catwell (BAR), + 0.844s; 5th Zander Williams (JAM), + 0.848s; 6th Calem Maloney (BAR), + 0.906s; 7th Rayden Persaud (GUY), + 0.973s; 8th Adam Marshall (BAR), + 1.247s; 9th Jeremy TenPow (GUY), + 1.333s; 10th Nathan Rahaman (GUY), + 1.445s; 11th Zachary Persaud (GUY), + 1.708s; 12th Colin Bradshaw (BAR), + 2.674s. DNQ Paige Mendonca (GUY)
Race 1 (10 laps): 1st Gore, 10m 01.404s; 2nd Mallalieu, + 0.330s; 3rd Chisholm, + 0.491s; 4th Maloney, + 5.461s; 5th Williams, + 5.916s; 6th Catwell, + 10.688s; 7th, R Persaud, + 11.053s; 8th TenPow, + 15.449s; 9th, N Rahaman, + 16.669s; 10th Marshall, + 17.031s; 11th Z Persaud, + 19.449s; 12th Mendonca, + 23.317s; 13th Bradshaw, + 23.614s Fastest lap: Gore, 52.478s, 79.924kmh/49.66mph
Race 2 (10 laps): 1st Catwell, 10m 12.676s; 2nd Gore, + 0.378s; 3rd Chisholm, + 0.812s; 4th TenPow, + 2.157s; 5th Marshall, + 3.249s; 6th N Rahaman, + 3.475s; 7th, R Persaud, + 3.690s; 8th Z Persaud, + 6.374s; 9th Williams, + 8.435s; 10th Bradshaw, + 9.676s; 11th Mendonca, + 10.150s. DNF Maloney DQ Mallalieu Fastest lap: Mallalieu, 52.432s, 79.994kmh/49.71mph
Race 3 (10 laps): 1st Mallalieu, 10m 00.326s; 2nd Gore, + 1.028s; 3rd Chisholm, + 1.262s; 4th Williams, + 3.164s; 5th Catwell, + 12.446s; 6th R Persaud, + 13.052s; 7th Marshall, + 13.368s; 8th TenPow, + 13.479s; 9th N Rahaman, + 19.834s; 10th Z Persaud, + 38.856s. DNF Bradshaw, Mendonca DNS Maloney Fastest lap: Mallallieu, 52.380s, 80.073kmh/49.76mph
Final (15 laps): 1st Gore, 14m 15.181s; 2nd Chisholm, + 0.081s; 3rd Mallalieu, + 1.368s; 4th Maloney, + 9.727s; 5th TenPow, + 16.118s; 6th Williams, + 16.948s; 7th R Persaud, + 17.271s; 8th N Rahaman, + 20.054s; 9th Marshall, + 22.244s; 10th Bradshaw, + 29.903s; 11th Mendonca, + 39.412s; 12th, Z Persaud, + 39.562s; 13th Catwell, + 2 laps Fastest lap: Mallalieu, 52.269s, 80.243kmh/49.86mph
Provisional points after final round: 1st Adam Mallalieu (BAR), ?? 451 points ??; 2nd Calem Maloney (BAR), 385.5pts; 3rd Ryan Chisholm (JAM), 325pts; 4th Tommi Gore (JAM), 319pts; 5th Zander Williams (JAM), 248pts; 6th Kayleigh Catwell (BAR), 207pts; 7th Adam Marshall (BAR), 189pts; 8th Rayden Persaud (GUY), 187pts; 9th Jeremy TenPow (GUY), 155pts; 10th Nathan Rahaman (GUY), 150pts; 11th Zachary Persaud (GUY), 127pts; 12th Paige Mendonca (GUY), 93pts; 13th Colin Bradshaw (BAR), 76pts; 14th Elan Rahaman (GUY), 53pts