Kosmic Racing Kart: Great Performances in Second Weekend of WSK Super Master Series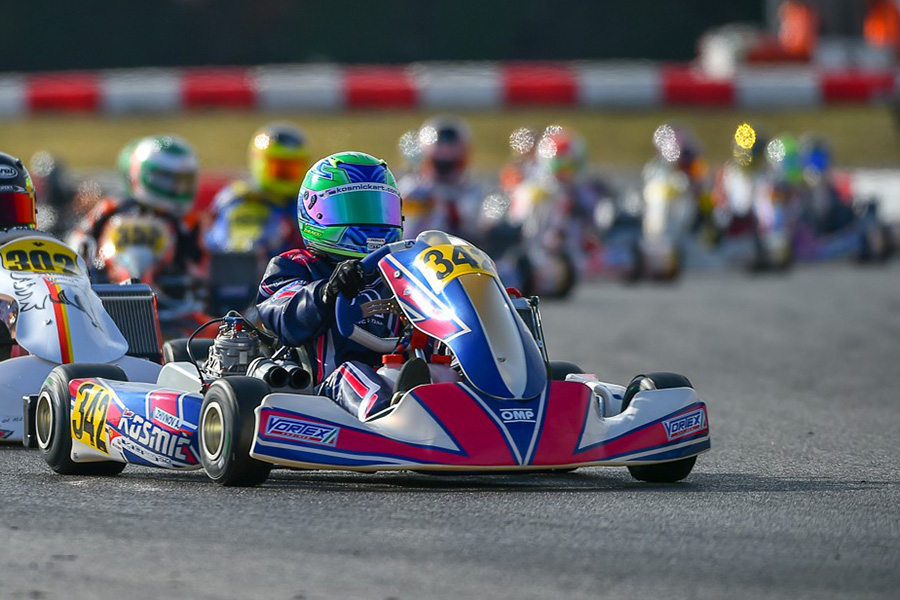 The drivers of our Kosmic Kart Racing Department show speed and perseverance in all the categories at the South Garda Karting in Lonato. Great third place for Andrey Zhivnov in Final
For the Kosmic Kart Racing Department, the second round of WSK Super Master Series is the right chance to prove a great deal of progress.
At the end of qualifying in the KZ2 category, at theit debut in WSK, Paul Evrard and Axel Bengtsson are racing side by side in 18th and 20th position, continuing, with good performances in the eliminatory heats.
The constancy of our drivers is rewarded with the access to the final thanks to a tenth (Evrard) and thirteenth place (Bengtsson) in pre-finals: at the end of the weekend, they will be fourteenth and twentieth after recovering both 5 positions.
In OK, our standard-bearers are Davind Rozenfeld and Rasmus Joutsimies. After a few binding qualifying heats, the weekend continues in a more positive direction with a sixth place (Rozenfeld) and an eighth (Joutsimies) in the heats.
On the other hand, pre-finals prove to be more complicated: Rozenfeld is forced to withdraw with 17 laps to go, while Joutsimies ends twenty-eighth without reaching the Final.
In OK, the driver leading the Racing Department's drivers is Andrey Zhivnov. Besides a tenth place obtained in qualifying, he also conquer a victory, a third place and two fifth places in the eliminatory heats. Good placements also for Alexander Gubenko, author of two ninth and one tenth places in the heats. Axel Malja has great performances throughout the whole weekend: after starting from a forty-sixth position in qualifying, he managed to finish twice in sixteenth place.
In Pre-final, Andrey Zhivnov is playing a leading role finishing with an excellent second place and keeping the winner's pace up to the checkered flag.
The Russian crowns an excellent weekend with a third place in a very hard-fought final, where he also centers the fastest lap, proving the high quality of the Kosmic Lynx R chassis powered by Vortex.
For the Kosmic Racing Department, the next race meeting of our drivers in OK and OKJ class will be at La Conca International Circuit in Muro Leccese for the third round of WSK Super Master Series, scheduled from March 7th to 10th.