Rosberg Racing Academy: Antonelli Takes the Lead, Barnard Confirms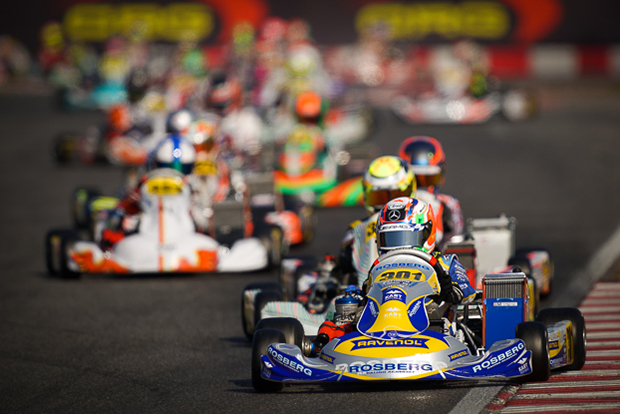 The second round of the WSK Super Master Series, which was run on the same circuit of Lonato as the Winter Cup held the week before, validated the directions taken by the Rosberg Racing Academy, allowing its drivers to fight at the top of the rankings. Of the three Ravenol-branded KR-IAME karts, Taylor Barnard scored the best result with a 4th place finish in OK. Despite a technical problem that probably deprived him of the win in Junior, Andrea Kimi Antonelli is at the top of the rankings in this very competitive series.
Constant progress
The preparation for the big FIA Karting Championships continues for the Rosberg Racing Academy, whose development aspect is confirmed at each new international event. "Along with Nico Rosberg, we are proud of the squad that makes up the academy this season," said Kart Republic team manager Dino Chiesa. "We are aware that our 2019 challenge is not easy. Britain's Taylor Barnard has great potential, but it must be remembered that he has only had one full season at the highest level in OK-Junior and he has just started in OK."
"The Chinese driver Cenyu Han is in the same situation and we are putting many things in place to allow him to get closer to the best in the near future. In OK-Junior, Andrea Kimi Antonelli is already in a good dynamic, even though he was still in 60 Mini only a few months ago."
Antonelli starts well
In the north of Italy, in very pleasant weather throughout the competition, Antonelli was again impressive during Qualifying, then in the Prefinal which he won with flying colours. The start of the Final set the tone, with Antonelli the leader on the first lap and able to make the difference with significant performances in the midst of fierce competition. Alas, shortly before half-distance, he was forced to return to the parc fermé because of a breakage of the rear bumper attachment. Although the victory had disappeared, the young Italian has put the Ravenol colours in 1st place of the general classification halfway through the series.
Barnard among the fastest
In OK, Cenyu Han thought he had secured his qualification in his Prefinal after noticeable progress, but a fairing penalty destroyed his hopes. His team-mate Taylor Barnard was in a position to get on the podium. Indeed, the Brit finished his heats in 4th, 2nd, 3rd and 2nd places, then his Prefinal in 2nd. Driven off the track at the start, he finished the first lap in only 12th position! His great competitiveness allowed him to return to 4th, but with the regret of having missed out o a better result, as demonstrated with his second fastest time in the race.