RTX Karting to Host All Star Finals 2019 at Speedsportz Racing Park
Road to Italy and Le Mans begins in Texas on April 12-14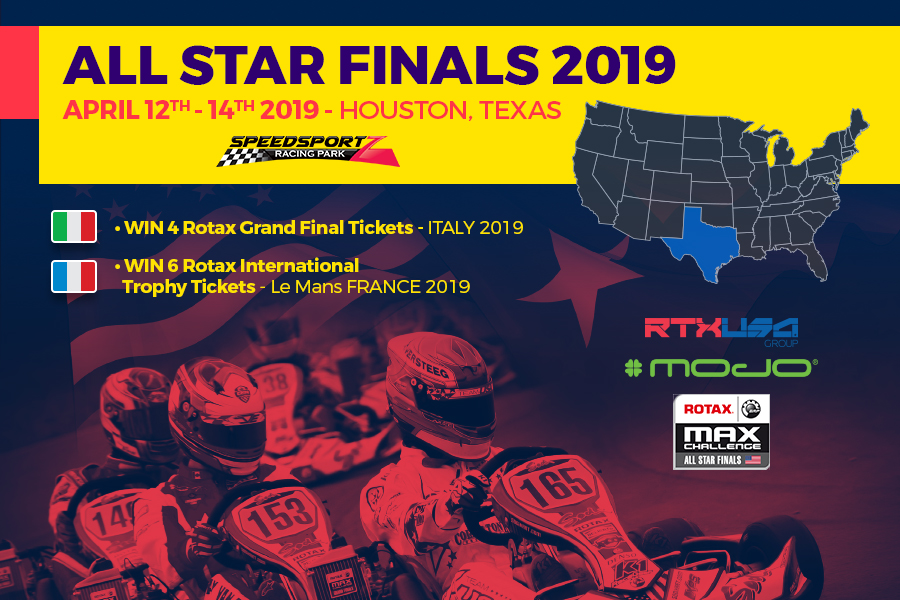 This year's Rotax competition in the United States will begin with the first national event of the season – the All Star Finals 2019 race in Houston, Texas on April 12-14 at the Speedsportz Racing Park. Your road to the Rotax Max Challenge Grand Finals in Italy and Rotax International Trophy Le Mans France begins here. RTX Karting will be awarding four (4) Rotax Max Challenge Grand Finals Tickets to the national event winners, as well as six (6) Rotax International Trophy event entries. As the Southern USA distributor, RTX Karting have been working to create key events in both the Southern and Northern divisions to develop the karting community and the core audience at a local and regional level.
RTX Karting interests are aligned in making sure they have the most competitive and attractive grid line ups across all categories. This event will host a Lottery Engine Raffle Program – creating an even playing field that allows for the ability and skills of great drivers to stand out and shine on the track. The Lottery Engine Raffle Program has shown to be an attractive and competitive racing format helping to develop drivers, as well as significantly reducing racing costs. The advanced quality and parity in the high-tech production of Rotax karting engines will continue to be demonstrated through these events.
RTX Karting is excited to bring the growth of the Rotax Karting sport into new territories, offering a positive and exciting experience for karting competitors with big tickets to the most prestigious karting event on the planet, the Rotax Max Challenge Grand Finals. This is a truly unique experience where you will see 360 of the best kart drivers from more than 50 nations, compete against each other to be crowned Rotax champions.
Additionally, RTX Karting will be awarding six (6) spots to the Rotax International Trophy held in Le Mans, France – one of the most prestigious karting tracks in the world.
All additional pertinent information regarding the event and further Rotax racing in the Southern USA will be available on RTX Karting website as well as our Social Media channels.
For now a few important details regarding the national All Star Finals 2019 event follow:
Lottery Engine Program (Entrant Responsible for Accessory Kit)
4 Rotax 2019 Grand Finals Tickets to Italy
6 Rotax 2019 International Trophy Tickets to LeMans, France August 2019
Limited Mojo Practice & Race Tires
Friday-Sunday Racing (No Additional Weekly Practice)
Micro/Mini | Jr Max | Sr Max | Masters Max | DD2
International Drivers Welcomed
The event will utilize official Rotax International Regulations providing a consistent and proven platform using the new proven Mojo Tires (D2 | D5 compounds) which will offer enhanced racing environment.
The new event structure highlights our 'lottery' engine raffle program which follows the same concept as the Rotax MAX Challenge Grand Finals. The lottery engine program will have a slight deviation from 2018, where only the engine itself will be provided at the time of the engine raffle on Thursday, allowing competitors to utilize their own personal accessory kits (Electronics, Inlet Silencer, Exhaust System)*. This provides a partnering concept of ownership as well as allowing competitors and teams to arrive with their racing chassis fully prepared and ready! Special accessory kit pricing will be available through the Southern USA Rotax service center market by March 2019.
As the event structure matures over the coming days and weeks, please stay up to date on all items through RTX Karting website, social media and do not hesitate to contact us with any questions regarding the All Star Finals 2019 or any Rotax, Mojo & XPS products as well.
For more information, head to www.rtxkarting.com or Email ronny@rtxkarting.com. Click HERE for 2019 Fact Sheet – All Star Finals