First Win for Antonelli with the Rosberg Racing Academy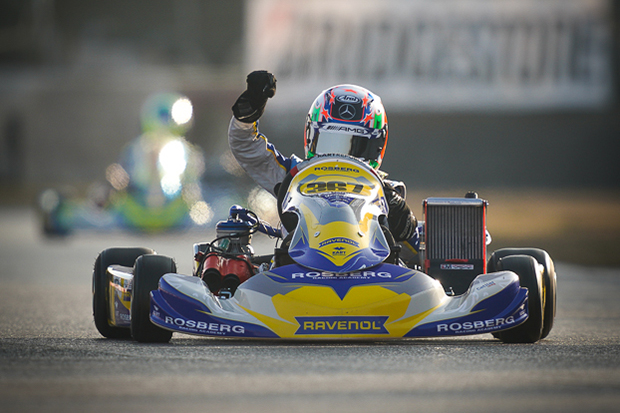 Finding the most promising drivers and guiding them to international success is the mission of the Rosberg Racing Academy. In Northern Italy, Andrea Kimi Antonelli's victory in OK-Junior at the prestigious Winter Cup more than ever confirms the accuracy of this project and the perfect organisation put in place by Nico Rosberg and the Kart Republic organisation, in partnership with Ravenol.
Antonelli impressive in OK-Junior
The Rosberg Racing Academy has once again completed an event at Lonato, on the circuit serving as a testing ground for all of the major international karting teams. The exemplary support of the young drivers, combined with the speed of the equipment, put the KR-IAME karts in the Ravenol colours in the best position to reach peak performance. Andrea Kimi Antonelli's results can attest to this. The young Italian dominated his opponents by taking pole position, and retained his advantage after the Qualifying Heats by winning three times out of four and each time posting the fastest lap in the race! He was a magnificent lone winner in the "Super Heat" of Sunday morning, before repeating his achievement in the Final to win again by a comfortable margin.
"In addition to his speed, Antonelli has shown a lot of maturity," confirmed team manager Dino Chiesa. "We must not forget that the Winter Cup remains a very difficult race to manage and that Andrea only started in Junior a few months ago. The Rosberg Racing Academy and Ravenol can congratulate themselves for choosing to have this talented Italian in their squad!"
Barnard's podium chances disappear
The discovery of OK continued for Taylor Barnard and Cenyu Han in early 2019. 7th in Qualifying, 4th after the heats and 3rd in his Super Heat, the Briton was still very competitive. Unfortunately, Taylor also had some incidents during the meeting. A small clash in the Final ended up compromising a good result, while he had just joined the top five. His 11th place does not reflect his level of performance.
With 70 drivers at the Winter Cup, the Chinese Cenyu Han learned a lot in the pack where he had to constantly confront more experienced drivers. His 21st in Qualifying, less than 3 tenths from pole position, confirmed his progress. Then, Cenyu was able to fight in the top 10 during the Qualifying Heats and gained 16 positions in the Super Heat, before being penalised for his spoiler.
For the Rosberg Racing Academy, Kart Republic and Ravenol, the work with the young drivers is just beginning for the 2019 season …