Big Win for Sodi at the Winter Cup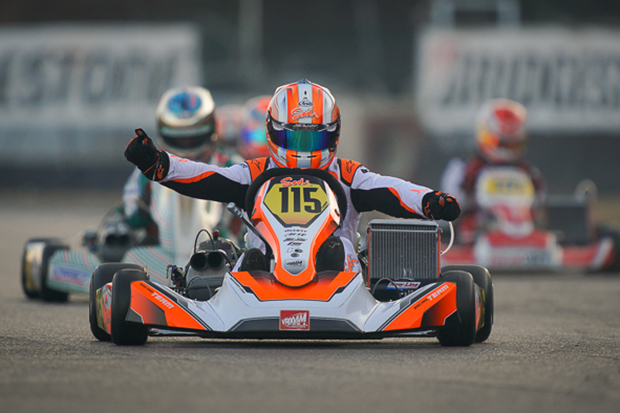 Sodikart could not have dreamed of a better start for the new season than a victory for the Sodi Racing Team in KZ2 at the Winter Cup. Anthony Abbasse managed to achieve an exceptional result ahead of an international field of nearly 100 drivers, including the top KZ specialists on the formidable Italian circuit of Lonato.
Increasingly in international competition, the Sodi chassis have been able to demonstrate their extraordinary potential in the karting epicentre represented by the South Garda Karting circuit in Lonato. The three Sodi / TM of the official team had already started well in the Italian race, as the rookie Adrien Renaudin set the 3rd fastest time in Timed Practice. Going further, Bas Lammers multiplied the passes in the many Qualifying Heats and was 6th in his Super Heat with the fastest lap in the race. Meanwhile, Anthony Abbasse joined his young team-mate Renaudin, 5th at the end of the Qualifying Heats. Both in the top three of their Super Heats, they started from the second and third rows at the start of the Final.
Abbasse used all his experience to join the fight for the lead from the beginning of the race and settle in control before mid-race. Returning to the top 10, Lammers was forced to retire by a coolant leak, not without being credited with the second fastest lap. After the race restart, Abbasse controlled his rivals and headed for a historic victory at the Winter Cup. Renaudin long fought in the top five before crossing the finish line in 7th place thanks to his excellent speed.
"It's really nice to start the season with a big win at the Winter Cup," said Sodi Racing Team manager Julien Dexmier. "This is a first for Anthony and also for Sodi. We have shown that our equipment is already very effective, which will not prevent us from continuing our work with a view to the main objectives of the European and World FIA Karting competitions. The team worked very well during the offseason and our three drivers complement each other perfectly. I think we have strong cards to play this season and we will do everything to win. The presence of many Sodi chassis at this level is extremely positive. Our collaboration with our satellite teams, CPB Sport and Clover Racing, looks very fruitful. I would also like to salute the performance by Emilien Denner, the new CPB Sport driver in KZ2 this weekend and his formidable 11th position in the Final."