Mid-State Kart Club Partners with Hoosier Kartsport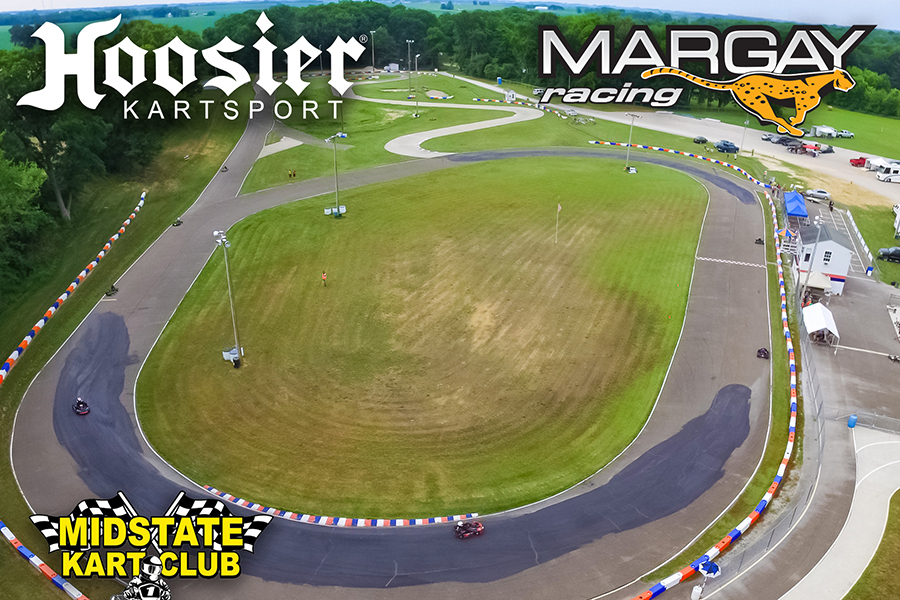 Margay Racing, the leading U.S. manufacturer of racing karts and accessories and exclusive North American distributor of Hoosier Racing Tires, announces a new partnership with Mid-State Kart Club and Hoosier Kartsport through the 2020 season.
The track features an 8-turn layout with a mix of both asphalt and concrete racing surfaces that can create a challenge to drivers and equipment alike. As is the case for any Midwest racing facility, racers start the year facing frigid track temperatures only to be followed by brutally hot summer. The Hoosier R60B's proven durability and consistent grip levels make it the tire of choice, no matter the weather and track conditions. Mid-State will spec the popular R60B compound for all classes with exception to Ignite Senior's national spec of the R80 compound. To help with the transition process, Mid-State will allow the use of both Hoosier R60B and Bridgestone YLC tires up to round 5 of the 2019 championship season.
"Mid-State Kart Club is excited to transition to the American-made Hoosier Kartsport line of tires this season", stated Jon Clem, President of Mid-State Kart Club. "The consistency of a spec-tire will allow racers to focus more on the other technical aspects of tuning a kart rather than worrying about which tire they need to purchase."
As part of the partnership, Hoosier Kartsport will become the official sponsor of Mid-State Kart Club's 2019 race season, which will be titled 'Hoosier Championship Series at Mid-State Kart Club.' Additionally, JoeyKarter will be a servicing dealer for the complete range of Hoosier kart tires and available trackside at all club events.
"We're excited to continue our partnership with Mid-State Kart Club by including the line of Hoosier Kartsport products to their club through 2020", said Keith Freber, president of Margay Racing. "Since 1960, Mid-State has provided a family-centric and accessible platform for grassroots karters across Central Illinois"
Racers, track owners and club members looking for more information about making Hoosier the tire of choice at your facility or series, please contact Margay Racing at 800-562-7429. For Central Illinois racers who would like more information about the Hoosier Championship Series at Mid-State Kart Club, please contact Mike Curry at (217)-741-6601.