Rosberg Racing Academy: New Colours, New Ambitions and Already the First Success of 2019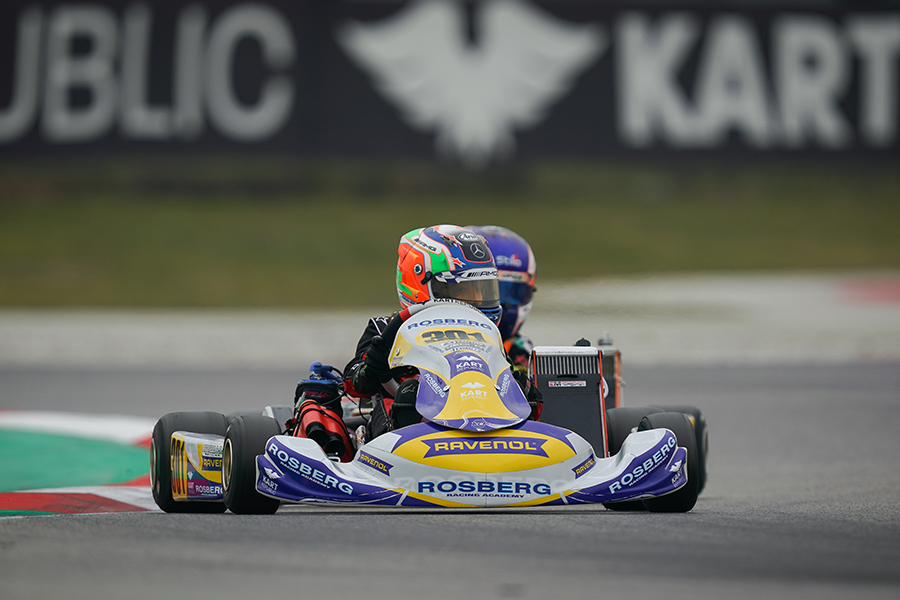 The 2019 international karting season has begun as it ended with the Rosberg Racing Academy and its driver Taylor Barnard: a victory! At Adria in Italy, the young Briton celebrated his move to the next level with his first success in OK at the WSK Champions Cup. In addition, convincing performances from the other two drivers of the Rosberg Racing Academy, the Italian Andrea Kimi Antonelli and the Chinese driver Cenyu Han, reinforced the decisions made during the winter and the quality of the partners who support the operation created by Nico Rosberg.
Crowned World Karting Champion in 2018 with Lorenzo Travisanutto in its first year of existence, the Rosberg Racing Academy has no intention of resting on its newly-won laurels. It did not fail to use the off-season to refine its strategy, select new drivers and sign new partnerships to ensure its continued development, as with Ravenol lubricants.
Dominant event for Barnard
Scheduled very early in the season on 25th-27th January, the WSK Champions Cup saw Taylor Barnard win with panache in OK. At the wheel of his KR-IAME, the Briton achieved pole position and was able to return to 1st place in the Prefinal despite starting in 6th position, following a retirement in a heat. In the Final, he dominated his opponents by leading from start to finish and winning by more than three seconds. "Taylor was able to stay on the same dynamic at the end of last season, where he won an excellent World Championship and the WSK Final Cup," said his team manager Dino Chiesa. "To start a new category with a win is very encouraging."
Promising young drivers in the Academy
For his first competition with the Rosberg Racing Academy, the former Junior Cenyu Han had a lot to learn for his debut in OK. In this environment conducive to training and progress, the young Chinese driver recovered at the end of the meeting to 13th position, although he was only 20th in Qualifying.
In OK-Junior, Andrea Kimi Antonelli constantly fought at the front: 2nd in Qualifying, 2nd after three successes in the heats and new achievement in the Prefinal with the victory and the fastest lap in the race. "In the Final, Andrea was still among the fastest, but he lacked experience and had to be satisfied with 4th place. It should be remembered that he was still in Mini in 2018 and that he joined the Academy in OK-Junior only last October," said Dino Chiesa of Kart Republic.
The season got off to a flying start for the KR-IAME karts from the Rosberg Racing Academy in the Ravenol colours, and 2019 is only just beginning …
2019 Rosberg Racing Academy Calendar
03/02 Adria – WSK – Super Master Series
17/02 Lonato – Winter Cup
24/02 Lonato – WSK – Super Master Series
10/03 La Conca – WSK – Super Master Series
24/03 Sarno – WSK – Super Master Series
31/03 Sarno – WSK – Euro Series
07/04 Angerville – Championnat & Coupe de France
21/04 Angerville – European Championship
28/04 Angerville – WSK – Euro Series
19/05 Genk – European Championship
02/06 Kristianstad – European Championship
23/06 Lonato – WSK – Euro Series
30/06 Adria – WSK – Euro Series
07/07 Le Mans – Championnat & Coupe de France
21/07 Le Mans – European Championship
25/08 Alaharma – Finland Championship
08/09 Alaharma – World Karting Championship
27/10 Lonato – WSK – Open Cup
10/11 Castelletto – WSK – Open Cup
17/11 Adria – WSK – Final Cup