Faces of The Grid: Brandon Jarsocrak
Pennsylvania driver rises to become one of the top karters of this generation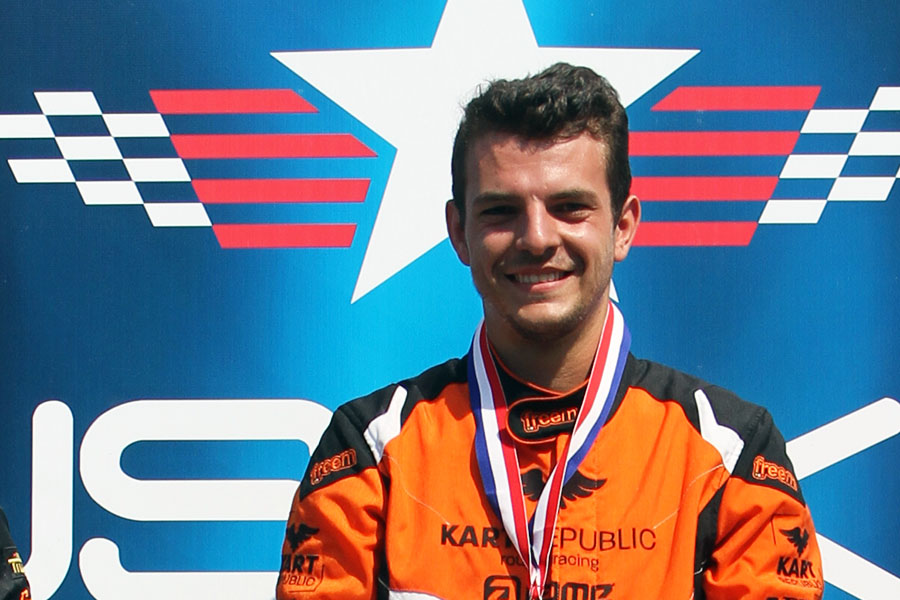 (Photo: EKN)
By Blake Hunt
Brandon Jarsocrak has become one of the top drivers on the American karting scene over the past few years. On his way up the ladder, he's raced every class from Kid Kart to KZ, finding his way to the front in each of them. Brandon is the lead driver for KartSport North America, cementing his position as a force to be reckoned with behind the wheel, fighting his way to the pointy end of nearly every major karting event in the past few years, including starting on the pole position at the 2016 SKUSA SuperNationals. Beyond that, Jarsocrak has qualified to compete multiple times across the pond in France at the tightly-contested IAME International Final. I caught up with Jarsocrak as the days count down to the 2019 season.
eKartingNews.com: How did your journey into the world of karting begin?
Brandon Jarsocrak: I started karting when I was five-years-old, about 16 years ago. My dad got me interested in racing by taking me to the local dirt sprint car races and ever since then, I was hooked on racing. He then wanted me to start playing a sport, so he listed all my options. I picked racing and the next Christmas, a kid kart was sitting in my living room. I started out racing at a local track in Central Pennsylvania called the Orville Kart Club. I raced about three to four years there before we started to race in Englishtown, NJ. When we were there, we got hooked up with Mike Doty Racing. Mike then introduced me to my first national race at Daytona KartWeek in 2008 (placed 8th in HPV Sportsman and 5th in Yamaha Sportsman).
EKN: Would you say Mike Doty has been one of the people who has contributed the most to your development as a driver?
BJ: I'd definitely say so. He was the first real coach/mentor I had early in my career. He taught me many 'tricks of the trade' for karting. He was always at every one of my races to help me become a better driver. The endless track walks and tips on kart setups have helped me throughout my entire career. Additionally, I can't leave out Eric Jones, because he has helped me tremendously as well. Eric has coached me over these last three years to win more races and championships than I ever had previously. He and everyone at KartSport North America have helped to fine-tune a lot of my skills and mainly help my racecraft. In my opinion, I had two of the best karting drivers help in terms of coaching and mentorship throughout my career. I believe they both have helped me equally and still continue to.
EKN: At what point did you know that karting was going to be a major part of your life moving forward?
BJ: I believe when we started traveling all over the country every weekend racing, I knew I was in it for the long run. After my first national race in Daytona, when I got a podium, I was hooked to keep traveling the country racing. It was so much fun traveling with my Dad to all these amazing tracks and places. Being successful was just a bonus.
EKN: It would seem your father Eddie has been a key figure in your karting career. What sort of things has the time you've spent with him at the racetrack taught you?
BJ: The biggest contributor to my racing has for sure been my dad. In my 16 years of karting, he has missed less than a handful of races and has been my mechanic for every race, not to mention all the cross-country trips we have taken together driving to the races. He's taught me so many life lessons, I can't even list them all. We've grown such a great bond together because we have been able to spend every weekend for the past 16 years together at the race track. It has brought us closer. I hope I'm able to have this close of a relationship with my future children. Although we may argue and yell at each other from time to time, I wouldn't want anyone else working on my kart.
EKN: That's really what the sport is about and I'm sure many people within the karting community can relate to it as karting is truly a family sport. Your latest expedition with your father involved a plane ride to France for your second showing at the IAME International Finals. How do you feel regarding your latest performance at the race?
BJ: This year's trip to France went better than last year, in my opinion, and was a huge learning experience. Every session on track, we made progress. We had the speed to be at the front, it was just some bad luck and driving errors that cost us a spot in the Final. It was unfortunate because a lot of time and effort was put into making that a great weekend, but we will take the positives away and try again next year.
EKN: What are your thoughts on the racing in Europe compared to here in the States?
BJ: The racing in Europe is definitely different than in the States. I would say it is more aggressive, but not in the way of just taking you out. They are not afraid to lay the bumper to you, but simply just to let you know they are there. They race hard from the drop of the green flag and do not want to give up any positions. Many of the drivers there have definitely mastered the art of blocking. They will protect their position no matter where you are on the track. In Europe, you are not able to make any mistakes and even the smallest mistake will cost you the entire race. It is definitely a style you need to adjust to and takes practice to master.
EKN: Do you see a future for yourself racing in Europe full-time?
BJ: I'm not opposed to it at all, as I think it would be a great experience and I would learn so much more. The only problem is to race in Europe and live in the United States becomes very pricey with the flights and equipment. With some funding and sponsorship, I think it could happen. It wouldn't be easy but I'm up for the challenge.
EKN: Moving to your recent racing stateside, the SuperNationals 22 were once again just out of your grasp with you being constantly in contention only to crash out on SuperSunday. Would you consider yourself satisfied with your efforts?
BJ: The SuperNationals had its ups and downs this time around for sure. We had the pace to be there all weekend, just not the results to show for it. I had solid top-five finishes in all the heat races. In the Final, we were passing for fourth on the final lap and ended up with a DNF. Overall, I thought the weekend went pretty well and I'm excited to go back next year!
EKN: Making your Vegas performance all the more impressive was the fact that you were completing work for your college classes in-between sessions. What is it like racing full-time while also attending college? Do you find the two detract from each other in any way?
BJ: Attending college full-time while also racing full time is very difficult to say the least. Both require a lot of time and attention. I end up having to miss class almost every week to head to a race, but luckily my professors work with me to make sure I get caught up on everything when I get back. A lot of times at the track, I have to work on homework late at night after the day is over. It's hard sometimes because I am not able to make it to the track for practice or testing because of college. In the end, doing both will be worth it in the long run.
EKN: What exactly does the long run look like? What are you studying at the moment and where do you see life taking you once you graduate?
BJ: Right now, I'm studying mechanical engineering at Penn State. After I graduate next year, I would like to work in motorsports in some form, I'm just not sure what type or doing what yet. Much of it lot depends on how much longer I will be racing myself and where that takes me.
EKN: Looking forward to 2019, where can we expect to see you competing?
BJ: I'm set to continue competing with KartSport North America on the Kart Republic chassis again. As of now, we're set to compete in the SKUSA Winter Series and SKUSA Pro Tour, as well as defend my title at the United States Pro Kart Series. Some other one-off races may be mixed in as well, but the season looks to be similar to last year's. It's great to come off a victory at the WKA Daytona KartWeek, my third in the last four years.
EKN: I wish you the best of luck this coming year and hopefully you'll have more results for us to talk about as the year wears on.
BJ: Thank you, it's been a pleasure.
About the Author:
Blake Hunt is a veteran kart racer who is majoring in marketing at NC State with plans to take on journalism as well. Blake has also launched a new motorsports photography business and will be submitting a collection of interviews and articles to eKartingNews.com in 2019.