Maloney and Mallalieu Lead Caribbean Junior Karting Points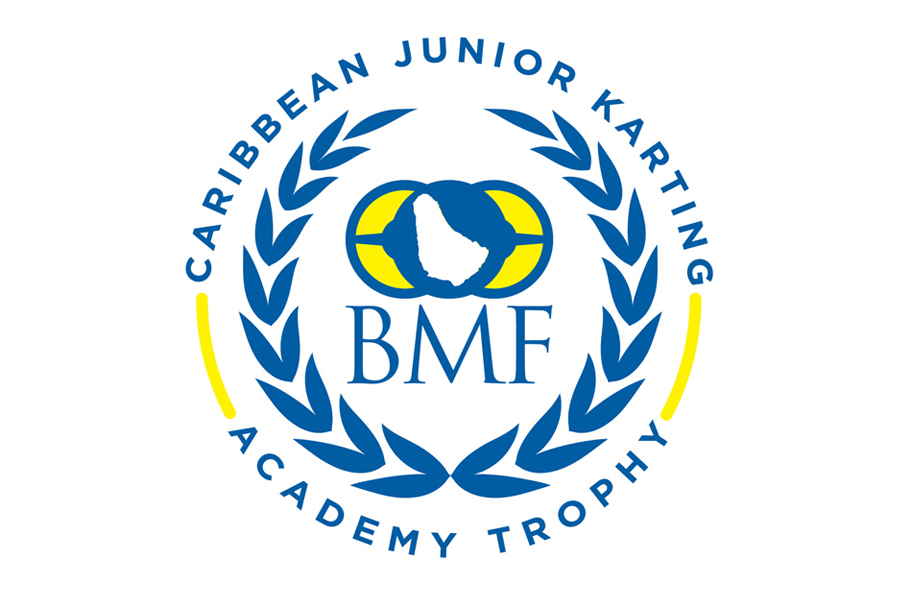 Barbadian racers Calem Maloney and Adam Mallalieu have emerged as the early front-runners in the inaugural Caribbean Junior Karting Academy Trophy (CJKAT) after the first two rounds at Bushy Park Barbados over the weekend (January 12/13). They won seven of the eight races between them, finishing lower than third only once, in an action-packed curtain-raiser to the region's first-ever structured search for future a motor sport star.
Jamaica's Tommi Gore was the other race-winner, while his compatriots Ryan Chisholm, fastest in Qualifying on Sunday, and Zander Williams, were also podium finishers. Maloney leads the standings with 158 points, just 14 ahead of Mallalieu, with Chisholm (103), Gore (92) and Williams (80) completing the top five positions. While Rayden Persaud is highest in the standings, eighth on 55 points, the best individual performance among Guyana's six karters came from Elan Rahaman, who finished third in Sunday's second race.
The youngsters were ready for competition on Saturday morning, following two days of intensive training with a team of FIA-accredited Regional Training Providers, comprising Dubai GP Clerk of the Course Ronan Morgan, his Deputy Clerk and kart racing expert Gordon Mellis, and former F1 driver Tommy Byrne, who had conducted classroom and on-track driving sessions. Each round on the 1.2-kilometre CIK Circuit included Free Practice, Qualifying, three eight-lap Races and a 12-lap Final, the direction switched from clockwise to counter-clockwise between rounds one and two.
While Gore topped the time sheets in both Free Practice sessions, he could not match those times in Round 1 Qualifying, so Maloney and Mallalieu would line up on the front row, the reigning Barbados Karting Association Junior and Senior Champions respectively separated by just 26/1000ths of a second; Chisholm and Gore were a further four and six-tenths back, ahead of Persaud and Williams, with Barbadian Adam Marshall making it seven drivers within 1sec of pole.
In Race 1, Mallalieu led for most of the distance, pursued by Maloney and Gore, both of whom found a way past two laps from home, just 3.5secs covering the trio as they crossed the line. Williams was fourth throughout, his finishing position of choice all day, while Chisholm came out best of a mid-distance sort-out to finish fifth, with Guyana's Jeremy TenPow sixth. There was an even closer finish in Race 2, Gore, Chisholm and Mallalieu covered by just 1.6secs at the flag, Maloney just behind, but penalised 10secs for an infringement to finish sixth. The closest finish of the weekend came in Race 3, however, Maloney just 76/1000ths of a second ahead of Mallalieu at the line.
In the all-important 12-lap Final, with the enhanced points scale offering 30 for a win, compared with 20, Maloney led throughout, easing away as Gore, Mallalieu and Chisholm battled behind; when Gore was disqualified from second for being underweight after a large part of his exhaust broke loose during the race, Mallalieu and Chisholm each moved up a place, as did Williams for his fourth fourth-place finish.
The counter-clockwise circuit was prepared on Saturday afternoon, allowing three Free Practice sessions under the all-arena lighting, with a warm-up and Round 2 Qualifying on Sunday morning. This time, Jamaica's Chisholm topped the times, with Maloney, Mallalieu and Gore all within 16/100ths of pole. Fifth-placed TenPow led another close-knit group, Rayden Persaud, Williams and Catwell within two-tenths of his time, these all within 1sec of pole, while Guyana's Zachary Persaud was ninth again, leading the rest.
Sunday's Race 1 was another close-fought battle between Maloney, Mallalieu and Gore, who crossed the line in that order within half-a-second. Chisholm took over Williams's fourth place mantle, with Catwell and a fast-starting Elan Rahaman completing the top six. Rahaman then made good on his advantage from the Race 2 reversed grid, leading until half-distance when Maloney and Mallalieu both passed, but the Guyanese held on for his first podium, although Chisholm was with him at the flag. Barbadian Adam Marshall claimed fifth places, with Guyana's Nathan Rahaman and Paige Mendonca sixth and seventh, the best finishes of the weekend so far for all three.
Race 3 provided more close combat, with Maloney the early leader, until he slipped to fifth at half-distance; Mallalieu took over the lead, pushed all the way to the flag by Chisholm – another tight finish, just a quarter-second in it – while Maloney finished third, after Catwell and Gore slipped back on the last lap. Fourth place was now Nathan Rahaman's best for the weekend, while Barbadian Colin Bradshaw also claimed his best, in seventh.
The first CJKAT weekend ended with a classic battle in the Round 2 Final, as Mallalieu and Maloney fought for supremacy. Mallalieu led early on before they swapped the lead back and forth and back again at half-distance, Maloney leading in the closing stages; on the final lap, Mallalieu passed Maloney in the Hammer Bend, a flat-out turn at nearly 70mph in the reverse direction, in a no-contact manoeuvre that showed the maturity of the two young racers. Chisholm had looked secure in second until spinning a lap from home, promoting Gore to his fourth podium finish of the weekend, also Catwell to her best for the opening rounds, fourth place.
Sponsored by Bushy Park Circuit Inc (BPCI), Chefette, Sol and Terra Caribbean, CJKAT is modelled on the CIK-FIA Karting Academy Trophy, which has been the first rung on the ladder of the Federation Internationale de l'Automobile's (FIA) single-seater path to F1 since 2010; it is supported by the FIA's Sport Grant Programme. The Grand Prize for the Champion is a fully-paid entry and X30 Junior kart for one Sunshine State Karting Challenge (SSKC weekend) in Florida, valued at more than US$3,000.
Caribbean Junior Karting Academy Trophy, round 1 (January 12)
Qualifying: Pole – Calem Maloney (BAR), 46.583s; 2nd Adam Mallalieu (BAR), + 0.026s; 3rd Ryan Chisholm (JAM), + 0.461s; 4th Tommi Gore (JAM), + 0.655s; 5th Rayden Persaud (GUY), + 0.660s; 6th Zander Williams (JAM), + 0.817s; 7th Adam Marshall (BAR), + 0.958s; 8th Elan Rahaman (GUY), + 1.278s; 9th Zachary Persaud (GUY), + 1.282s; 10th Jeremy TenPow (GUY), + 1.457s; 11th Nathan Rahaman (GUY), + 1.542s; 12th Paige Mendonca (GUY), + 3.406s. DNQ – Colin Bradshaw (BAR), Kayleigh Catwell (BAR)
Race 1 (8 laps): 1st Maloney, 6m 15.303s; 2nd Gore, + 1.635s; 3rd Mallalieu, + 3.429s; 4th Williams, + 5.834s; 5th Chisholm, + 10.314s; 6th TenPow, + 13.784s; 7th Catwell, + 13.879s; 8th Marshall, + 14.292s; 9th Z Persaud, + 18.612s; 10th, R Persaud, + 18.791s; 11th, N Rahaman, + 20.130s; 12th, Bradshaw, + 26.034s; 13th E Rahaman, + 1 lap; 14th Mendonca, + 3 laps Fastest lap: Maloney, 46.456s, 92.991kmh/57.78mph
Race 2 (8 laps): 1st Gore, 6m 22.931s; 2nd Chisholm, + 1.005s; 3rd Mallalieu, + 1.629s; 4th Williams, + 3.897s; 5th, R Persaud, + 6.772s; 6th Maloney, + 11.948s; 7th Marshall, + 2laps; 8th TenPow, + 6 laps; DNF – E Rahaman, Catwell, Bradshaw, Mendonca, Z Persaud, N Rahaman Fastest lap: Mallalieu, 46.428s, 93.047kmh/57.82mph
Race 3 (8 laps): 1st Maloney, 6m 15.380s; 2nd Mallalieu, + 0.076s; 3rd Gore, + 2.226s; 4th Williams, + 6.128s; 5th Chisholm, + 6.209s; 6th Marshall, + 10.173s; 7th, R Persaud, + 10.874s; 8th Z Persaud, + 14.115s; 9th TenPow, + 14.450s; 10th E Rahaman, + 19.212s; 11th Bradshaw, + 22.727s; 12th Mendonca, + 28.934s; DNF – N Rahaman. DQ – Catwell Fastest lap: Maloney, 46.257s, 93.391kmh/58.03mph
Final (12 laps): 1st Maloney, 9m 19.479s; 2nd Mallalieu, + 5.385s; 3rd Chisholm, + 5.888s; 4th Williams, + 7.552; 5th Catwell, + 14.995s; 6th Marshall, + 16.363s; 7th TenPow, + 16.513s; 8th, R Persaud, + 17.350s; 9th E Rahaman, + 23.938s; 10th Bradshaw, + 26.806s; 11th Mendonca, + 41.937s; DNF Z Persaud, N Rahaman. DQ – Gore Fastest lap: Maloney, 46.265s, 93.375kmh/58.02mph
Caribbean Junior Karting Academy Trophy, round 2 (January 13)
Qualifying: Pole – Ryan Chisholm (JAM), 46.738s; 2nd Calem Maloney (BAR), + 0.014s; 3rd Adam Mallalieu (BAR), + 0.122s; 4th Tommi Gore (JAM), + 0.161s; 5th Jeremy TenPow (GUY), + 0.631s; 6th Rayden Persaud (GUY), + 0.753s; 7th Zander Williams (JAM), + 0.767s; 8th Kayleigh Catwell (BAR), + 0.816s; 9th Zachary Persaud (GUY), + 1.169s; 10th Adam Marshall (BAR), + 1.317s; 11th Elan Rahaman (GUY), + 1.500s; 12th Nathan Rahaman (GUY), + 2.551s; 13th Colin Bradshaw (BAR), + 2.744s; 14th Paige Mendonca (GUY), + 2.947s
Race 1 (8 laps): 1st Maloney, 6m 25.615s; 2nd Mallalieu, + 0.462s; 3rd Gore, + 0.471s; 4th Chisholm, + 2.887s; 5th Catwell, + 5.265s; 6th E Rahaman, + 8.881s; 7th TenPow, + 9.169s; 8th Williams, + 16.184s; 9th, N Rahaman, + 16.610s; 10th Marshall, + 27.605s; 11th Mendonca, + 29.554. DNF Bradshaw, R Persaud, Z Persaud Fastest lap: Mallalieu, 46.612s, 92.680kmh/57.59mph
Race 2 (8 laps): 1st Maloney, 6m 21.223s; 2nd Mallalieu, + 1.402s; 3rd E Rahaman, + 5.350s; 4th Chisholm, + 5.545s; 5th Marshall, + 8.522s; 6th N Rahaman, + 16.573s; 7th Mendonca, + 19.156s; 8th Williams, + 19.180s; 9th Bradshaw, + 20.203; 10th Gore, + 1 lap; 11th Catwell, + 2 laps; 12th TenPow, + 2 laps; DNF Z Persaud, R Persaud Fastest lap: Mallalieu, 46.706s, 92.493kmh/57.47mph
Race 3 (8 laps): 1st Mallalieu, 6m 18.587s; 2nd Chisholm, + 0.273s; 3rd Maloney, + 13.406s; 4th N Rahaman, + 15.912s; 5th Marshall, + 16.638s; 6th E Rahaman, + 16.881s; 7th Bradshaw, + 17.213s; 8th, R Persaud, + 17.359s; 9th Mendonca, + 18.866s; 10th Gore, + 1 lap; 11th Catwell, + 1 lap; 12th Z Persaud, + 1 lap; DNF – TenPow, Williams Fastest lap: Maloney, 46.707s, 92.491kmh/57.47mph
Final (12 laps): 1st Mallalieu, 9m 24.030s; 2nd Maloney, + 0.206s; 3rd Gore, + 4.994s; 4th Catwell, + 7.104s; 5th Williams, + 15.646s; 6th N Rahaman, + 21.918s; 7th, R Persaud, + 22.126s; 8th TenPow, + 23.137s; 9th Marshall, + 24.790s; 10th Z Persaud, + 25.180s; 11th Bradshaw, + 25.419s; 12th E Rahaman, + 25.850s; 13th Chisholm, + 1 lap; 14th Mendonca, + 1 lap Fastest lap: Maloney, 46.543s, 92.817kmh/57.67mph
Provisional points after two rounds: 1st Calem Maloney (BAR), 158 points; 2nd Adam Mallalieu (BAR), 144pts; 3rd Ryan Chisholm (JAM), 103pts; 4th Tommi Gore (JAM), 92pts; 5th Zander Williams (JAM), 80pts; 6th Adam Marshall (BAR), 68pts; 7th Kayleigh Catwell (BAR), 58pts; 8th Rayden Persaud (GUY), 55pts; 9th Jeremy TenPow (GUY), 54.5pts; 10th Elan Rahaman (GUY), 53pts; 11th Nathan Rahaman (GUY), 45pts; 12th Colin Bradshaw (BAR), 35pts; 13th Paige Mendonca (GUY), 32pts; 14th Zachary Persaud (GUY), 25pts
Remaining dates: Rounds 3 & 4, Feb 2/3; Rounds 5 & 6, Mar 2/3; at all Bushy Park Barbados