Morning Coffee: January 7, 2019
Positivity and Social Media in Karting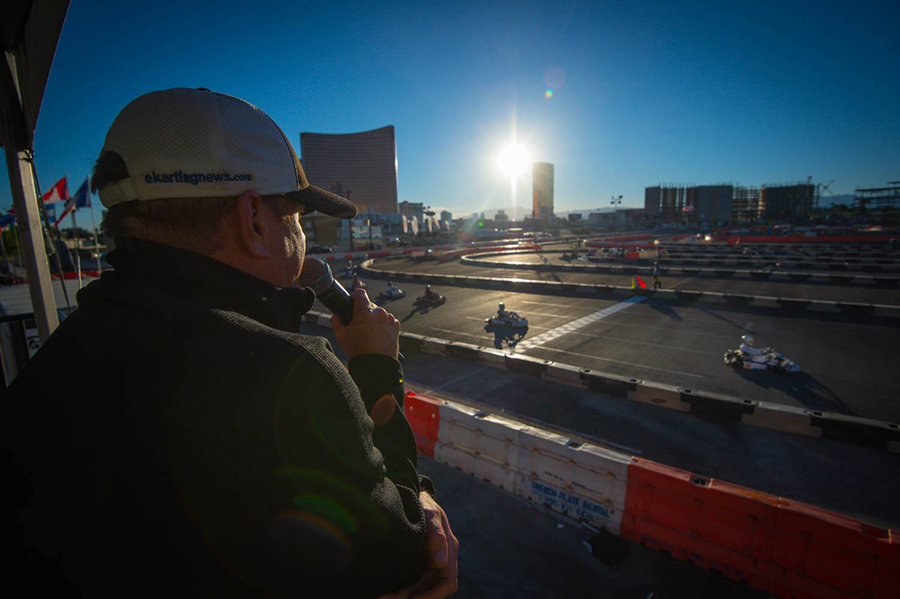 Seeing as it's been only a week since New Year's Eve, I'm going to go out on a limb and state that most people are still in a pretty positive mindset and that a majority of your NYE resolutions are still being chased with full commitment. This stream of positivity is an annual mindset shift for many, and with the new karting season getting closer and closer for all of us, I want to feed on that positivity to introduce a topic, a gripe, and a concept that I've been forming for a few years.
If you're an EKN regular, I expect that you've read the columns of David and myself, and that you've listened to our 24-7 stream on EKN Radio Network and a podcast or two. With this original content, there are a couple of consistent themes that we discuss often, including the fact that karting is an awesome family sport and that the key to future stability is growth and bringing new people to the track. Getting this message out is key and we're often helped when a well-known racer talks highly about our segment of the sport.
This past weekend, NASCAR Monster Energy Cup driver Clint Bowyer sent out a tweet that included a photo of his son Cash and his new Kid Kart. The four-year-old is fully suited in his black Haas Automation driving suit and Clint looks to be pushing the new ride out of their shop onto the driveway. Clint's obviously all-in, as he's carrying a tire pressure gauge in one hand, as we all know that Cash obviously needs the tire pressure set perfectly for this maiden run. Bowyer's message brought a smile to my face, as well.
Don't know who was more excited…..him or me! 💪
There are so many things that I love about Clint's tweet. First, it's the start of an incredible experience and journey for a new young karter, and Cash's years in karting will be a time that he and his father will look back on forever. Regardless of how long they stay in our sport, they'll be another example of a parent and child bonding over the purest form of motorsports. As a career-karter and a 25-year member of the industry, I'm also super excited that another professional driver has provided positive exposure for karting using his or her social media. As I wrapped this column and published it to the site, Bowyers tweet has logged over 6700 likes, 162 comments and 207 retweets. That's nothing but positive for karting.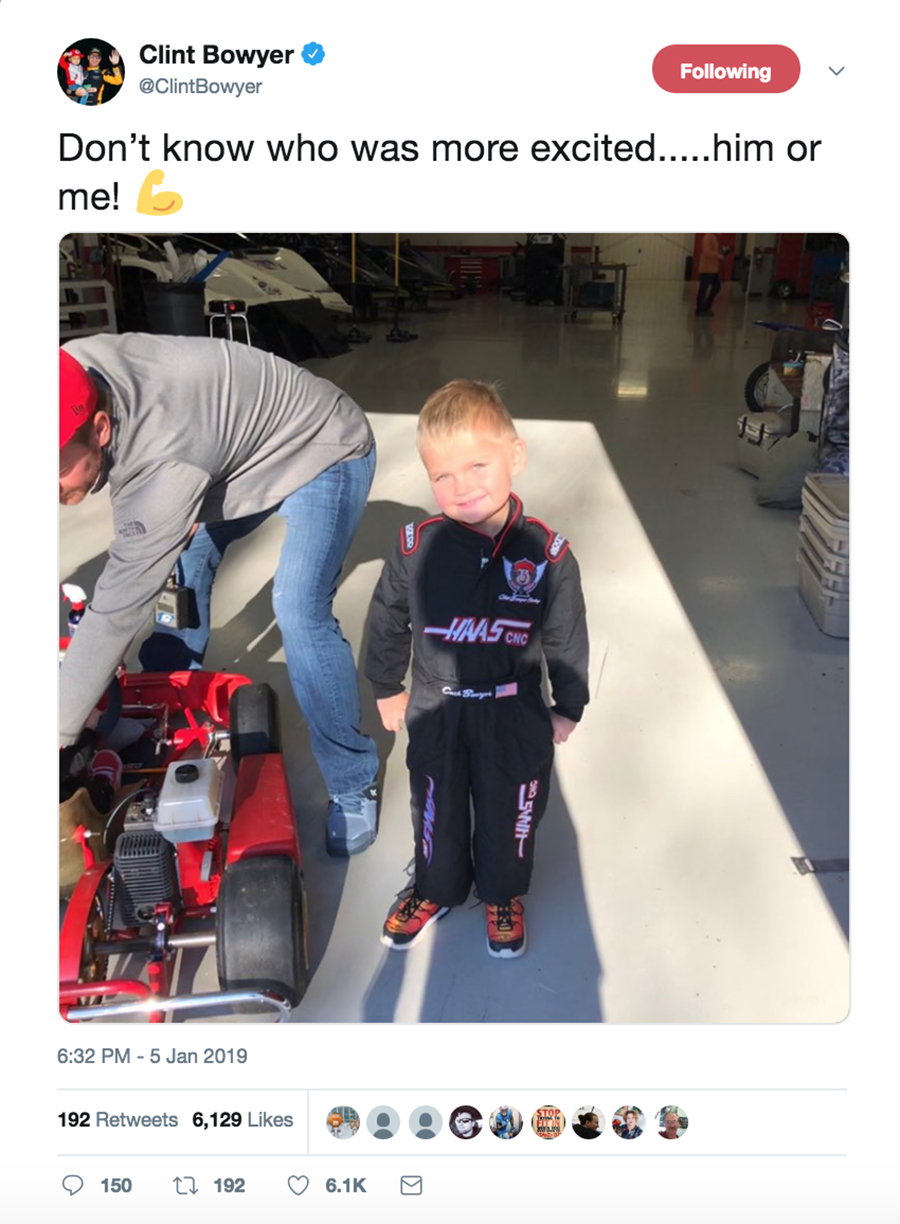 This brings me to the topic of growing our sport and, in this case, how it is so closely connected with social media. It's a modern-day fact that social media has become an overwhelming powerhouse in human connection, news and opinion delivery, and promotion, education and marketing. Any Facebook, Twitter or Instagram post that is made is put in front of a person's friends and followers, and the content or message is consumed to some extent. Bowyer's tweet presented karting in an extremely positive light to his 667,000+ followers. His message connected to karting was "Don't know who was more excited…him or me." Clint Bowyer is excited about karting. He's excited to share it with his son. He can't want to get to the track with Cash.
That's powerful. Social media content can be powerful. Sometimes for good, and sometimes it can be destructive.
Now here's comes my commentary, my message, and my question. I don't think that I'm wrong to say that we all want our sport to be strong and that we all want it to grow. We want our clubs to have tons of members so that they're financially sound and so that we're racing against big fields, filled with karters who are just loving the sport. We want our industry to be profitable and vibrant so that they can provide great support and don't need to increase prices to artificially manufacture the necessary profit margins.
We all love our sport and wouldn't do anything to hurt it, right?
If this is indeed the case, why is it that there are so many people who, instead of using social media like Facebook to promote our sport, leverage the platform as a chance to call out people, slam our organizations, and just howl at the moon, bitching and complaining about whatever it is that they don't like about the sport? These people are taking the potential for positive storytelling and promotion of karting, and flushing it down the toilet with vile rants and accusations. Friends, remember, when you post negatively about karting on your social media, you've very like turned-off every one of your non-karting friends. I'm always asking people how they got into the sport and, more often than not, it's through their family members, a family friend or a co-worker. You know, all the people who are your 'friends' on Facebook….the people who see your tirades or negative comments on the world's largest social platform.
When I see karters complaining about the sport on Facebook, I can't help but see that it's akin to walking outside the front door of your favorite restaurant and screaming to everyone you see that the food is crap and over-priced so that they won't come in and support your go-to dinner stop.
You wouldn't do that, would you? If this is true, why do we do it to our sport.
Hey, I get it, social media platforms provide us with an outlet for our thoughts and ideas. We get to root for our sport's team, and publically rejoice over great times with friends or gush over a perfect meal. We can connect with friends and family, and even discuss topics that are important to us. But, as I said earlier, I hope that most of us are still riding that NYE wave of positivity that comes with turning the page of the calendar and resetting our life's goals and dreams, and that we're open to a different approach.
If growth for karting is something we all hope for, my suggestion would be for each and every kart racer in North America to leverage the single biggest outside promotion engine that we have at our disposal. If one of my friends is on Facebook, Twitter or Instagram raving over a pizzeria or craft brewery in Portland, when I get to Portland….damn right, I'm making a point to visit that place. I'm sure many of you have read the positive posts of friends on Facebook and taken their word and looked up a place, or a website, or a product.
Or a sport.
When we slam karting, its officials, the industry or our organizations on social media, it sends that same powerful message to our followers…but this time, it's not a positive comment that fuels interest. Instead, it's a negative blast that makes it easy for people to not take another look at the motorsport that a vast majority of us think is the best in the world.
Here's my 'call to action' to start the 2019 season. We're all feeling good. We're positive. It's a new year and we're all starting fresh. If you love karting and you're on social media, step to the plate as an unofficial PR rep for the sport and use all your channels to tell everyone how much you love karting, how it's brought you closer with your kids and your family, and how you'd love to have your friends come try it out. It's only a minor shift in the tone of the content you post on social in regards to our sport, but I can tell you this, if every karter in North America spent 2019 posting about how much they love karting, growth would not be a problem and kart club paddocks around the country would be packed.
Simply put, we could be the best promoters and advertisers of our sport, and any positive social media efforts, like that of Clint Bowyer, would have huge implications to what karting looks like in 2020 and beyond.