Vacation Karting in Bermuda?
Arrive-and-Drive program makes it easy to race abroad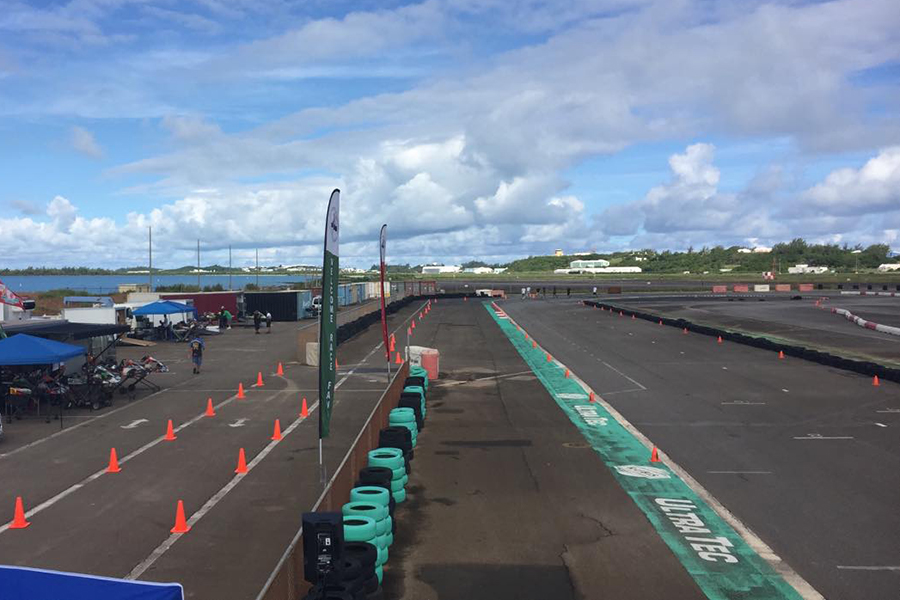 On the banks of the ocean next to the airport sits the home of the Bermuda Kart Club
Two years ago, I was invited to Bermuda to be part of the second Dockyard Grand Prix, a street race held on the island country's Royal Naval Dockyard. It was an incredible trip, to be certain, primarily because the members of the Bermuda Karting Club are simply awesome. The club rolled out the red carpet for Alycia and I and then their hospitality took over. The racing on the temp circuit was close and competitive and the atmosphere was electric. Now the Dockyard GP was not held in 2018, sadly, but planning and research is underway for another major event on the streets of Hamilton, Bermuda's capital city.
Even without a major public street race, the Bermuda Kart Club is going strong, running at the RUBIS Southside Raceway, which is a venue alongside the airport on the northeast part of the island.
If getting a little karting in while you're on vacation sound like your idea of a perfect getaway, Bermuda should be high on your bucket list this winter. EKN spoke with former BKC president Scott 'Skitchy' Barnes, who is a frequent competitor in the US, and he let us know that CRG Bermuda has a fleet of new CRG RS4 Briggs-powered karts ready to vacationers or visitors looking to get their kart racing fix.
So if you've decided to travel to Bermuda this winter or spring, of course, the Bermuda Kart Club event will be the highlight on your weekend. The club's track is open for practice on Saturdays ahead of the official Sunday race days. The official race day includes a pair of morning practice sessions, timed qualifying and three races.
The club offers both Briggs LO206 Senior and Masters classes, each of which can entered through the CRG Bermuda Arrive-and-Drive program.  Arrive-and-Drives come with a tuner and race ready package for $200 for the race day, race tires not included.
A total of nine races remain in the Bermuda Kart Club's 2018/2019 season with monthly events from January to May.
January 6
January 20
February 3
February 17
March 3
March 17
April 14
April 28
May 5
For more information on the Bermuda Kart Club, you can check out their website and contact them through for Facebook page. For a closer look, enjoy this club video:
https://youtu.be/sqXTZnEISgE
To inquire about the arrive-and-drive opportunities, contact David Barbosa using the information below.
Bermuda Karting Club
Facebook: https://www.facebook.com/groups/38275877377/
Website: http://www.bermudakartingclub.com
CRG Bermuda Kart Rentals
Contact: David Barbosa
Phone: 441-777-1193
Email: crgbermudakartrentals@gmail.com
Facebook: https://www.facebook.com/CRGKARTBDA/