Margay Racing Teams with RLV to Expand Distribution of Hoosier Kart Tires in the U.S. and Canada
RLV to become Margay Racing's Western U.S. and Canada Regional Distribution Partner for Hoosier Kart Tires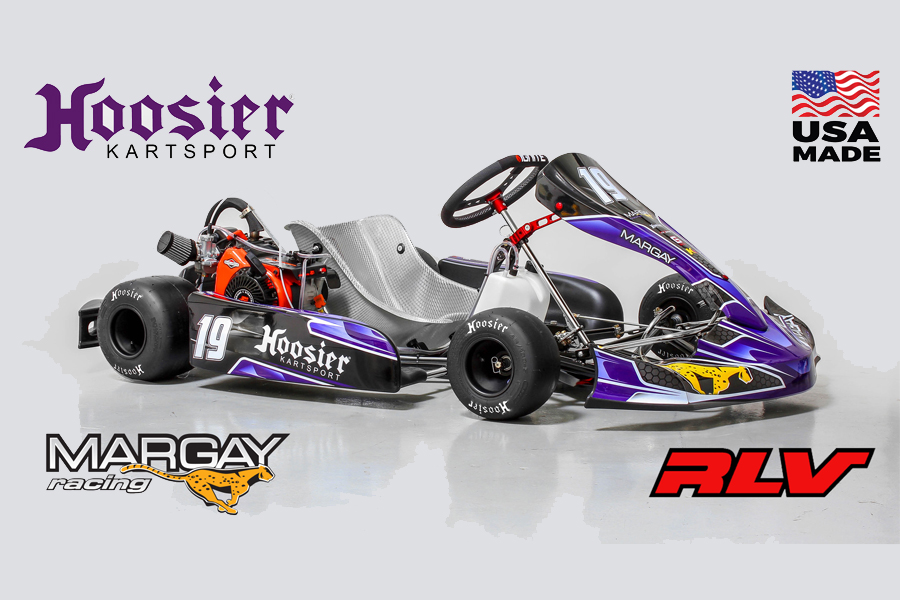 Margay Racing, the leading U.S. manufacturer of racing karts and accessories, announces a new agreement with RLV to expand its distribution of Hoosier Racing Tires. Beginning in January 2019, Margay Racing will become the exclusive U.S. & Canada karting distributor for Indiana-based Hoosier Racing Tire, the largest racing tire manufacturer in the world.
As Margay Racing's Western U.S. and Canada regional kart tire distribution partner, RLV will stock the complete line of Hoosier kart tires and work with tracks, clubs and dealers to offer kart racers a high-performance, durable tire that is made in the U.S. RLV, based in Santa Maria, CA, has over 40 years experience as a leading manufacturer and supplier of racing kart components and accessories.
"When it came to selecting a western US regional distribution partner for Hoosier kart tires, RLV was our first choice and I am thrilled that they are joining us," said Keith Freber, president of Margay Racing. "Art and Rod Verlengiere and the whole team at RLV are highly respected in the industry and know the sport of karting inside and out. I am certain that with RLV involved we will see significant growth of the Hoosier brand in the western states & Canada."
Hoosier offers a comprehensive product line with tires developed specifically for a wide range of karting applications. Compounds include the R55, R60A, R60B, R70 and all new R80, each targeting a specific grip level and all featuring proven consistency over multiple heat cycles.
"We have worked closely with Keith Freber and Margay Racing on many programs over the years," said Art Verlengiere, CFO and vice president of RLV. "Partnering with Margay on Hoosier Kartsport is a terrific opportunity for RLV and we are very excited about the potential."
As Margay Racing's regional distribution partner for Hoosier kart tires, RLV's U.S. and Canada territory will include: Alaska, Alberta, Arizona, British Columbia, California, Colorado, Hawaii, Idaho, Montana, New Mexico, Western Nebraska, Nevada, Western North Dakota, Oregon, Saskatchewan, Western South Dakota, West Texas, Washington and Wyoming.
"We've kept an eye on Hoosier as they have methodically developed their kart tires over the last several years and have been very impressed with the evolution of their product," said Miranda Cromp," vice president of sales and marketing for RLV. "We are looking forward working with our existing partners and developing new relationships to grow the Hoosier brand in the western U.S."
Margay Racing and RLV are offering introductory specials on Hoosier kart tires for clubs or series. For more information, Margay Racing can be reached at 1.800.562.7429 or RLV at 1.805.925.5461.  Additional product information is available at www.hoosierkartsport.com.