Vortex: New Homologated Engines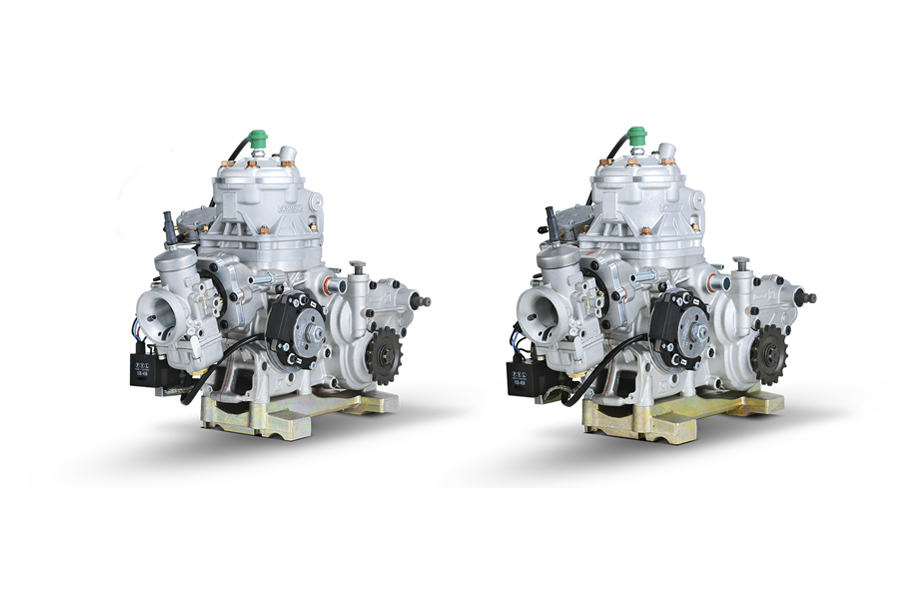 OK AND OKJ CLASS: DST AND DJT
Several technical innovations mark out the new engines.
Three important main targets were followed with the DST and DJT projects: weight reduction, overall dimensions reduction, lowering of the center of gravity.
The achieved outcome: two engines even lighter than the predecessors, allowing better weight distribution and improved vehicle dynamics resulting in an increased vehicle's performance.
The engine block was designed with new crankcases, new crankshaft, new balancing shaft, etc. While remaining similar to the previous layout the engine block was designed to be stiffer and provided with fully machined intake section and transfers. This manufacturing option allowed to improve the overall engine performance repeatability.
The new balancing shaft, diving deeper in detail about one of the most important design changes, no longer works in a chamber filled with oil which means lower friction losses and improved performance.
The new design briefly introduced above allowed a consistent performance improvement, a consistent weight reduction and a better weight distribution.
KZ CLASS: RSZ AND RTZ
The new RSZ and RTZ engines are strictly resulting from the reigning world champion engine RKZ and retain the concerning best qualities.
The underlying premise of the new project was a functional development to increase performance and improve torque delivery. To achieve this outcome the work of the technicians was focused mainly on the crankcases, redesigned and fully machined. This manufacturing option moreover allowed to improve the overall engine performance repeatability.
Together with it a new head with insert was included, provided as standard, featuring a modified combustion chamber profile.
The RSZ engine setup differs with respect to both the RTZ and RKZ. In particular, the RTZ shares with the RKZ the connecting rod, while the RSZ is equipped with a shorter conrod, with center-to-center distance equal to 110 mm.
The RSZ features a torque curve able to ease the driver to race on short to mean length tracks.
Both engines are supplied with a specific exhaust silencer, muffler.