Rosberg Racing Academy Steps Up Its Efforts for Young Karters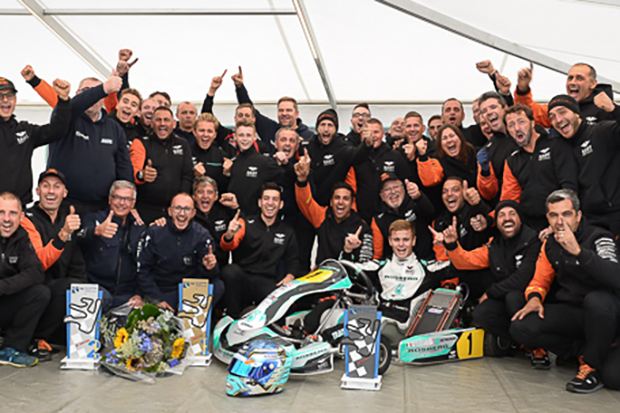 In 2018, the launch of the Rosberg Racing Academy was successful, with the title of FIA Karting World Champion won by Lorenzo Travisanutto in OK and Taylor Barnard's victory in Junior in the WSK Final Cup series. Now the 2019 season is in view… The organisation already supported by Petronas, Arexons and Kart Republic will welcome new partners. With regard to drivers, the focus will be more than ever on the most promising youngsters. The composition of the new squad will be announced very soon. The academy created by the 2016 F1 World Champion also welcomes the new professional status of Lorenzo Travisanutto, who is preparing to join a benchmark team, remaining faithful to the KR chassis.
Revelation of Barnard and Antonelli
Discovering new talents, developing them to climb to the highest level of karting and enabling them to succeed in single-seaters will be the mission of the Rosberg Racing Academy in its second year of existence. "We really want to have an eye on the most talented young kart drivers," confirms Nico Rosberg. "In 2018, we witnessed the sensational rise of Britain's Taylor Barnard, who finished with his first international title in Junior. In the same spirit, we welcomed the young Andrea Kimi Antonelli into our structure. Just coming out of Mini-Karts, he achieved a top five in Junior twice, with around 80 drivers in each race. We will take a close look at the 60cc Mini category, a true breeding ground for young talents. The names of the drivers who will make up our Academy in 2019 will be released soon."
Travisanutto promoted
As for Lorenzo Travisanutto, a new challenge awaits the talented Italian driver. "I sincerely thank Nico Rosberg and Dino Chiesa for the confidence they placed in me in 2018. With them, I managed to achieve what any driver dreams of: becoming World Champion," said Lorenzo.
"The goal of the Rosberg Racing Academy is to open up new horizons for the careers of its drivers and this is the case with Lorenzo Travisanutto, who will have the honour of continuing next year in a new team as a professional driver,"  added Dino Chiesa. "We will stay very close, as we will continue to use our KR chassis and IAME engines."
In the paddock, there will be new developments for the academy, with the arrival of new partners, an improved design and colour scheme, as well as a new awning.
There is no doubt that 2019 promises to be an interesting and exciting year for Rosberg Racing Academy, Petronas, Arexons and Kart Republic.