North Texas Karters Offering Big Payouts for 2019 Winter Series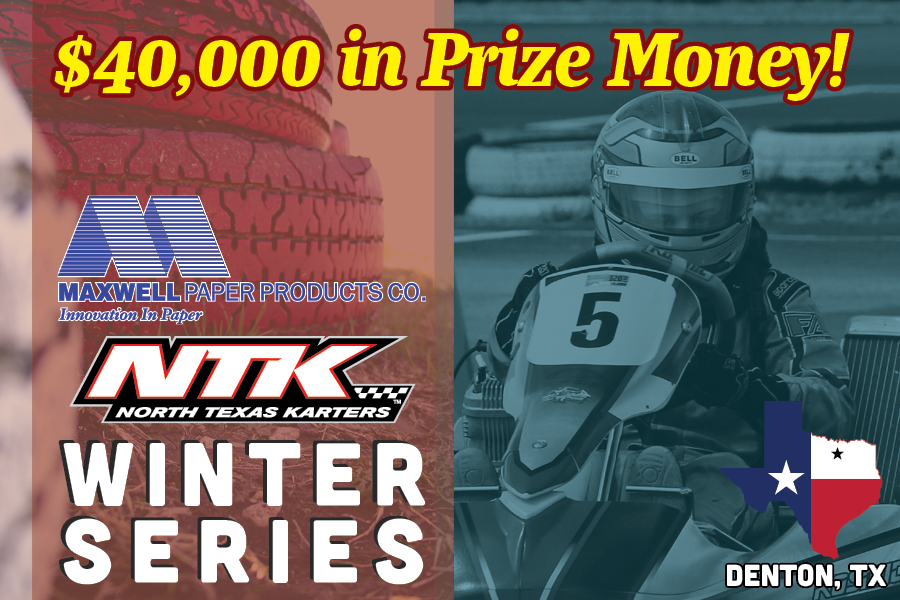 North Texas Karters (NTK) in Denton, Texas has put their money where their mouth is, offering the biggest payouts in their club history.
The 2019 Winter Series sponsored by Maxwell Paper Products has put together a $40,000 pot for their four-race series – starting January 12th, 2019. All classes offered at the track will pay out $500 for 1st, $300 for 2nd and $200 for 3rd for every class for every race. Kid Karts payout will be split over the Honda and Comer classes. A minimum of 5 race entries per class are required for payout.
The race dates are January 12, January 26, February 9 and February 23. The race day schedule begins at 9am when gates open, with practice set to start at 10am. A 12:30pm drivers' meeting will precede the 1pm start for racing. In the case of snow or ice, the race will be run as a double header for the following race date.
Evinco is the spec tire and Motul 2T is the spec oil. VP C12 fuel is mandatory for 2-strokes and 93 octane purchased at the track for the 4-strokes.
NTK is the premiere dedicated kart racing track in North Texas. Located in Denton, a short drive from the Dallas/Ft. Worth area, they are a member-owned, 1/2 mile asphalt track with 9 unique turns including two sweeping banked turns for some of the most exhilarating racing you can imagine.
You can view the details of the series as well as register and pay online here:
https://www.ntkarters.com/239-maxwell-winter-series-race-registration.html