Victory at the Macau Gran Prix in KZ for Tony Kart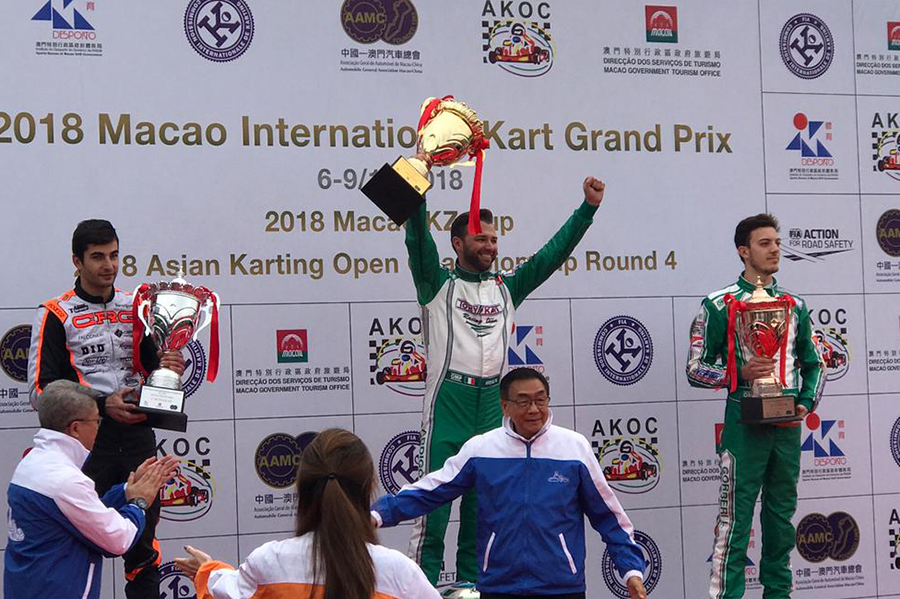 The Tony Kart Racing Team is closing the 2018 season with great success. At the Macao International Grand Prix of KZ, Marco Ardigò gained the victory and Corberi got the third position.
Theatre of the last race meeting of the season was the amazing circuit on the Coloane's peninsula, located in the former Portuguese colony of Macao. This track had already been the seat of important International events in past years, such as the KZ Asia Pacific and the KF World Championship, where we conquered the CIK-FIA 2012 World Title.
After a few seasons, the Asian circuit has come up again within the world karting scene with an International event (the race is included into the CIK FIA calendar among the international events). Since qualifying, it was clear that our Racer 401S, powered by Vortex RKZ, were very competitive and in the qualifying Matteo Viganò was first in his group and second in the whole rating. The other drivers of ours have been at the top, with Simo Puhakka, who centered the second time (in the group), Marco Ardigò and Luca Corberi reached the third time in their respective groups and Alessio Piccini was fourth.
During the three heats, necessary to define the Pre-final line up, the winner of the KZ2 FIA Karting International Super Cup, Matteo Viganò brilliantly stood out in the third heat and Marco Ardigò signed the best lap.
Moreover, in all three qualifying heats, our Tony Kart-Vortex reached the top-5. In Pre-final Ardigò ended in the third position, behind De Conto and Hiltbrand, racing ahead of his teammates Viganò, Puhakka, Corberi and Piccini.
In the Final, on wet track, Ardigò took the lead. During the second lap, our driver was in the top position for all nineteen remaining laps, winning the race with an advantage of 2"445 on the second, De Conto.
The Tony Kart-Vortex party has been enriched by Luca Corberi's podium, gaining the third position thanks to a fantastic race, where he reached the third position at the third lap, maintaining it, while his teammate Simo Puhakka was the author of the best lap in Final. The top-5 was completed by Viganò, ahead of Piccini.