From the Eyes of a Parent: Greg Speed – Formula One United States Grand Prix
Texas karting family takes part in the FIA F1 Future Stars at Circuit of the Americas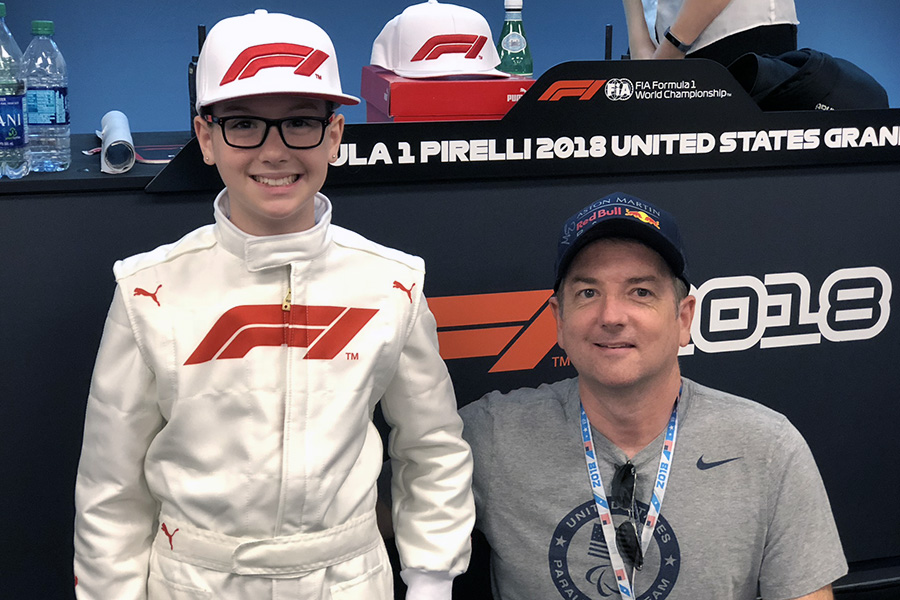 Ashlyn and Greg Speed were part of the F1 Future Stars during the United States Grand Prix (Photo: Greg Speed)
Karting is the purest form of motorsports. For the majority in the sport, it's a hobby, a family activity, or a passion. For that less than 1%, it's a path toward the upper echelon in motorsports. Formula One is the pinnacle of racing, and those drivers we see on the grid in 2018, all began in the sport of karting. The 2018 season marked a new program at all Formula One events, replacing the 'Grid Girls' with the F1 Future Stars program. Each country providing young, enthusiastic karters or race fans the opportunity to see the Formula One event in their home country from the grid. Among those selected at the United States Grand Prix in October was North Texas Karters' driver Ashlyn Speed. Her father, Greg, was able to provide us with a parent's view of the experience. Here is his report:
A typical race weekend begins with arriving early at the track to be sure we have sufficient time to prepare before the green flag opens the day. As dad and tuner to Mini Swift racer Ashlyn Speed, I'm accustomed to the prerace stress of making sure our kart, gear and everything else is ready for the day. This particular morning on October 21, I was mentally experiencing those same rush-hour feelings.
That is until I looked at a calm and collected Ashlyn and then pinched myself to remember that today was not a normal race day for us; we weren't racing. Today, we were the guests at the Formula One United States Grand Prix in Austin, TX. Ashlyn was 1 of 20 children selected to participate in the F1 Future Stars "grid kid" experience. This day would be one to drink in, cherish and remember.
The F1 Future Stars program began this season, replacing the long-standing tradition of having provocative "grid girls" for each driver. By all accounts, this is a change of tradition due to the current climate of political correctness. We, along with many families around the world, would be a beneficiary of that change. And to be honest, it doesn't get much more exciting as a parent to see 20 children dressed up in matching white Puma race suits, race shoes and F1 caps standing in front of the best racers in the world. It's a different kind of optics for the traditionally staid and tightly controlled F1 image, lending itself to a more heart-warming, family-friendly visual.
There were several criteria for the selection of the participants through Circuit of the Americas – host of the USGP. There were 10 kart racers and 10 children picked from various other sources, such as military families and an area children's hospital. The primary criterion for the kart racers was that they had to have run laps at the COTA Karting track, built last year in the parking lot just outside of the iconic turn 1. Further, F1 was intent on having a 50/50 boy/girl ratio.
Since no competitive kart racing has actually been run on the COTA Karting track as of yet, the selection was based upon those who had raced the rental karts. We had stopped by the track and ran laps on our way back from a road trip in September. It was just one week later that I received a call from the track manager with the invitation. It was simply a matter of being at the right place at the right time.
In the month leading up to race day, we were given a liaison who arranged for our VIP paddock passes and grandstand tickets for Ashlyn and me. On race day, once we made it to the meeting spot at 10:30 am, two and a half hours before the national anthem, we were turned over to the F1 Future Stars staff in the media center. The F1 staff was composed of five English women who seemed to know their way around wrangling fidgety children. The leader reminded me of a young Mary Poppins with a lovely accent, smile and joyful way with the kids.
Each child was assigned a driver based upon a random drawing, receiving the team hat for that driver. Ashlyn was assigned Max Verstappen, who would go on to place second for the day. From there, we were taken to meet the drivers. The children seemed to really be enjoying themselves.
The parents were cordoned off from the F1 Future Stars while they met the F1 drivers. We could see some of them but couldn't hear anything they were saying. There was a divider wall between us and many of the drivers.
Once the drivers had left, the children busily compared autographs on their team caps. We also got an unrushed visit with Ross Brawn, F1 Managing Director of Motorsports, who happily interacted with the kids and gave autographs and photo-ops. I also had the opportunity to meet some influential people like Bobby Epstein (CEO of COTA), Sean Bratches (Commercial Director of F1), and Four-Star General Mike Murray. Next, it was back to the media center where they were given their matching suits before heading back towards the grid.
Ashlyn was able to share the experience with a fellow North Texas Karters racer – Micro Swift driver Ethan Thomason. It was a great bonding experience for the two of them to attend this together. We knew most of the other eight karters from Texas regional competition and were able to briefly interact with them in spite of the busy schedule they had for us. I'm sure this shared experience will be a commonality they can build from.
The rest is history as televised on ESPN and ABC, each of our pride-and-joy getting international air time during the United States of America national anthem.
One of my favorite memories was when they were lined up before the national anthem, Ashlyn turned around and shook Max's hand. You should have seen the look on his face. He was very surprised at her boldness, raising his eyebrows and smiling.
It took me back to when she got to be on stage with Alexander Rossi two years ago just after he won the 2016 Indy 500. She told me her "knees were shaking like an earthquake" while Rossi signed a school absence excuse note for Ashlyn in front of hundreds of invitees to this Texas Motor Speedway (TMS) promotional luncheon. Hilariously, and to the raucous laughter of the crowd, she chugged a glass of milk while Alex and TMS president Eddie Gossage took a sip (https://youtu.be/D5FqKhb6YQM).
She said she was nervous because she was the only person up there. Ashlyn noted, "I wasn't expecting to get to go on stage, but for grid kids I was prepared." About F1, she amusingly said, "I wasn't nervous at all this time, because there were a bunch of people being 'embarrassed' together."
After the anthem, we were escorted back to our seats on the front stretch to watch the exciting race. Ashlyn loved it and was cheering loudly, especially on those exciting last lap pass attempts of Hamilton on Verstappen.
I've been a life-long race fan, but careful to never push Ashlyn in a direction she didn't want to go. There's too much commitment (financially and time) to pursue this sport and lifestyle if she wasn't into it. The first time she drove a kart at K1 Speed she was hooked. What I didn't anticipate was the places it would take us together and the incredible experiences we would get to share as a result.
Ashlyn is such a reserved individual that it's hard for even me to know what's going on in that head. The only time I've seen her show excitement on the track was when she made a pass for first with half a lap to go; throwing a fist pump after the checkered. She seems to take everything in stride, which is so hard for me to fathom as a detail-oriented, overly analytical guy. So, people sometimes question her commitment and enjoyment of the sport. Like when Core Karting coach Matt Souza asked her, "Do you enjoy racing?" To which she replied, "Why do you ask? Is it because I don't smile? Yes, I like it." So, take her summation of F1 Future Stars of "it's super cool" and multiply it by ten to understand the awesomeness of that day. She added that it was "a once-in-a-lifetime experience."
Every outing is an opportunity for me to teach her about the differences between the different motorsports and vehicle technology. Last year, we received a personal tour of the impressive University of Texas at Arlington SAE Racing Team from head of operations, Dr. Wood. He said he's got a spot reserved for her to drive on the team if she chooses. Now, that's what she talks about when the question of college comes up from anyone. She explains, "I'm going to UTA, studying mechanical engineering and going to race with the team." That's all her; I never suggested any of that.
Am I proud of my girl? "Why do you ask?"
I've created a video of the F1 Future Stars event that will give you a front-row seat.
You can follow Ashlyn's racing endeavors on Facebook, Instagram and Twitter @AshlynSpeed along with YouTube.
– Greg Speed is the Communications Chairperson for North Texas Karters in Denton, TX. He made his fame racing wheelchairs in the 90's ultimately competing for Team USA at the 1992 Paralympics in Barcelona. Now, he shares his need for speed through Ashlyn's love of kart racing.