A Successful End of Season for Energy Corse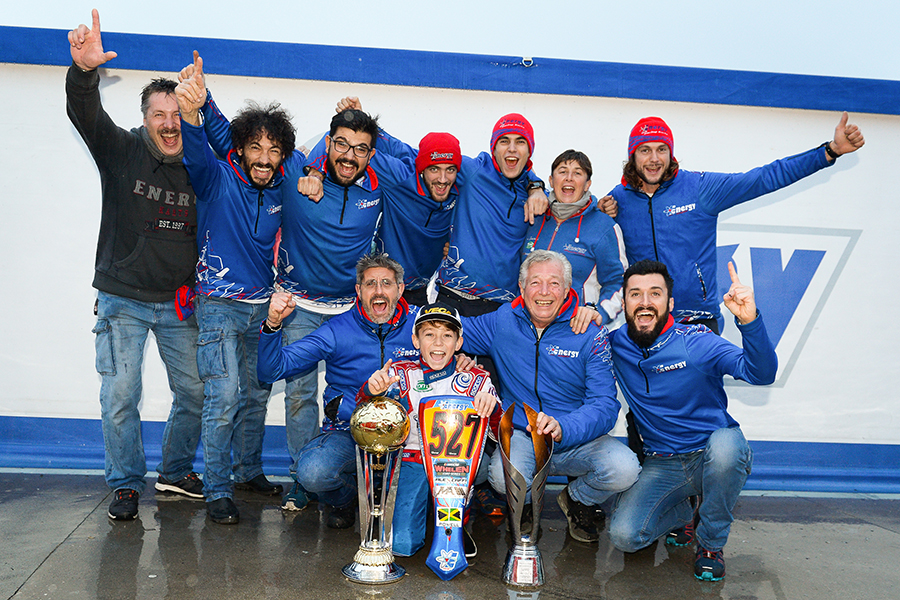 As the sporting year draws to a close, successes have continued in recent weeks for the Energy Corse brand and especially for the factory team: WSK Final Cup champion, Las Vegas double podium, victory at the Industrial Trophy  and many other top fives … The 2018 balance sheet can be considered excellent for Energy Corse, who have already begun preparing for 2019. From 60 Mini to KZ2, the doors of the Italian team are open to drivers hungry for wins!
Energy Corse crowned at the WSK Final Cup
Many excellent drivers and teams took part in the 2018 WSK Final Cup, which was spread over three meetings from October to November. Against strong opposition, Energy Corse and Alex Powell finished with the title in 60 Mini. With three podiums in three races including one victory, the Jamaican has deservedly enjoyed this magnificent success. In general, the performance was there for the other Energy Corse drivers and those from the Revolution Motorsport or Energy Russia Nira Racing teams in 60 Mini and OK-Junior.
A double podium in Las Vegas
With an effective partnership with Energy North America, Speed ​​Concept and AKT Racing Team, the Mini Swift Final finished with two Energy Corse drivers on the podium. During this 22nd edition of the Supernationals, Nikita Johnson and Alex Powell played the leading roles and eventually respectively mounted the second and third steps of the podium. In the parking lot of the Rio hotel in Las Vegas, he was only 6 hundredths off Johnson for the win. Entered in the very difficult KZ category, Joshua Fife was back in the top ten thanks to remarkable competitiveness, but dropped back to 12th position following a spoiler penalty.
Victory of Daniele Pelizzari at the Industrial Trophy
At the end of October at Lonato, Daniele Pelizzari emerged at the front of the KZ2 Final of the very famous Industrial Trophy, which was celebrating its 47th edition. Energy Corse dominated the event, as the other hero of the day was Emil Skaras. Winner of his three heats, then the Prefinal in front of Pelizzari, the Swede led the Final before retiring. Pelizzari took over and won against seasoned opponents. Congratulations also to Isak Sjokvist for his 7th place in KZ2, as well as to the Russian Maxim Soldatov, an excellent 6th in OK-Junior. In 60 Mini, the French driver Loris Clericy continues his progress and finished 10th at Lonato.