eKartingNews.com Driver of the Month: October 2018 – Brent Crews
10-year-old scores second-straight Mini victory at IAME International Final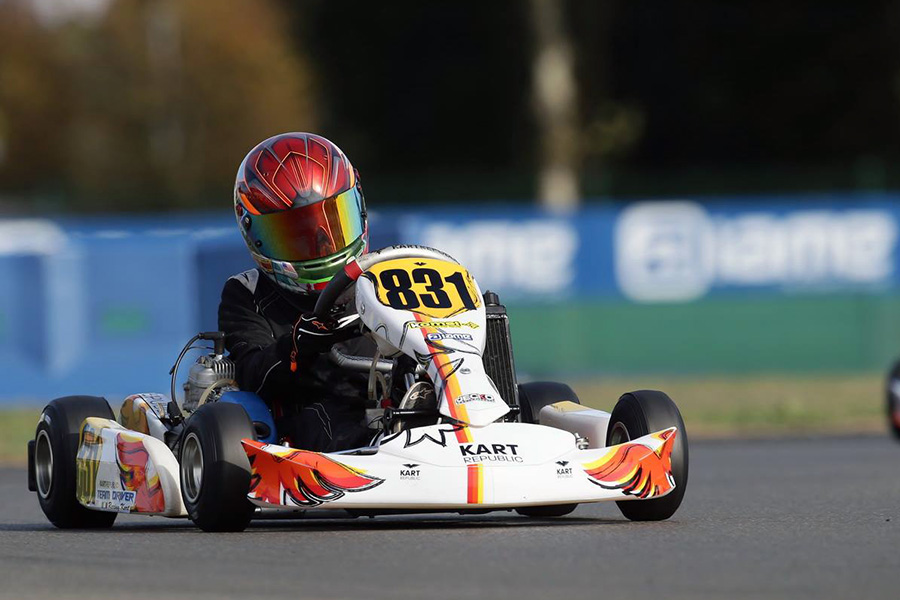 Brent Crews at the 2018 IAME International Final (Photo: IAMEkarting.com)
In a continued effort to highlight the many outstanding performances by drivers around the country, eKartingNews.com is proud to introduce the 'Driver of the Month' program. Each month, the staff at EKN will determine the one driver who stood out above the rest and give the viewers a chance to know exactly what they accomplished and who they are.
Cadet racing has become a focal point in the world of karting. Not just here in North America, where Cadet competition has always been strong – dating back to the days of IndyCar drivers of Sage Karam and Spencer Pigot, to just a few years ago with the names of Trent Hindman, Brandon Lemke, Neil Verhagen and Dylan Tavella making a name for themselves. Today, there is talent under the age of 12 around the world, but it seems that USA remains the best thanks to Brent Crews.
The driver from North Carolina won the 2017 IAME International Final in Le Mans, France, leading a solid group of USA drivers at the event. Crews, earning at ticket through the SKUSA Winter Series title – returned this year to the October 8-14 event joined by only one USA driver and one Canadian – Jeremy Fletcher and Yuchen Qiu. As the defending race winner, the attention all week was on Crews. It was also the first competitive weekend aboard the Kart Republic for Crews after racing last year on Energy and competing all season in the USA on the Nitro Kart. Brent placed 10th in the first practice session for his group, and followed it up with P1 in the final two sessions to begin the event at the top. Thursday started the official sessions, with Crews missing out on the fast time in qualifying by a scant two hundredths of a second to Spaniard Miguel Peiro Luzarraga. That result put him in Group B for the three rounds of heat races.
The first heat came on Thursday after qualifying with Crews edging out Brit William Macintyre by one hundredths at the line for the race win. Friday and Saturday had one round each, making both days an easy two session day for the Mini drivers. Crews led all seven laps in the BvsC heat to a 1.125-second advantage, and followed that on Saturday in BvsD by edging out another British driver – Freddie Slater – to complete a perfect heat score.
Sunday hosted both the Prefinal and Final, with Crews starting the day on the pole position. After jumping out to a solid lead in the Prefinal, he was run down and shuffled back on the final circuit to fourth. That put him on the outside of Row 2 for the Final. The outside lane was slow at the start of the Final, with Crews falling back to 12th. An incident on lap two brought out a full course caution, bunching up the field. That provided Crews the opportunity to fight his way forward after restarting seventh. By lap 10, Crews was into the second position and on the leader Freddie Slater, jumping to the lead in turn one after receiving the white flag. With two corners remaining, Crews left the door open just enough for Slater to dive inside at the apex. As they made their way through the long sweeping final corner, both drivers dove to the inside of the track heading to the checkered flag. Crews got enough of a run to slide alongside Slater, and the two drag raced to the line. By just seven thousandths of a second, Crews scored the victory, earning his second straight IAME International Final victory.
Two years, the Mini category has been offered at the IAME International Final, and both years Crews has come out as the top driver. The 10-year-old added to his resume recently, winning at the SKUSA SuperNationals 22 in Mini Swift. This week, Brent is in Brazil, competing in the Micro category at the 2018 Rotax Max Challenge Grand Finals, looking to improve on his fifth place from last year in Portugal.
October 2018 EKN Driver of the Month – Brent Crews
Bio
Born: March 30
Hometown: Denver, North Carolina
Parents: Mariesha & Matt, Aaron & Katy
Siblings: Parks, Micah, Abel
Height/Weight: 4'9" / 95lbs.
Education: ontrackschool.com
Job: N/A
Racing Resume
Chassis: Nitro Kart
Engine/Engine Builder: Mini Swift / Comet Racing Engines
Sponsors: Nitro Kart, Factory Qrc, Comet Racing Engines, HMS Motorsports, Bundy Built
Series You Compete In: Florida Winter Tour, Rok Cup USA, WKA, USPKS, GoPro Karting Challenge
Years Karting: 4
How did you get started in karting? Kid Karts at GoPro Motorplex
What has been the high point in your racing career? Seeing Nitro Karts dominate and winning in France. I'm just not sure which time.
What are your goals in racing? Winning SuperNationals and getting another world title in Brazil (Rotax Grand Finals) would be a nice way to end in cadet.
In a few words, how would you describe your driving style? Cole Trickle before his big crash.
Funniest moment at the race track? Never again.
Likes
Favorite Track: Le Mans. Since my first laps there last year its been my favorite track. Wide, fast corners, some banking, some elevation, lots of places to pass. In a lot of places, the line doesn't look like the line so you can find speed trying new things.
Favorite form of professional motorsports: If I have to watch something race that I cant, it's probably Midgets.
Favorite karting driver: Jesse Colwell, Google him.
Favorite professional driver: Kyle Larson
Favorite website: I really want to start a Youtube channel so probably that. I really like watching old races there too.
Favorite movie: Who still watches movies?
Favorite actor/actress: Will Ferrel
Favorite music/group: Drake
Favorite vacation/activity spot: Never been on a vacation without a race. I guess Portugal was nice.
Favorite food: Gluten free is hard to do racing, it was impossible in Italy.
The Real Deal
What do you do when not at the track? We race a lot so when Im not racing I try to get as much school work done as I can.
What are your goals outside of karting? Where we live everything is racing. Hopefully I can drive something and if not, having a fun job in racing would be ok.
What app or game do you play right now? Dirttrackin on the iPad but I have been asking Matt to set iRacing back up.
What type of street car would you like to drive? No idea. Its gonna be a while.
What are your pet peeves or things that irritate you? When there are 2 races that you want to do at the same time.
What do you think could be done to improve the sport of karting? The ages of the classes, I wanted to race x30 this past year and everyone said no. In Europe a lot of kids only get to run junior for 1 year and then have to run senior. I also think racing more places would be fun. I'm really excited to race at the Dolphins stadium. More stuff like that would be great.
What are your favorite aspects about the sport of karting? I like racing. The passing and defending part and not the practice and qualifying part.
October 2018 Driver of the Month – Honorable Mention:
– Alex Bertagnoli: WKA Manufacturers Cup Series – 1 Win (IAME Senior / CompKart debut)
– Emma Delattre: Rok Cup International Final – OMP Trophy winner (Rok Senior)
– Erik Jackson: Rok Cup International Final – Fourth Place (Expert Rok)
– Hoyt Mohr: WKA Manufacturers Cup Series – 1 Win (Micro Swift / First career victory)
– Alex Powell: Rok Cup International Final – Mini Rok runner-up
– Ugo Ugochukwu: Rok Cup International Final – Third Place (Junior Rok)
– Cameron Weinberg: WKA Manufacturers Cup Series – 2 Wins (Briggs 206 Cadet / Micro Swift)
– Kaden Wharff: WKA Manufacturers Cup Series – 2 Wins (Yamaha Junior)