EKN's David Cole Named Dan Wheldon Ambassador Award Winner
Managing Editor honored for professional character and contributions to the sport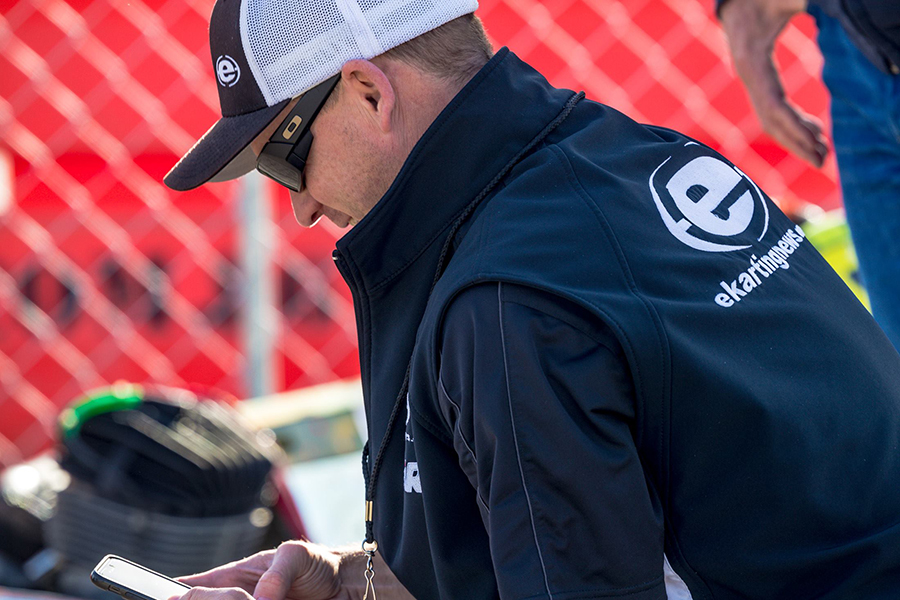 EKN Managing Editor David Cole was given the Dan Wheldon Ambassador Award at the 2018 SKUSA SuperNationals
(Photo: Mark Schwigen)
This past weekend, on SuperSunday, I had to do one of the hardest things I've ever done in my professional career. I had to somehow get through a script, in front of a huge audience, with losing myself to emotion. You see, my right-hand man here at eKartingNews was presented with an incredible honor, and I had to make the introduction. During the opening ceremonies of this year's Superkarts! USA SuperNationals, our own David Cole was named as this year's winner of the Dan Wheldon Ambassador Award for his tireless dedication to our sport and its community, and it was most certainly well deserved. Thankfully, I was able to make it through the entire script, albeit much too quickly, because it was truly difficult to keep my composure through to the end. I'm thrilled that David was put into the national spotlight to honor is dedication and heartfelt efforts. I personally do not know of another person in karting with such pure and positive motives. David's work with EKN and beyond has nothing to do with money or profit or control. It's all about his love for the sport and his commitment to support the community.
Created by former Florida Winter Tour owner and promoter Bill Wright, the Dan Wheldon Ambassador Award is expressed in his words as two-fold: First to honor the memory of Dan Wheldon, and secondly to inspire others to be aware and adopt the personal attributes that made Dan an outstanding father, racer, friend and a strong and positive image for the karting community. The winner is one who best represents karting with a highly competitive spirit, a helpful and positive attitude, and a professional image. Although drivers are the most prominent part of any series, success in karting requires groups of individuals including parents, tuners, mechanics, coaches, team managers, business owners, importers, track owners and event promoters.
Former winners include Jim Russell Jr., Alan Rudolph, Jorge Arellano, Ben Cooper, Garett Potter and Rubens Barrichello. When Mike Maurini confirmed their decision to name David Cole as the 2018 award winner, I could not have been more proud. I'm probably the only person who knows how hard he works and how dedicated he is to our sport. There's no doubt in my mind that he belongs in this group of passionate karting professionals. I'm incredibly lucky to have had David as the EKN quarterback for 14 years now, and even more for fortunate to call him a friend.