Ryan Norberg Selected for eKartingNews Road to Indy Shootout Ticket
Current #1 ranked driver to represent karting for shot at $200k scholarship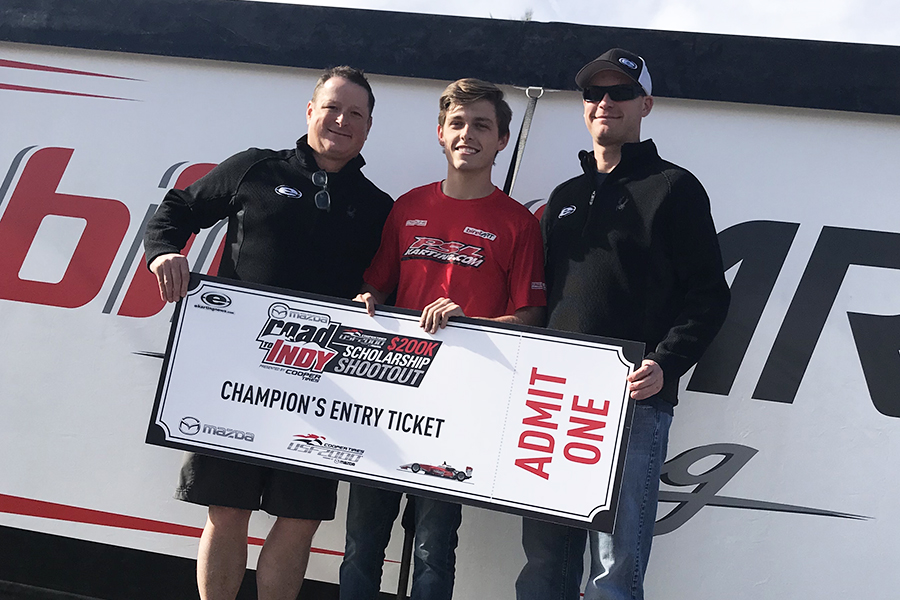 eKartingNews.com's Rob Howden (l) and David Cole (r) have selected three-time Superkarts! USA Pro Tour X30 Senior champion and current #1 ranked karter Ryan Norberg as their At-Large selection for the Mazda USF2000 Road to Indy $200k Scholarship Shootout
(Photo: eKartingNews.com)
For the second year, eKartingNews.com is honored to have been provided with the opportunity to send a deserving kart racer to the Mazda Road to Indy USF2000 $200K Scholarship Shootout as an 'at-large' selection. EKN's Rob Howden and David Cole have spent the year traveling to more than two dozen karting events, covering these races and watching the performances of countless talented young drivers. Armed with the insight provided by this significant schedule, and after narrowing their Shootout candidates down to just five, Howden and Cole made the final decision to award the ticket to reigning Superkarts! USA Pro Tour champion Ryan Norberg, the website's current #1 ranked driver in the TaG category. Norberg, 20, won his unprecedented third straight SKUSA Pro Tour championship this season, displaying the kind of consistency and poise that only comes with experience.
"Winning his third straight title has obviously cemented Ryan's position in our segment of the sport, and knowing that his ultimate goal is to become a professional race car driver, it's a privilege to be able to provide him with this opportunity to show what he's made of," offered Howden. "I think that the success of both Oliver Askew and Kyle Kirkwood in USF2000 has proven the talent of top US karters and Ryan is cut from the same cloth, and I firmly believe that he could make the same impact at Oliver and Kyle did over the last two years. I wish Ryan the very best of luck at the competition in December."
"Ryan is a great ambassador for the sport of karting and a talented driver behind the
wheel," added Cole, EKN News Desk Manager. "His record of three straight SKUSA Pro Tour championships puts him at a level no other driver has been able to reach in the last decade. The experience here in North American karting and competing at the international level puts him among the best karters in the USA. His demeanor on and off the track is one of respect and professionalism, and I am excited to see how he stacks up against the field at the Shootout."
Norberg will travel to Arizona for the December 8-9 event at the Bondurant School for High Performance Driving near Phoenix, AZ, which will see the champions of assorted series from around the globe and several at-large entries vie for a Mazda Scholarship into the 2019 Cooper Tires USF2000 Championship.