EKN Exclusive: Superkarts! USA SuperNationals 22 – Preview Series – Pro Shifter
Mix of S1/S2 set for SuperSunday showdown in Vegas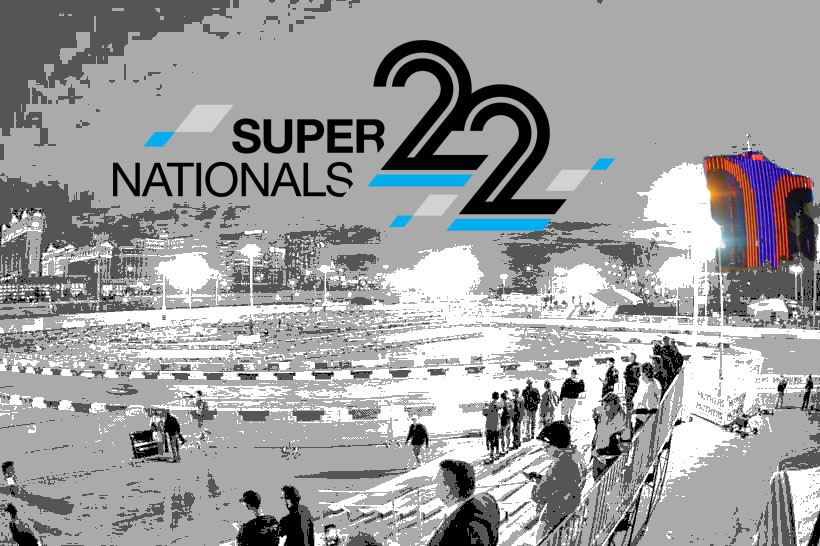 eKartingNews.com, the Official Media Partner of Superkarts! USA, is proud to present our Preview Series for the SKUSA SuperNationals 22. Leading up to the on-track action of the 22nd edition of the marquee SKUSA event, EKN will preview each of the 10 categories that will compete on the temporary circuit located just outside the Rio All-Suite Hotel & Casino from November 14-18.
Complete coverage of the Superkarts! USA SuperNationals 22 can be found at the EKN EVENT PAGE. EKN Live will provide play-by-play and live timing from qualifying through to the final checkered flag on SuperSunday at ekartingnews.com/live
---
Shifterkart racing has been the backbone of the Superkarts! USA organization since its inception. In fact, it was the entire reason for SKUSA's formation. As such, it was not until the inaugural event at the Rio in 2003 that single-speed karts were part of the SuperNationals. As is the case in the cyclical nature of our sport, numbers seemed to be dropping in the headline S1 shifterkart category until the establishment of the SKUSA Pro Tour in 2010. This national series fueled a rejuvenation of shifterkart racing in North America. Numbers have dwindled at the national level again, however and now SKUSA is moving the organization into a new direction, offering the Pro Shifter division for the first time. A combination of S1 Pro and S2 Semi-Pro classes brings the two categories together, which have been competing separately since 2010. The positive of this melding is a sold out field, as SKUSA opened up the entry to welcome 50 drivers.
At the forefront is the defending SuperNationals S1 winner Billy Musgrave. It was 2012 when the young SoCal driver won in his event debut, besting a tough S2 field for the victory at the Rio. Fast forward to 2017, and Musgrave piloted his MRC / Aluminos to the top step of the S1 podium on SuperSunday. The five-time California ProKart Challenge champion came up short in his bid for the Pro Tour title this year, and will head into Vegas with a vengeance and the goal to repeat. The driver to beat out Musgrave for the SKUSA Pro Tour was Florida's AJ Myers. The perennial contender secured his fate with a dominating victory at the SummerNationals finale aboard the TB Kart machine. Myers has made the move to the Mad Croc Karting USA operation, placing fourth in his debut at the Streets of Lancaster Grand Prix. Myers now has more time on the chassis, and will be double dipping by running X30 Senior, as well. His best finish in S1 was in 2016, placing runner-up.
It was Danny Formal who bested Myers in Vegas that year, as the Costa Rican garnered a $10,000 payday for defending his victory from 2015. Both those wins were with the DRT Racing / DR Kart combination. Now finding a home with Leading Edge Motorsports / Formula K, Formal is coming off a runner-up performance at the ROK the RIO event in his debut with his new team. Besting Formal at the line was Matias Ramirez. The Florida driver also won in 2016, winning the S2 class that year in dominant fashion. Now considered among the top shifterkart drivers in North America, Ramirez has joined the new Team GFC operation, piloting the chassis namesake of Gary Carlton. Labeled by many as the best shifterkart driver ever in the USA, Carlton has established his GFC brand and won in its opening weekend. The two-time SuperNationals winner would like nothing more then to add one more victory before looking ahead to 2019.
Another former winner has a tremendous story that was captured in the recent debut of our new 'Book It – In Conversation with Rob Howden' podcast that has been replaying all week on EKN Radio Network (and will be available on Tuesday as a podcast). One year ago, Matt Jaskol was just returning home from his adventure on the TV reality show 'Castaways', on which he was stranded on an island for 41 days before being rescued. Fast forward 365 days, and Jaskol is primed for another attack at his racing career as he returns to the event that launched his career. The Las Vegas native was the 80cc Junior winner aboard a CRG for SSC Racing 20 years ago at the X-Plex, and the 34-year-old will run from under the familiar CRG Nordam tent this week. Kiwi Matt Hamilton and Oregon star Joey Wimsett join the list of former winners in the field. Hamilton's victory came in 2013 in his SKUSA debut, not in S1 but in the S4 class. After running the Master class for two years, the Aluminos driver ran in S1 during the last three, landing on the podium in each edition. Last year was Matt's best finish, placing fourth, and he is coming back for more. Wimsett (DRT / DR Kart) has been a long-time SuperNationals competitor, including stints in TaG Senior, KF2 and, of course, S1. Wimsett was the first driver to win the $10,000 bonus put up by SKUSA for full-time Pro Tour competitors, scoring the victory and the Pro Tour championship in 2013. Wimsett's results have declined each year since, as he placed 11th in 2017.
The 2018 season was a solid one for Oregon driver Kyle Wick. The Rolison Performance Group / CRG pilot earned his first S1 Pro Tour victory at the SpringNationals, going on to earn the SKUSA #2 plate for 2019. Last year, Wick jumped from S2 to S1 for the SuperNationals and was among the contenders until contact on SuperSunday thwarted his run at the podium. There are a number of drivers making their Pro debut having run S2 last year. RIGP King of the Streets winner Rory van der Steur (Tony Kart) is among them, along with SKUSA Pro Tour S2 vice-champion Blair Hosie – who will carry the SKUSA #02 plate in 2019. The Texan scored his first win at the SummerNationals in his debut with MRC / Aluminos. On the podium last year at the SuperNats in the S2 division were Jamaican Collin Daley (DRT / DR Kart), Jason Pettit (MRC / Aluminos) and Mexican driver Emiliano Salazar (Praga). Daley ended the 2018 season eighth in his rookie S1 campaign. Pettit was the provisional S2 winner on SuperSunday a year ago, only to have a start infraction penalty drop him to fourth on the podium. Salazar placed fifth in his SuperNats debut in S2, and is jumping up to Pro in 2018.
Other Pro rookies in the field for the 2018 SuperNationals is Streets of Lancaster Grand Prix S2 winner Zach Pettinicchi (VRP / Formula K), RPG / Kosmic driver Cameron Egger, Battle at the Brickyard winner Devon Smith-Harden (TB Kart Indy), and Kol Bailey – part of the SuperNationals debut for the GFC chassis with three-time winner Gary Carlton. Notables to watch are Texas ProKart Challenge champion Max Hewitt (CRG Nordam), SKUSA Pro Tour winner Hunter Pickett (Sodi Kart), California PKC vice-champion Matias Podboj (Mad Croc) and veteran Josh Lane (DRT / DR Kart) – still holding onto his youth at 30-years-old.
Over the last eight years, a driver outside the USA has won three times, with the last coming in the final year at the Rio in 2014 when Jordon Lennox secured the Pro Tour championship with a win. Jeremy Iglesias came close last year, running second until a mechanical issue put him on the sidelines. The Frenchman stood on the podium in KZ three times from 2007-2009 and is back with LEM / Formula K. While this may not be the first time a world karting champion has competed in the S1 or Pro class, it's the first in a few years. 2016 title winner Pedro Hiltbrand is double dipping on the week, racing both X30 Senior and Pro Shifter. The CRG factory pilot has had some success in six-speed racing, placing first at the CIK-FIA Super Cup in Sweden the same year he won it all in Bahrain. Add in Italian Francesco Celenta (LEM / Formula K) and Kristijan Habulin joining TB Kart USA. In addition, Davey Hamilton Jr. gives the Pro Shifter field some Road to Indy flavor, having competed in this year's Indy Lights Freedom 100 at the Indianapolis Motor Speedway. Hamilton races nearly anything he can, from pavement sprint cars to midgets and supermodifieds, and he is set to make his SuperNats debut with TB Kart Indy with style already priming up for the race in Vegas – check out his video.
---
Predictions:
Rob Howden – EKN Publisher
Over the last 21 years of calling the SuperNationals, I've had the opportunity to watch some truly talented drivers. I've also come to understand that when a driver and their equipment meld, and there is mutual respect between man and material, magic can happen. Danny Formal is one of those guys who can make magic happen when everything comes together. The new pairing is Formal and Greg Bell, on the Formula K. Is this a winning equation? They all but dominated at the Rok the Rio.  I see Formal being on his game and winning is third SuperNats title. Billy Musgrave will challenge and truly may prevail, as he's the best all-around driver in the country right now, in my opinion. Kyle Wick is a quiet badass, and this will be his second run at it. Having raced a CRG all year with Rolison Performance Group, I'm interested to see how Wick responds to being under a new tent (CRG Nordam), surrounding by black and yellow, compared all weekend in the data room with Hiltbrand.  Hamilton is just one of those true rock stars in our sport. He could be racing Masters Shifter but he's throwing the hat back into Pro. I respect that so much. To honor his rising to the challenge, I'll predict top-five run for him. On a recent Facebook thread, a guy who I respect greatly, Mike Manning, said I should be calling out a 'darkhorse' with every class. So here you go, Mike.  My DH for Pro Shifter is Matt Jaskol. Just look at this guy's record of coming into the SuperNats having hardly raced karts and out-running some of the world's best. Can Matt win? Yes. Will he? Probably not. Could he podium…you can bet your deserted island on it.
1. Danny Formal
2. Billy Musgrave
3. Pedro Hiltbrand
4. Kyle Wick
5. Matt Hamilton
David Cole – EKN News Desk Manager
In the current era of the Pro Shifter division (2010 to present), there has only been one repeat winner at the SuperNationals. Danny Formal was able to pull that off in back-to-back years. I believe that trend will continue with Billy Musgrave reaching the checkered flag first on SuperSunday. No one has more seat time in North America, maybe even the world, than Musgrave. Losing that Pro Tour title is probably pushing him even harder to be that much more consistent and faster, in terms of both himself and his machine. Everything was on point at SOLGP, and will continue into Vegas. International drivers have good times and bad times in our Honda category, as it's much different than the KZ powerplants they are used to driving. World champion Hiltbrand will learn quickly, placing second, with Iglesias earning another podium result at the SuperNationals. Same for Hamilton, who goes for his fourth straight trip to the steps and Mathias Ramirez gives GFC a podium in their SuperNationals debut.
1. Billy Musgrave
2. Pedro Hiltbrand
3. Jeremy Iglesias
4. Matt Hamilton
5. Matias Ramirez
---
By the Numbers:
5 – SKUSA Pro Tour Champions among the drivers
6 – Former SuperNationals winners
9 – International drivers
38 – Making first start in Pro at SuperNationals
50 – Entered drivers
---
Provisional Entry List – Pro Shifter
SuperNats 22-Entry List-ProShifter
| | | | | | |
| --- | --- | --- | --- | --- | --- |
| No. | Driver | Team | Chassis | Hometown | Country |
| 186 | Kol Bailey | Team GFC | GFC | Peoria AZ | US |
| 103 | Evan Batt | TB Kart Indy | TB Kart | Indianapolis IN | US |
| 124 | Christian Bird | Nash Motorsportz | CRG | Grand Junction CO | US |
| 178 | Andrew Bujdoso | Mad Croc Karting USA | Mad Croc | Girard OH | US |
| 160 | Prescott Campbell | Musgrave Racing Co. | Aluminos | Newport Beach CA | US |
| 144 | Reilly Cann | Crossling Competition | Exprit | Van Alstyne TX | US |
| 111 | Francesco Celenta | Formula K / LEM | Formula K | | IT |
| 112 | Collin Daley | DRT Racing | DR Kart | | JM |
| 121 | Cameron Egger | Rolison Performance Group | Kosmic | Mulino OR | US |
| 116 | Cody Elliott | Franklin Motorsports | Merlin | Madison WI | US |
| 137 | Danny Formal | Formula K / LEM | Formula K | | CR |
| 151 | Anthony Freese | Cambrian Go-Karts | Sodi Kart | Salinas CA | US |
| 154 | Tyler Guilbeault | DRT Racing | DR Kart | Pelham NH | US |
| 114 | Kristijan Habulin | TB Kart USA | TB Kart | | HR |
| 109 | Matt Hamilton | Aluminos | Aluminos | | NZ |
| 145 | Davey Hamilton, Jr. | TB Kart Indy | TB Kart | Nashville IN | US |
| 132 | Dean Heldt | Robert Heck Racing | CRG | Henderson NV | US |
| 173 | Micah Hendricks | | Praga | Glendale AZ | US |
| 122 | Max Hewitt | CRG Nordam | CRG | Houston TX | US |
| 102 | Pedro Hiltbrand | CRG Nordam | CRG | | ES |
| 199 | Tim Hollowell | GP Karts USA | GP Kart | Lebanon IN | US |
| 02 | Blair Hosie | Musgrave Racing Co. | Aluminos | Sugar Land TX | US |
| 101 | Jeremy Iglesias | Formula K / LEM | Formula K | | FR |
| 155 | Matt Jaskol | CRG Nordam | CRG | Las Vegas NV | US |
| 131 | David Kalb, Jr. | Checkered Motorsports | Kart Republic | Aurora OH | US |
| 142 | Hunter Kelly | Cambrian Go-Karts | Sodi Kart | Elk Grove CA | US |
| 177 | Worawong Komarakul | Doran Motorsports Group | Parolin | San Francisco CA | TH |
| 127 | Michael Korody | Musgrave Racing Co. | Aluminos | San Diego CA | US |
| 104 | Josh Lane | DRT Racing | DR Kart | PIngree Grove IL | US |
| 119 | Ryan Lankenau | CRG Nordam | CRG | Warrenville IL | US |
| 138 | Dan Monteiro | Checkered Flag Racing | | Vancouver BC | CA |
| 100 | Daniel Morales | Aluminos | Aluminos | | MX |
| 3 | Billy Musgrave | Musgrave Racing Co. | Aluminos | Riverside CA | US |
| 1 | AJ Myers | Mad Croc Karting USA | Mad Croc | Palm Harbor FL | US |
| 105 | Matt Paesch | Orsolon Racing | CompKart | Orlando FL | AW |
| 117 | Zach Pettinicchi | VRP Racing | Formula K | San Ramon CA | US |
| 146 | Jason Pettit | Musgrave Racing Co. | Aluminos | Walnut Creek CA | US |
| 136 | Hunter Pickett | Pickett Racing | Sodi Kart | Alamo CA | US |
| 188 | Matias Podboj | Mad Croc Karting USA | Mad Croc | Eastvale CA | AR |
| 118 | Mathias Ramirez | Team GFC | GFC | Bradenton FL | US |
| 150 | Ryan Rudolph | | CRG | Denver CO | US |
| 107 | Emiliano Salazar | | Praga | | MX |
| 123 | Zach Schiff | TB Kart Indy | TB Kart | Dublin OH | US |
| 192 | Callum Smith | Formula Works | CompKart | Wilton CA | AU |
| 128 | Devon Smith-Harden | TB Kart Indy | TB Kart | Nashville IN | US |
| 110 | Mark Snyder | CRG Nordam | CRG | Southlake TX | US |
| 129 | Rory van der Steur | Team Felon | Tony Kart | Chesapeake City MD | US |
| 120 | Josh Weis | | CompKart | Aurora CO | US |
| 2 | Kyle Wick | CRG Nordam | CRG | Auburn WA | US |
| 172 | Joey Wimsett | DRT Racing | DR Kart | Beavercreek OR | US |