Sebastian NG Scores Overall Mini Swift Grand National Title at GoPro
Win and runner-up finish in WKA Manufacturers Cup finale caps tremendous season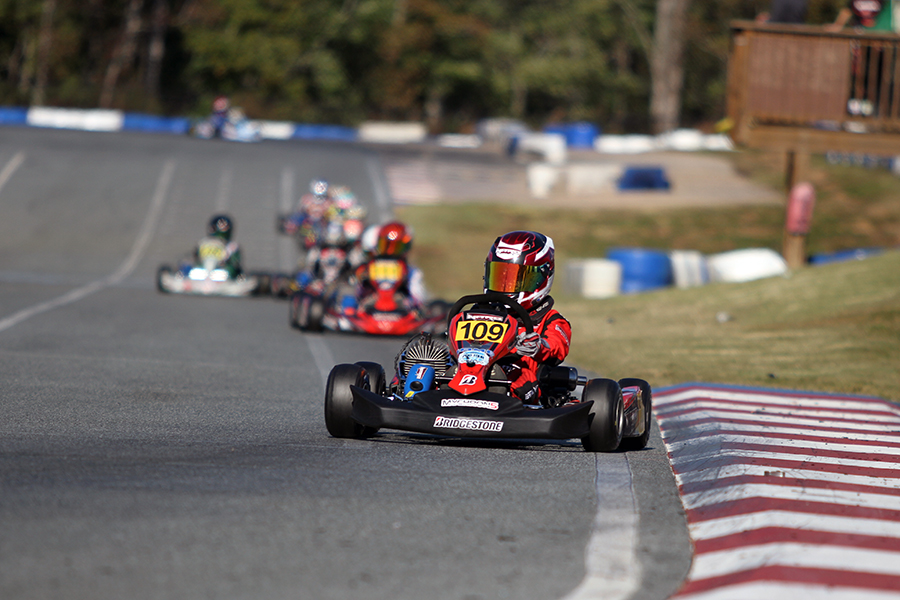 Sebastian Ng delivered two strong performances, including a race win, to take the overall crown at the recent WKA Manufacturers Cup Grand Nationals at the GoPro Motorplex (Photo: eKartingNews.com)
Mini Swift racing is among the most hotly contested in American karting and 10-year-old Sebastian Ng from the Central American country of Panama has become one of the category's frontrunners in his freshman year in the class. Ng joined his Nitro Kart team at the season-ending World Karting Association Manufacturer's Cup Grand Nationals at GoPro Motorplex in Mooresville, NC on the October 26-28 weekend, and scored a win and a runner-up finish in the Mini Swift class to score the overall Grand National win.
Ng dominated Mini Swift Sportsman qualifying on Saturday, taking the pole by over a half-second and then scored the opening heat race win of the day before finishing second to two-time defending IAME International Final champion Brent Crews in Heat #2.  In the final, Sebastian hounded Crews before taking over the lead with three laps to go and he emerged victorious by 0.130 seconds over Crews to begin the weekend in style, taking home a prestigious WKA Eagle trophy.
Sebastian missed the speed a little in Sunday qualifying, timing in seventh, but he quickly moved forward in the Prefinal and then hooked up with Crews to pull away to another 1-2 finish.  In the 16-lap main event, Sebastian pulled away early but Crews drafted with Ben Maier to reel him back in. Ng fought hard with Crews on the final lap, which opened the door for Maier to slip through and steal the win by a scant 0.041 seconds. Sebastian held on for second. On the strength of his first and second place finishes, Ng was crowned the overall winner of the 2018 WKA Manufacturers Cup Grand Nationals.
Ng's focus will now move to the start of the 2019 season at WKA Daytona KartWeek in Florida.  The current plans are to run his final year of Mini category racing before moving to Junior in 2020, and he is targeted a return to the WKA Manufacturers Cup, as well as campaigns on the Superkarts! USA Pro Tour and the United States Pro Kart Series, and potential entries in the ROK Cup program. Sebastian spent some time overseas this past season, finishing third in the EasyKart Grand Final in Siena, Italy, and these experiences have helped motivate his management team to enter an yet-to-be-determined number of WSK and Italian Championship events.
Sebastian would like to thank the following companies for their support toward his racing program; Granma POPO from Cremapan, Pirate Kart Racing, Orillac-Calvo Clinic, Arrendadora Economica, PonyRacing, Nitro Kart, and Allison Racing Engines. Visit the Sebastian Ng 109 Facebook page to follow his progress throughout 2018.