CRG Nordam at SuperNationals 22 with 36 Drivers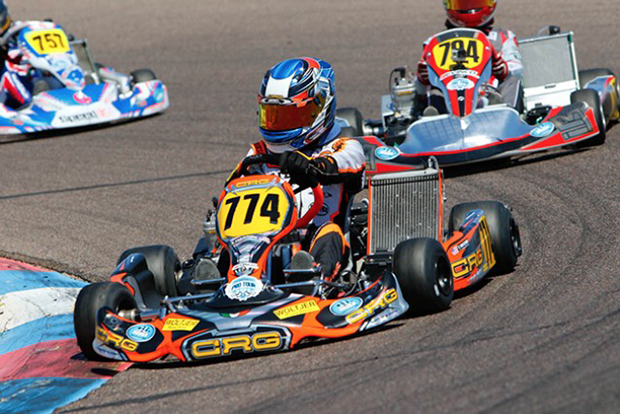 Tyler Maxson
Over 500 drivers coming from the 5 continents will challenge in one of the most prestigious events of the season on the weekend of November 18th: the XXII SuperNats organized by the SKUSA on the Rio All-Suite Hotel & Casino circuit.
6 classes will fight on the track, from the Mini to the KZ and CRG Nordam just made official one the most competitive and numerous drivers' line-up, able to yearn for a good result in all the categories. Many leading figures will be competing with the CRG colours, especially from the US, as Tyler Maxson in the TAG Junior, Brendan Baker in the TAG Senior and Rod Clinard in the Shifter Master.
A total of 36 drivers will be managed by CRG Nordam, that will also count on the experience of the Factory Racing Team's drivers coming from Europe: Paolo De Conto will be among the KZ protagonists, Pedro Hiltbrand and Callum Bradshaw will be racing in the TAG Senior and Kas Haverkort (coming from the Zanardi team) will race in the TAG Junior.
A part of the European drivers' job will be to provide all the technical information gained in the CIK-FIA races, a task that will be carried out by the CRG Racing Team technicians as well, that will flank CRG Nordam in this important event. Among the protagonists, there will be also many CRG partners, as the prestigious Piquet Sports, the Visalia Team and the Ron White Racing.
The event will start on Wednesday 14 November with the first free practices and then qualifying practice and heats will follow. The finals will take place on Sunday and they will be broadcasted on the SKUSA Facebook page.
The CRG Nordam media staff will be active with many updates from the track and backstage of the paddock on its social channels, Instagram and Facebook, moreover many interviews and focuses will be available on the SKUSA official website (https://www.superkartsusa.com), where you can also download the App to follow the races in live timing.
CRG Nordam – Official drivers Line Up
TAG SENIOR: #360 Kayden Gray, #335 Brenden Baker, #323 Callum Bradshaw, #306 Pedro Hiltbrand, #340 Olin Galli, #346 Santiago Chiarello, #345 Sebastian Martinez Duran
TAG MASTERS: #509 Pedro Cabrera, #589 Fernando Arredondo, #545 Miguel Perez, #531 Cristian Morano Ters, #536 Nicolas Estrada, #507 Eduardo Dieter, #519 Carlos Martich
TAG JUNIOR: #767 Tyler Maxson, #719 Kas Haverkort, #718 Aiden O'Neil
SHIFTER MAST: #410 Patrick O'Neil, #03 Rod Clinard, #428 Juan David Gomez
PRO SHIFTER: #122 Max Hewitt, #110 Mark Snyder, #119 Ryan Lankenau, #102 Pedro Hiltbrand, #2 Kyle Wick, #181 Brian Keck, #155
Matt Jaskol
MINI: #133 Felipe Bernasconi
KZ: #76 Pierce Baldas, #9 Kyle Wick, #4 Paolo De Conto, #71 Ron White, #22 Max Hewitt, #8 Benjamin Tornqvist, #57 Matt Jaskol, #81 Brian Keck