2018 ROK Cup Promotions ROK the RIO – Friday Report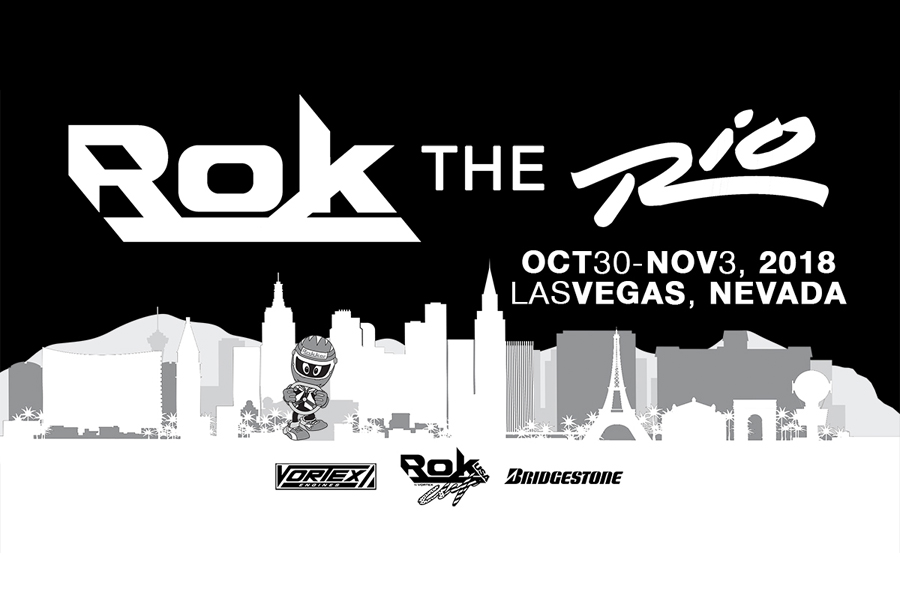 Daily Report by ROK Cup USA
The 2018 ROK Cup Promotions event calendar culminates at the RIO All-Suites Hotel and Casino with the 2018 ROK the RIO race. Taking place Wednesday, October 31st to Saturday, November 3rd with drivers from around the world in attendance, the first annual event has exceeded entry expectations with more than 215 competitors taking part on the temporary race circuit. With ROK the RIO championship titles on the line, teams and competitors will also be vying for a cash purse in excess of $35,000.00.
Friday would see one warmup and three heat races for all classes as drivers continued their progression towards Saturday's main events. With the progressive heat race format, drivers are forced to be fast and consistent to give themselves the best chance to be the ROK the RIO Champion.
Micro ROK
Caleb Gafrarar scored his first heat race victory of the weekend in heat two as he bested Sebastian Garzon and Parker Delong. Heat one race winner Matias Orjuela fell back to the fourth position while Luis Umana was able to advance forward to fifth.
Garzon rebounded in the weekends third heat race taking a .231 victory over Caleb Gafrarar but was bounced in tech for a carburetor issue giving the win to Gafrarar. Umana was able to continue his movement forward with a second place finish, just ahead of Matias Orjeula, Parker Delong and Bernardo Gentil.
Delong put a cap to a great day with a heat four victory while Gafrarar continued his string of consistent results in P2. Umana maintained his presence in the top five finishing third with Orjuela and Ethan Ayers in fourth and fifth.
Grid – ROKtheRIO-2018-Micro
Mini ROK
James Egozi continued his front of the field presence with the Vortex Mini ROK heat two win, .557 ahead of Nakita Johnson. Kai Sorensen kept his nose clean for a third place result while Jack Jeffers ended his heat in fifth.
Sorensen found his way back to the top taking an argy bargy heat race win ahead of James Egozi who picked up a penalty for passing under the yellow and was classified in fifth. Baker found his way to the second position with Lucas Szabo in third. Enzo Deligny made his first top five appearance of the weekend with a solid fourth place effort. Following the race and penalties for passing under the yellow, Baker ended heat three with the win followed by Szabo and Deligny. Jeremy Fletcher was awarded the fourth position while Andres Cardenas was fifth.
Nakita Johnson found his way to the front of the Mini ROK field in heat four to take the victory while heat two winner James Egozi crossed the line in second. Kai Sorensen added a third place finish to his results tally while Noah Baker and Jace Park rounded out the top five.
Grid – ROKtheRIO-2018-Mini
ROK Junior
It was a heat two victory for Sebastian Montoya as a five kart duel for the victory got dicey on the final circuit. Jak Crawford finished in the second position with a last lap last corner pass on Connor Zilisch. Canadian Mackenzie Clark added a fourth place finish with Luca Mars in fifth.
Montoya picked up his second heat race win of the day as he piped Luca Mars for the win. Thomas Nepveu showed pace in heat three with Jak Crawford and Connor Zilisch completed the top five.
Luca Mars put his Tony Kart back on top in ROK Junior heat four as he took the top spot by just under one second. Montoya added a second place finish to his heat race wins this morning while Nepveu held station in third. Jak Crawford continued his top five pace with a fourth place finish and Alessandro De Tullio was fifth.
Grid – ROKtheRIO-2018-Junior
ROK Senior
Ryan Macdermid took control of the second ROK Senior heat and never looked back. Zachary Claman Demelo finished second on track with Jake Drew and Axel Cabrera in third and fourth. Jace Denmark-Gessel would be the final driver in the top five and finish fifth.
Macdermid added his second heat race win of the day as he once again out dueled Demelo to the finish. Axel Cabrera, Jake Drew and Jose Zanella, who continued his impressive weekend, claimed the remaining positions in the top five.
Macdermid makes it four for four on heat race wins as he once again takes the top spot in ROK Senior. Axel Cabrera was a close second with Jake Drew in P3. Demelo added a fourth place result to his resume while Denmark-Gessel ended his day in fifth.
Grid – ROKtheRIO-2018-Senior
Master ROK
Renato Jader continued to build on his results from Thursday by adding another heat race win to his total. Joe Crupi and Billy Cleavelin finished second and third putting drivers from Brazil, Canada and the United States in the top three positions. Stephen Clark crossed the stripe in fourth, just ahead of Gary Lennon in fifth.
Paul Bonilla took top honors in the third Master ROK heat race in a hard fought battle with Renato Jader. Crupi continued his strong of consistent results with a third place effort with Ed Quinn and Nick De Graaf piloting their way into the top five.
Bonilla ended his day on tope in heat four with Renato Jader following closely behind. The Canadian Crupi ended his day in P3 while Billy Cleavelin and Jorge Matos solidified top five result.
Grid – ROKtheRIO-2018-Masters
Shifter ROK
Daniel Formal dominated the Shifter ROK heat two taking the lead from his second place starting position. Jimmy Cabrera held onto the second position as those two were the class of the field. Hunter Pickett finished third with veteran Ron White and Nicky Hays in fourth and fifth.
Continuing his dominance in heat three, Daniel Formal picked up his second victory of the day with Cabrera following suit in second. Mathias Ramirez rebounded nicely to come home third with Ron White again in P4. Zachary Hollingshead had another terrific run and ended his heat in fifth.
Formal was back at the top in heat four as Mathias Ramirez battled his way back to second. Jimmy Cabrera was third while Hollingshead and Ron White completed the top five.
Grid – ROKtheRIO-2018-Shifter Senior
Shifter Master ROK
Ryan Kinnear kicked off his Friday with the Shifter Master ROK heat two win .179 ahead of Rod Clinard. Nathan Stewart secured a third place result while Jordan Musser rebounded from yesterdays DNF to finish fourth. Victor Jimenez crossed the line in fifth for his second top five result of the weekend.
Kinnear also topped the results in heat three with Jordan Musser 1.562 in arears in P2. Stewart added a third place finish while Patrick O'Neil and Mike Jones completed the top five.
Musser was able to get to the front of the field and not look back in heat four as he edged Stewart for the win. Kinnear crossed the line third, with Jiminez and Rod Clinard in fourth and fifth.
Grid – ROKtheRIO-2018-Shifter Masters
100cc Senior
Colby Dubato jumped to the top of the charts in heat two with a win, out dueling Eric Slivkoff and Jenson Altzman. Kyle Hayner was able to take home the fourth position as yesterdays heat one winner, Cooper Becklin finished fifth.
Kyle Hayner found his way to the front in heat three taking win with Becklin and Dubato in tow. Altzman and Slivkoff rounded out the top five and will start in those positions for the fourth and final heat race of the weekend.
Kyle Hayner topped the results sheet in heat four as heat two winner Colby Dubato came home second. Altzman and Slivkoff impressed again with more top five results in third and fourth while Henry Falls-Hand was fifth.
Grid – ROKtheRIO-2018-100ccSenior
100cc Masters
Kevin Manning secured his first heat race win in heat two as pole sitter and heat one winner Travis Irving fell back to third. Jonathon Silva garnered the second position while Tim Meyer Jr and Chris Rock rounded out the top five.
The top three drivers from heat two would be the same in heat three, just in a different order. Silva returned to the track with a vengeance in heat three to take the checkers ahead of Manning and Irving. Tim Meyer Jr. solidified his top five performances with a fourth place effort while Rob Kozakowski came home fifth.
Silva added another heat race win in his fourth heat on the weekend as Manning and Irving chased him across the line. Tim Meyer Jr. was again in the top five finishing fourth, while Rob Kozakowski ended his day with a fifth place result.
Grid – ROKtheRIO-2018-100ccMasters
Tomorrow will see a split schedule with half of the classes in the morning and half in the afternoon. With only one warmup and main events, the first annual ROK the RIO champions will be crowned.
With the 21st running of the Florida Winter Tour on the horizon, ROK Cup Promotions is set for another tremendous season of growth in 2019. With three locations confirmed, including a temporary circuit event at the Hard Rock Stadium in Miami, Florida, the Florida Winter Tour will kick off 2019 with some more Serious Fun! Let's ROK!