2018 ROK Cup Promotions ROK the RIO – Thursday Report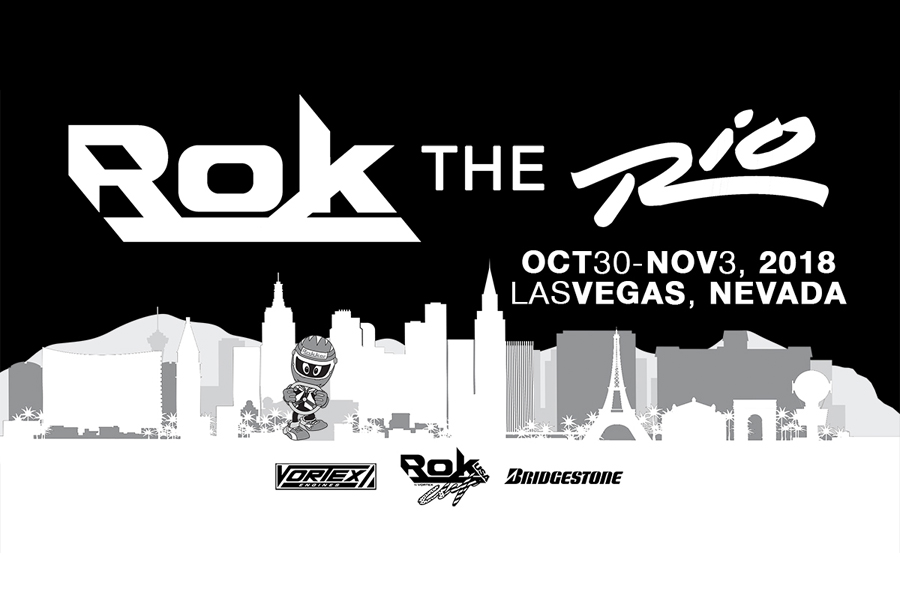 Daily Report by ROK Cup USA
The 2018 ROK Cup Promotions event calendar culminates at the RIO All-Suites Hotel and Casino with the 2018 ROK the RIO race. Taking place Wednesday, October 31 to Saturday, November 3 with drivers from around the world in attendance, the first annual event has exceeded entry expectations with more than 215 competitors taking part on the temporary race circuit. With ROK the RIO championship titles on the line, teams and competitors will also be vying for a cash purse in excess of $35,000.
The 2019 ROK the RIO event kicked off Wednesday with official practice at the RIO temporary circuit. To celebrate Halloween, ROK Cup USA organizers hosted a costume contest for drivers 12 years of age and under, with Zach Olsen 'The Zombie' taking home the top prize of a brand new Arai CK6 Helmet courtesy of Jotech Performance. 'ROK or Treat' stations were also set up around the paddock for kids to enjoy some more Halloween fun. The first annual Bridgestone Tire Changing Contest presented by Fittipaldi Wheels was also a part of the fun-filled evening, as a 30 contestant, elimination style format saw Canadian Brian Bettencourt take top honors and was awarded a set of Fittipaldi wheels. Lucas Szabo was awarded the ROK Cup Promotions Seasons Pass and has free entries available to him for the complete Florida Winter Tour, ROK Fest, Challenge of the Americas and ROK the RIO.
Thursday saw drivers take part in two official practice sessions ahead of qualifying and the first of four heat races.  Friday will be the home of heats two, three and four before prefinals and main events conclude the first annual ROK the RIO on Saturday. Read below for an overview of today's action.
Micro ROK
It was four different chassis brands in the top five of Micro ROK qualifying as Parolin's Matias Orjuela and Caleb Gafrarar locked out the front row for the popular chassis. Anthony White placed his CRG firmly in the third position while Sebastian Garzon (Tony Kart) and Parker Delong (Benik) solidified top five results.
Orjuela and Gafrarar continued their front of the field performance by taking the top two position in Micro ROK heat one with Colombian Salim Hanna-Hernandez improving from her seventh place starting position to finish third. Sebastian Garzon held onto his fourth position during an intense on track battle while Ethan Ayars improved from 11th to fifth to have a great start to his results tally.
Mini ROK
Kai Sorensen and James Egozi put their Tony Kart's on the front row of the 34-kart strong Vortex Mini ROK class and look to be the drivers to beat. Jack Jeffers and Nakita Johnson put four American pilots in the top four with Italian Flavio Olivieri rounding out the top five. With the top eighteen within a second of the pole sitter, the Mini ROK race action will be something fierce come Saturday's main event.
Egozi and Sorensen would swap positions in the first of four heats with Egozi bettering the pair of Tony Kart drivers. Nakita Johnson steered his Energy chassis to a third place finish while Noah Baker charged through the field to come home fourth. The always fast Jeremy Fletcher set himself up nicely after heat one with a solid fifth place result.
ROK Junior
The 38 strong ROK Junior field was led by Speed Concepts Racing Luca Mars. Five teams, drivers from three different countries and three different chassis brands were inside the top five with Orsolon Racing's Diego Contecha and Team Montoya's Sebastian Montoya securing the second and third place starting positions. Mackenzie Clark aboard a Prime Powerteam Birel slotted into the fourth position with Jak Crawford and his Kosmic in fifth.
It was a pair of big name drivers up front in the ROK Junior heat one with Montoya edging out Crawford as the race ended a lap early due to a red flag incident. Connor Zilisch managed to stay just ahead of Luca Mars for the third position on track with Mars out dueling Mackenzie Clarke who ended up fifth.
ROK Senior
In his return to karting after multiple events in the Verizon IndyCar Series, Canadian Zach Claman-Demelo (Exprit) scored the pole position in the talent filled ROK Senior field. Jose Zanella (Tony Kart) was just over a tenth of a second back in second while Axel Cabrera (Kosmic) was in third. Canadian Ryan Macdermid put his Birel in fourth while Michael Avansino showed the speed of his GFC Kart in fifth.
It was a Demelo and Macdermid show in the ROK Senior heat with the Macdermid coming out on top. Demelo would hang on to a second place finish ahead of Jose Zanella and Jake Drew. Axel Cabrera had a spirited drive forward and was able to secure a solid fifth place finish.
ROK Masters
It was Brazilian Renato Jader that led the way in ROK Masters qualifying with a .205 gap ahead of Ecuadorian pilot Jorge Matos. Billy Cleavelin was the first American driver in P3 while Paul Bonilla and Joe Crupi rounded out the top five. Jader turned the least amount of laps compared to his competitors, setting himself up for better tires once wheel-to-wheel racing commenced.
Continuing his dominating performance on the weekend, Jader scored the fastest lap of heat one on route to a 4.653 victory. Joe Crupi advanced forward three positions to cross the line in the second position with Stephen Clark in P3. Bonilla would hold station in the fourth position while Matos fell back to fifth by the time the checkered flag had flown. Front row qualifier Billy Cleavlin was a DNS and classified in the 19th position.
Shifter ROK
Daniel Formal led the way in the Vortex Shifter ROK category as he managed to put his Leading Edge Motorsports prepared Formula K kart on the pole position but was removed from the result due to an improper spark plug. Jimmy Cabrera and Mathias Ramirez inherited the front row with Zachary Hollingshead and Enzo Prevost in row two. Vincent Sarracino would elevate himself into the fifth position.
Jimmy Cabrera took the heat one victory but Daniel Formal was the star of the show. After starting shotgun and 25th in the field, Formal drove forward to garner the second position while Vincenzo Sarracino crossed the stripe in third. Hunter Pickett ended his Thursday with a fourth place finish on track while Enzo Prevost came home fifth.
Shifter Master ROK
In a shallow, yet competitive ROK Shifter Masters division, the top five drivers would all be within two and a half tenths with Ryan Kinnear leading the way. Veteran shifter kart driver driver and 3G Racing Birel standout Jordan Musser continued his front of the field presence with a second place effort while Rod Clinard slotted his machine in third. Racing out of the Rolison Performance Group stable, Victor Jiminez was classified in the fourth position while Dallas Karting Complex and Sodi Kart driver Mike Jones was fifth.
Ryan Kinnear took control on the Shifter Master ROK class and controlled the pace to take his first heat race win of the weekend. Jordan Musser retired after only seven laps and will have an uphill battle tomorrow. Nathan Stewart took advantage of the attrition and scored a second place finish while Rod Clinard ended his heat in third. Victor Jiminez and Nick Firestone kept themselves in the hunt with fourth and fifth place results respectively.
100cc Senior
In the 100cc Senior class Jenson Altzman scored the pole position by a scant .058 over fellow American driver Kyle Hayner. Colby Dubato slotted his Phil Giebler Racing prepared Ricciardo Kart in to the third position with Cooper Becklin (Birel) and Henry Falls-Hand ending their session in fourth and fifth.
Becklin fought his way forward in the first heat race as he was able to take the victory by just under half a second over Eric Slivkoff. Jenson Altzman ended his heat in the third position while Dubato and Hayner secured fourth and fifth place results.
100cc Masters
In the Masters ranks, it was veteran karter Travis Irving who led the way. Kevin Manning pushed his ride into the second quickest time of the session with Tim Meyer Jr. in third. Christopher Rock and Jonathan Silva would close their qualifying session with top five results.
The top five positions in the 100cc Masters classes remained almost unchanged as Travis Irving scored the win ahead of Manning. Jonathan Silva scored a third place result , just ahead of Tim Meyer Jr. Christopher Rock drove his ROK to a fifth place result after starting heat one in fourth.
Stay tuned for tomorrow's daily report that will feature heats two through four for all classes.
With the 21st running of the Florida Winter Tour on the horizon, ROK Cup Promotions is set for another tremendous season of growth in 2019. With three locations confirmed, including a temporary circuit event at the Hard Rock Stadium in Miami, Florida, the Florida Winter Tour will kick off 2019 with some more Serious Fun! Let's ROK!