Victory with Panache for Alex Powell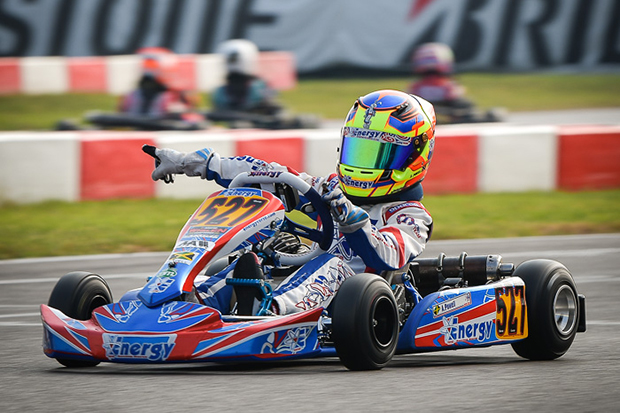 The 2018 Karting season is progressing very positively for Alex Powell. The young Jamaican driver continues to increase his level of performance race after race, with the invaluable support of the Energy Corse team. Racing in 60 Mini on the circuit of Lonato, Powell successfully started the WSK Final Cup, a very competitive international series in Italy over three meetings from October to November.
Always improving…
At the Rok Cup International Final, Alex Powell knew he was close to victory, as a gap of only 48 thousandths forced him to be satisfied with 2nd place. "Since the beginning of the year, Alex has been fighting for the top spots as he faces more experienced drivers," said team manager Mick Panigada. "What he's doing is very impressive for his young age and his Rok Cup Vice-Championship remains a great result."
Returning a few days later to the location of this exploit, at Lonato, Jamaican hopeful this time had the aim of doing even better, and winning. He did it, and in what a way!
Alex relies on the Energy Corse team
Fast in Free Practice, Alex achieved an excellent 4th in Timed Practice, with 95 drivers! He then impressed during his Qualifying Heats, winning four out of four, including two with the fastest lap of the race. The Energy Corse team played a major role in preparing the Jamaican driver's Energy-TM package to perfection.
"In addition to being quick, Alex listens to the technicians who work with him," said Mick Panigada. "Such international races are difficult for a young driver to handle, but we are here to help and advise him." Energy Corse's skill was confirmed in Prefinal A, where Alex Powell added another new success and another lap record.
Starting on pole position in the Final, Alex did not give in to the pressure and finished the first lap in the lead. Fast and steady, he managed to widen the gap. Nobody would succeed in depriving him of his magnificent victory. "I could not dream of a better start to the WSK Final Cup," said Alex, when he received his trophy on the top step of the podium. "I will do everything to stay on this path and keep 1st place overall…"