AKRA American Sprint Cup Grand Nationals Decide Titles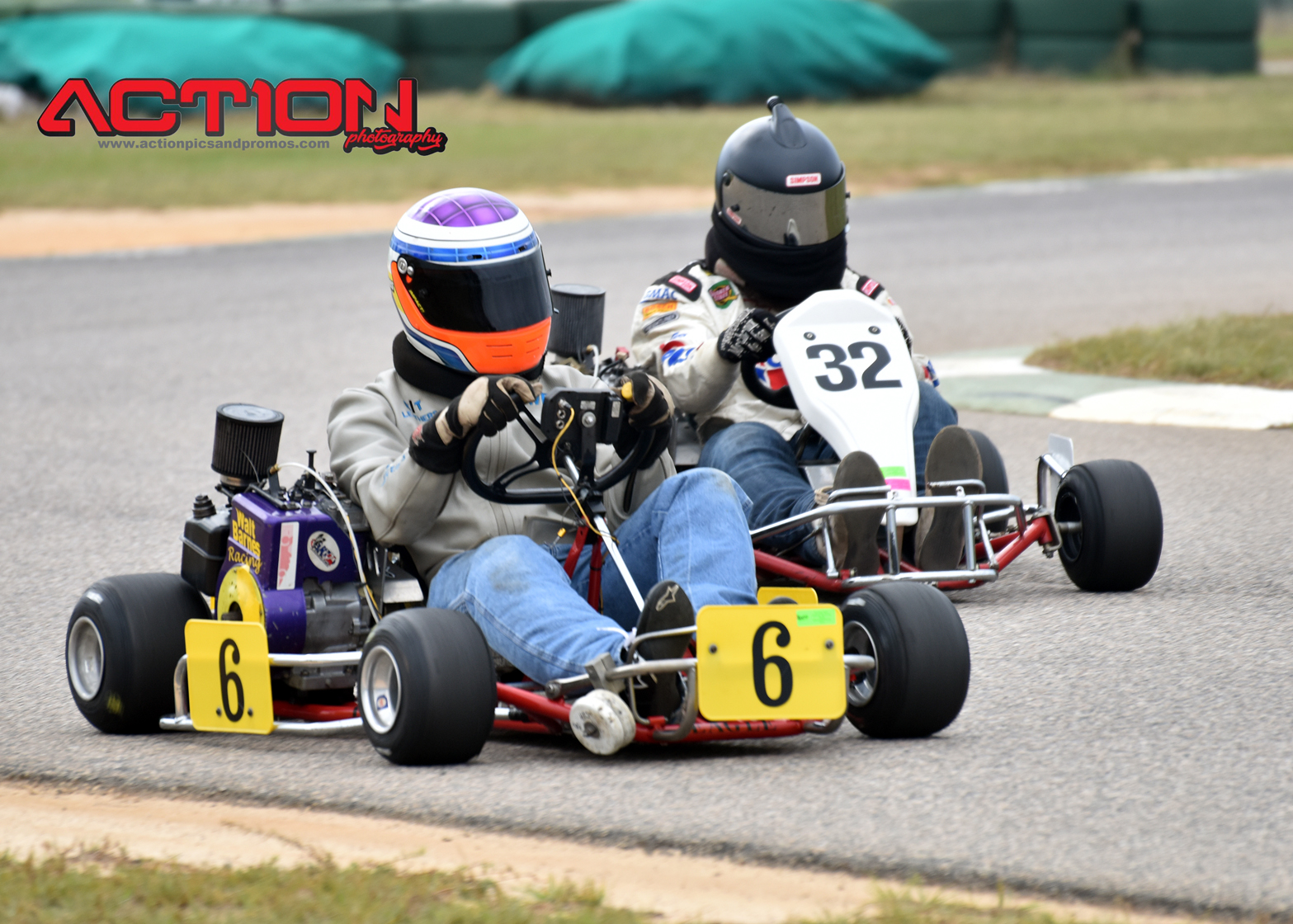 Walt Barnes chases Gene Cornwell in Vintage Stock
Early last week there was a little concern about what the weather over Carolina Motorsports Park in Kershaw, SC would be Saturday and its effect on the scheduled third annual AKRA American Sprint Cup Championship Grand Nationals presented by VEGA Tires, planned for last weekend. Despite dreary weather predictions, participants came from as far away as Miami, FL north to Toronto, Canada and many eastern seaboard points between them to compete for National American Sprint Cup Championships.
Early on AKRA officials decided the best course of action would be to combine both days racing on Saturday giving them Sunday morning to finish if needed. Skies threatened and a small shower held up mid-day races while the track was dried, but overall rain wasn't a factor.  Only three classes were settled prior to the Kershaw race.
"206 Junior, Pro-Gas and Vintage Stock were settled earlier, but the rest of them had to be raced for championships," explained AKRA President/CEO Bill McCutcheon who added, "The others could have gone either way."
Among the weekend's fiercest battles were the hotly contested Vintage Stock battles between South Carolina racers Walt Barnes, piloting a kart owned by his stepfather, McCutcheon, who earned over 400 wins on it, vs. Gene Cornwell, of Rock Hill, SC piloting a vintage Emmick Kart. The excitement over these two warriors trading the lead brought fans to the fence.
"We gave each other room to race," Barnes described.  "It was just good hard racing.  I don't know when I've had more fun racing a kart."
Cornwell took both wins as Barnes was beaten by his own mechanical troubles including a thrown chain in the pm session.
Also scoring double wins were Sidney Miller (Kid Karts) and Alexander Searle who won 206 Junior in both sessions. Ken Eversole took Vintage Limited Modified in the PM session and Duke Zink did the same in Vintage Open Modified.
At the end of the day national champions were recognized and $3,500.00 in race awards were distributed.