Rosberg Racing in a Successful Dynamic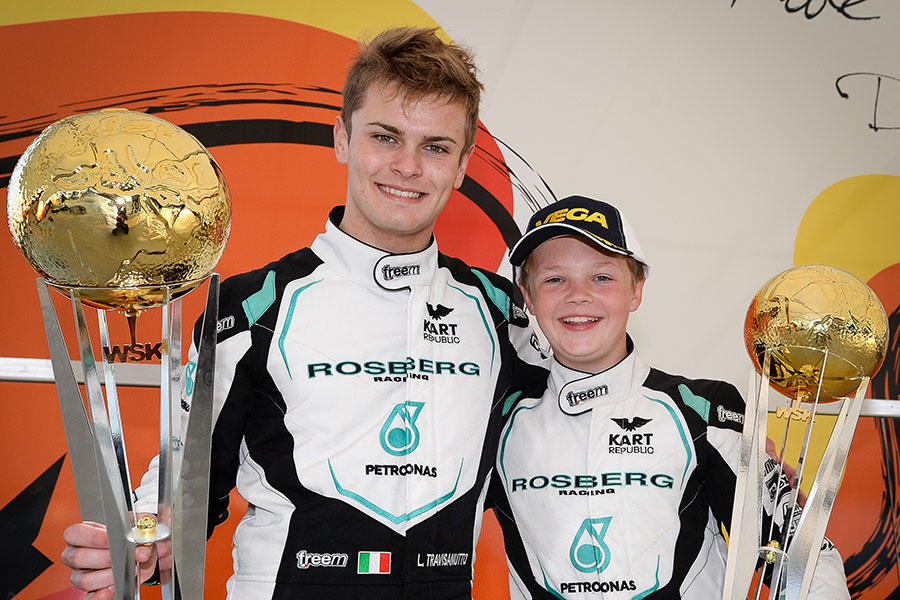 (Photo: KSP)
One month after Travisanutto won the Karting World Championship title in OK, the colours of Rosberg Racing, Petronas, Arexons and KR Motorsport shone brightly at the first round of the 2018 WSK Final Cup at Lonato. This time, they celebrated a double victory in Italy, with the domination of the Italian Lorenzo Travisanutto in OK and the distant win by the Briton Taylor Barnard in OK-Junior. The Rosberg Young Drivers Academy also welcomed a very promising performance from the new rookie, the Italian Andrea Kimi Antonelli, already 4th in his first OK-Junior race.
Antonelli: the rising star
Rosberg Racing does not intend to rest on its laurels. The team of the 2016 Formula 1 World Champion took advantage of this new major international event to enrich the CV of the young operation. "The FIA Karting World and European Championships are over, but there are still important events to be held at the end of the season," said Dino Chiesa, the team manager. "This year, the WSK Final Cup is decided over three meetings and our goal is to continue our harvest of victories and the training of our young drivers. Of course, we are taking the opportunity to start preparation for 2019, both technically and on track. So, at Lonato, another challenge was to welcome the youngster Andrea Kimi Antonelli to the Rosberg Young Drivers Academy in the optimal conditions."
Fresh from the Mini category, with many podiums and victories, the young Italian Antonelli has already made a big impression in OK-Junior. From Timed Practice, he set the fastest time of his group, the 2nd out of a total of 81 drivers. "In front of the more experienced drivers, he needs to learn to find his place in the pack. His 4th place in the Final is in any case very encouraging. He also set the absolute best time of the meeting," said Dino Chiesa.
Victories for Barnard and Travisanutto
In front of Antonelli, the star of the day was Taylor Barnard. "He's been around for a while now his first big win confirms his progress since joining the Rosberg Young Drivers Academy. This time, he knew to believe in his chances," continued the Italian team manager. After winning his Prefinal, he was solid in the Final to cross the finish line as a major winner in the OK-Junior category.
The competitiveness of Rosberg Racing's KR-Parilla continued in OK. "For me, it was a perfect weekend," said Lorenzo Travisanutto. "I managed to get pole position, to win my three heats, my Prefinal and the Final with a sizeable gap on my opponents. Congratulations to all the team and thank you to my partners."
For the Rosberg Young Drivers Academy, Petronas, Arexons and Kart Republic, the WSK Final Cup could not have started any more positively.