Sabré Cook Named 2018 Infiniti Engineering Academy USA Regional Winner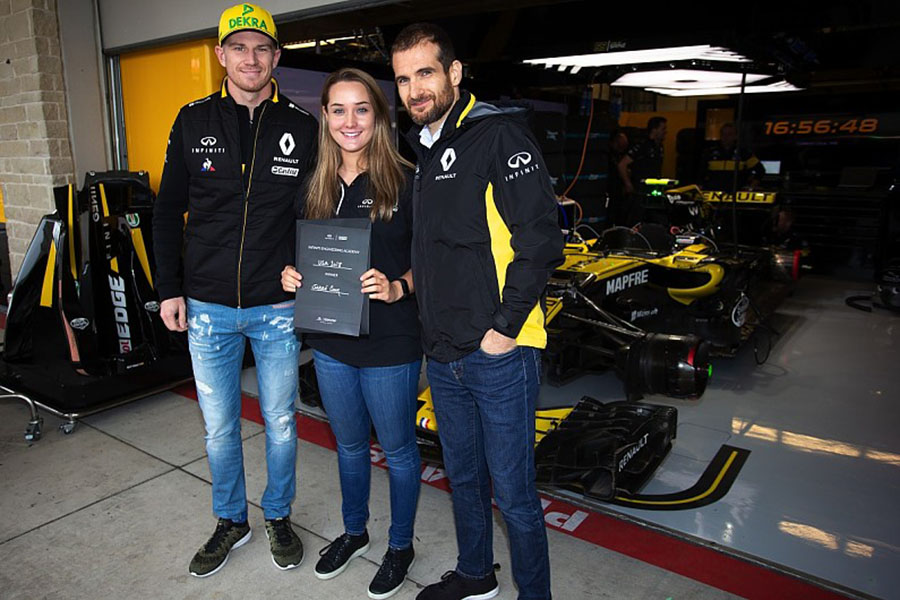 Cook with Renault F1 driver Nico Hulkenberg and Tommaso Volpe, the global director of motorsport for Infiniti
– courtesy of Autosport
Sabré Cook, 24, a Mechanical Engineering student from Colorado University was announced as the Infiniti Engineering Academy 2018 USA winner by Renault F1 driver Nico Hulkenberg in the Austin pitlane at the Circuit of The Americas ahead of this weekend's grand prix.
Her prize is a six-month work placement at the Renault F1 Team in Enstone and a further six months at Infiniti's Technical Centre Europe in Cranfield.
"I am absolutely delighted to have won and I'm really thankful to Infiniti for this opportunity," said Cook.
"When I met the other candidates, I was aware how smart they were and the passion they had for engineering, so I knew that was going to be very difficult to win."
The USA arm of the competition was particularly tough with an extremely strong series of candidates, who had to undergo a number of engineering challenges, before assessment in front of a judging panel.
Ian Goddard, head of technical partnerships at Renault Sport Racing, said the judging process had been particularly tricky.
"Out of the 10 candidates it was very hard to find a clear hierarchy," he said.
"The level of ability was very strong, but that just goes to prove this is a serious competition – the winner will be working on next year's Renault F1 car."
In Austin, the young engineering students took part in a number of hands-on engineering tasks, such as building a functional dragster model, and a rapid cognition test devised by decision science specialists at Harvard University which assessed their teamwork skills and capacity to be decisive under pressure.
Yesterday the 10 candidates were whittled down to a final three who came to the Circuit of The Americas today for the final series of challenges, which included a chemical analysis test and a quizzing in front of local media.
Sabré Cook was announced the winner by Nico Hulkenberg, who was accompanied by Tommaso Volpe, the global director of motorsport for Infiniti.
The Infiniti Engineering Academy (IEA) was launched in 2014 and the prize for the seven regional winners (from the US, Canada, Mexico, Europe, Middle East, China and Asia-Oceania) is a six-month placement at both Renault and Infiniti.
If you're a current engineering student and fluent in English then visit http://academy.infiniti.com for more information.