Alex Powell on the Podium of the Rok Cup International Final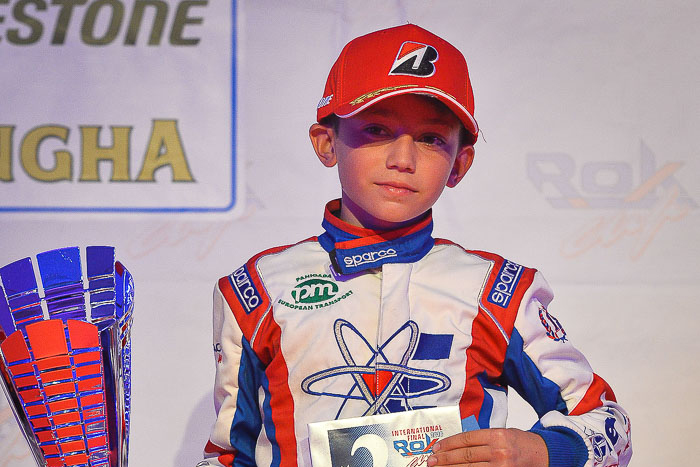 A true revelation of the 2018 season, Alex Powell had an incredible week in Italy at the 2018 International Mini Rok Final. Although the young kart driver is still only 11 years old, he fought for the victory to the end, in addition to having taken pole position and being the leader after the heats. At the Lonato circuit in Italy, the Energy Corse team played a big role in guaranteeing high-performance equipment for Alex Powell, who ended up on the second step of the podium. A great achievement!
Alex among the seeded drivers
From 10th to 13th October 2018, the young Karting driver from Jamaica participated in the International Rok Cup Final. This is the world's biggest event for young drivers under the age of 13, with an incredible field of 143 drivers representing some 40 nationalities from five continents.
"We prepared perfectly with our drivers to be successful at this international final, which is a major meeting of the karting season," said Mick Panigada, head of the Energy Corse team. "In all the races in which we had the opportunity to participate with Alex Powell, he really impressed us with his progress. He found himself confronted by European drivers who were more experienced than him, but he quickly showed that he was able to get on the podium. This was again the case at the last event of the Italian Championship in September and he continued to show his talent in the Rok Cup at Lonato."
From pole to podium
On the famous South Garda Karting circuit in Lonato, Alex Powell placed himself among the favourites by achieving an incredible pole position. The Jamaican started ahead of the other 142 drivers, but that did not intimidate him. He managed his Qualifying Heats perfectly, finishing 1st three times and 2nd once. He kept his 1st place on the starting grid.
A superb duel between several drivers then started for the victory. On the last lap, three drivers crossed the finish line abreast. They took the chequered flag separated by only a tenth. Alex Powell took a magnificent 2nd place after a race of rare intensity.
"This year again, the standard was incredibly high and Alex achieved a great performance in finishing as Vice-Champion of this world competition. I also want to congratulate our entire team. Our Energy chassis has confirmed its competitiveness, especially in the Mini category. The Energy Corse team has achieved the double! In total, we had 10 chassis among the finalists, including five in the top 15! This is very promising for Energy's future and that of Alex Powell," concluded Mick Panigada.