Women in F1? A Better Long-Term Solution
Altering the 'numbers game' may provide the best ROI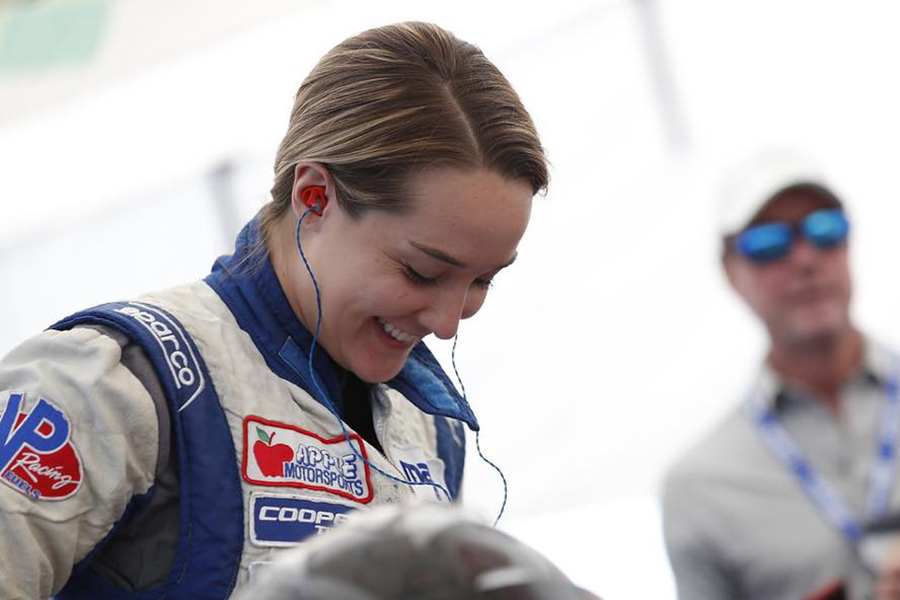 Sabre Cook is one of seven female drivers to compete in open wheel racing in North America for 2018 (Photo: Indianapolis Motor Speedway, LLC Photography)
Today, a new promoter – W Series – announced a new women-only open wheel single-seater series with the stated intent of finding talented female race car drivers for potential graduation to Formula 1.  While reading through the responses to the announcement on social media – many negative, a lesser amount positive – my mind went to work.  If the core issue is indeed the lack of opportunity for women at the top level of racing, is this the best course of action?  I don't want to completely discount the approach, but segregating the sexes is not something motorsport has ever needed. That said, it's hard to truly beat down on a group that is committing such massive resources into women in racing, regardless of your personal belief on the matter. It is a positive that significant interest is being directed in attempting to fuel the advancement of women in motorsport.  I'm just not certain that they are focusing on the true cause of the complete imbalance of men and women in open wheel racing.
As such, I began organizing my thoughts to present what I believe to be a more realistic explanation for the continuing lack of women in top-level motorsports.  From my standpoint, working through my 25th year of covering North American kart racing and 15th in junior formula car racing, I feel that it's all about the numbers, and the bottom line mathematics of a woman making it to even Formula 2 or Indy Lights, let alone F1 or IndyCar.  The odds are so overwhelmingly stacked against women, not because of a lack of skill or desire, but because of the straight numbers game and basic percentage of opportunity; an unbalanced equation that begins in karting.
Let me detail my position, beginning with the current single-seater numbers from 2018.
A straight-forward look at the North American open wheel landscape will provide the basis for this discussion. Let's set the stage. In 2018, there was only one female driver who campaigned a full season of competition in the 10 primary programs – IndyCar, the Road to Indy (Indy Lights, Pro Mazda, USF2000), the F3 and F4 US Championships, the F2000 Championship Series or any of the three 'pro' F1600 series in the United States and Canada. The lone flagbearer was Brazilian Bruna Tomaselli, who raced in USF2000 with Team Pelfrey.
In fact, only seven women participated in at least one race in any of these nine championships:
IndyCar – Danica Patrick (Indy 500)
Indy Lights – none
Pro Mazda – none
USF2000 – Bruna Tomaselli, Sabre Cook
F3 – none
F4 – Sabre Cook, Hanna Zellers, Angela Durazo
F2000 Championship Series – Megan Gilkes
F1600 Championship Series – Courtney Crone
Ontario F1600 – Hanna Zellers
Quebec F1600 – none
A total of approximately 250 individual drivers (male and female) participated in at least one event in these 10 open wheel series, and the seven women represented 2.8% of that number.  It would be almost impossible to envision a female from the North American system reaching F1 or IndyCar with just six drivers on the ladder and only one full-time.  So, to go deeper, we have to look at why so few female racers advanced into the ladder system, and for that, we need to look at the sport of karting.
I've been covering North American kart racing for almost 25 years, and I can confirm that this sport has had, and still boasts, some ridiculously talented female kart racers.  I've watched them compete for race wins and championships over the years, proving to me time and time again that a kart has no idea which gender is driving it – male or female. The kart only knows the physical input that is transferred into the steering wheel and pedals, the ability to provide feedback, the understanding of racecraft and the burning competitive fire. It's one of the things I love about karting, and racing, in general.
In recent memory, I've had the privilege of watching Ashley Rogero win many races and championships. She's easily one of the best female karters I've ever seen in action, if not the finest. Florida's Morgan Healey was also a race winner on the SKUSA Pro Tour in the S2 class in recent years. She was incredibly quick and had the chops to win. In the late 90s, running in the SKUSA ProMoto Tour, Canadian Juliana Chiovitti was an absolute badass. Skill, desire, aggression and an absolute belief that she could beat any guy saw her rack up wins throughout her career through to the S2 shifter class.
Ashley, Morgan and Juliana had parents, families and karting companies behind them to support their dreams and funded them to their limits, but eventually hit the wall of financial capabilities.  Juliana dabbled in formula car racing in Canada, but was just didn't have the money needed to continue. She now owns and runs a motorsport marketing company. Morgan elected to hang up her helmet and move into the race management side of the sport, working as an official and series staff member. Ashley did some stock car racing, supported by her father's Jim's in-depth knowledge of the discipline, and was part of the NASCAR Drive for Diversity program, but again, it takes massive financial horsepower to get to even NASCAR's little leagues. Ashley now works with Nick Tucker and Nitro Kart as a driver coach and educator, and thankfully, we're seeing her back running regularly in club events at GoPro Motorplex, again winning races. All three would have been competitive in open wheel formula car racing if they have the opportunity that massive financial backing affords. For Rogero, at just 21 years of age, maybe there's still a door that could open for her with the W Series that would not otherwise be available.
As for recent karting champions, Sabre Cook is the lone female who continues to press on, digging relentlessly to surround herself with marketing partners to help fund her racing goals. Having won the Superkarts! USA Pro Tour S2 Semi-Pro Stock Honda championship in 2012, the only woman to ever win a SKUSA national title, the recent Mechanical Engineering graduate raced in both USF2000 and F4 this year, and will cap her year at the F4 finale at COTA, supporting the F1 United States Grand Prix in October.
Refocusing on the here and now, American karting has its current crop of winning female drivers as well, like Hannah Greenemeier, who advanced from Junior to Senior this year and is a threat to win against the best our sport has. She's currently the #8 ranked driver on eKartingNews.com and is easily our pick as the unofficial Rookie of the Year. In addition, Emma Delattre is emerging in the Senior categories and is competing this weekend at the ROK Cup International Final in South Garda, Italy; and Carlee Taylor has shown great promise in the SKUSA California ProKart Challenge's S2 class. In the younger ranks classes, talented girls like 13-year-old Grey Leadbetter and Annie Rhule are on the rise and winning races on the regional and national level.
The question is….will these young women ever have the opportunity to get their shot?  For any young driver, it comes down to funding.  You must at the absolute very least have enough backing to get into, and win, in F1600 to have a shot at the Mazda Road to Indy $200k Scholarship Shootout (providing the Shootout program continues in the absence of Mazda's backing).  So that budget number is at least $100,000 for a season to win an F1600 title and gain the ticket to the Shootout.  That number, by itself, decreases the viable female driver pool significantly because $100k is a massive number for the majority.
And herein lies my argument.
If you look solely at the numbers, and remove emotion or individual bias, it should come as no surprise that there isn't a woman in Formula 1 or IndyCar.  Based on the straight percentages, the odds against a woman making it are astronomical.  Start with the sport of karting itself, and look at the top national series, which is the Superkarts! USA Pro Tour.  Let's also set the baseline that to make it to the upper echelon, a driver must have at least the talent and funding to make it to national level karting, whether it's in North America or any other of the world's motorsports countries.  In this year's Superkarts! USA Pro Tour, a total of approximately 280 drivers entered at least one of the three race weekends in the five classes open to those under the age of 30.  Of that 280, there were 12 females.  Yes, just 12.  That's a percentage of 4.3 of the driver pool.  This is where I'm going when I'm talking numbers, and how a better focus on fuelling the potential for women in F1 and IndyCar would be in investing in getting more and more young women into karting.  It's macro long-term thinking, but as you'll read, it would pay off more ROI in the end.
I think we can all agree that not every driver in national karting has the skills to become a professional.  It's reality.  But let's be optimistic and agree that 25% of the drivers on the SKUSA Pro Tour truly have the talent and overall capabilities of entering the pro ranks. It's a pure numbers game. If 25% of the 280 total entries actually have the skill to go to USF2000, that's 70 drivers from 2018 (even those most of them are too young – bear with me). Only 12 girls under 30 years-of-age ran the series this year, so if we do the math and continue the 25% concept on the female driver pool, we're down to three racers who may have the skill set. Yes, it could be the entire 12 because the sample size is so small, but even at 100%, the numbers still play out because of the next calculation.
To become a professional or to even take a legitimate shot at it, you need to have the financial wherewithal to step beyond karting, and to be honest, our best just haven't had that luxury in the past.  Chiovitti, Rogero, and Healey….the backing just was not there.  Knowing the financial requirements and the family wealth of a number of karting families, I think I'm safe to say that only 10% of those who currently qualify on talent have access to the five or so million dollars it takes to get through USF2000, Pro Mazda and Indy Lights.  To continue with the calculations, 10% of the 70 qualified Pro Tour drivers may have the backing to spend the full six years on the Road to Indy. The women? 10% of three is 0.3. So, essentially, a third of Hannah Greenemeier could mathematically make it.  It's all about numbers.
So where does that leave us?  Is there a better option for investment than running a series that while providing opportunity also promotes segregation of the sexes?
In my humble opinion, the best way to fuel future opportunities for women in the upper echelons of motorsport is to invest heavily in the promotion of karting to young women around the world.  I do feel like a small shift is underway.  I love attending and calling races where the girls almost match the boys in numbers in the Micro classes. I feel like I'm seeing more and more young women in the younger categories, and that's exciting.  I do agree with David Coulthard in his summary that the status quo is not working when it comes to fostering the opportunities for women in F1, but to be honest, I'm not really sure that the W Series will yield any measureable results.  I do expect that it will provide many women with a chance that they may have never received, and I can only hope that they will also take the opportunity and leverage it to its fullest.  But, I still maintain that the best way to open the door to women in F1 and IndyCar is to get more young girls in the race, with that ultimate dream, in the first place.
If at a future SKUSA Pro Tour race, in say 2020, there were 150 males and 150 females, the odds of talented woman flooding into the Road to Indy or other development series would exponentially increased.  And to do that, we need to fill karting clubs all over the world with young girls who are passionate about motorsports and enjoying kicking ass.
– Rob Howden