2018 IAME International Final Preview
12 drivers - including champions from SKUSA and USPKS - to represent North America in France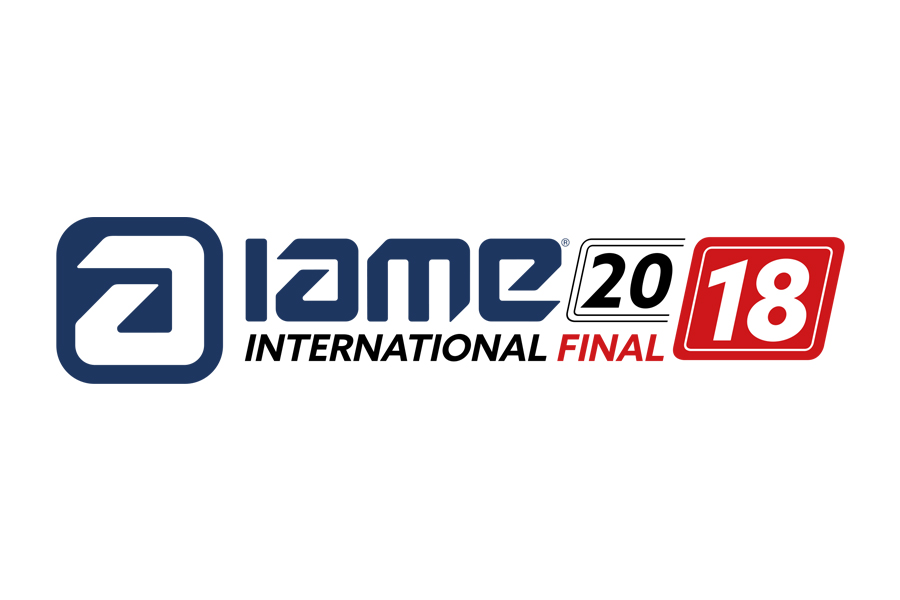 IAME is celebrating the 50th year within the karting industry, and no better way to celebrate then at the IAME International Final. 2018 is the seventh edition of the event that brings together IAME drivers from all over the world to compete at the Le Mans Karting International circuit in France. Over 400 drivers are set to battle in the six categories for a chance to earn the IAME world title.
Live timing and video will be available throughout the event at the IAME website
Mini Swift: (65 Entries)
The Mini Swift category was added to the IAME International Final last year, with a handful of drivers from North America contending for the victory. When the checkered waved and the dust settled, USA driver Brent Crews was crowned the world title winner. Crews is back once again, thanks to earning his ticket from the SKUSA Winter Series program in Florida. This year, however, the field has been expanded and the roster from USA is only at two with Jeremy Fletcher making his international debut. Team Canada has one driver with Yuchen Qiu. A relative unknown from the British Columbia is racing under the watchful eyes of Blake Choquer.
#831 – Brent Crews (Kart Republic)
#832 – Jeremy Fletcher (Kart Republic)
#866 – Yuchen Qiu (Falcon)
X30 Junior: (108 Entries)
The roster for Team USA is only one, with Nicholas Terlecki making his debut at the IAME International Final in X30 Junior. Last year, Terlecki raced Mini in Italy, earning his way to France this year with the championship at the United States Pro Kart Series. He will try to better the top finisher from Team USA last year, Tyler Maxson placing 15th in the B-Main. Representing Team Canada is Jason Leung, a successful racer from British Columbia. There were zero drivers from Canada in the category last year.
#188 – Nicholas Terlecki (Kart Republic)
#189 – Jason Leung (Kosmic)
X30 Senior: (125 Entries)
It was nearly a second title for Team USA in 2017 with the efforts of Ryan Norberg. The Florida driver ended up third in the Final to stand on the podium in his first start at the IAME International Final. The three-time SKUSA Pro Tour champion is making a return to better his results, with another year of improvement, victories and titles under his belt. Alongside him will be United States Pro Kart Series champion Brandon Jarsocrak. The KartSport North America driver is making a second trip to France, vying to improve on his 15th-place finish in the B-Main a year ago. Alejandro Jaramillo, the new Texas ProKart Challenge champion, is set for his second-straight visit to France. This time, Jaramillo is jumping up from Junior to Senior. Josh Green has played that role all season, bouncing around from regional racing in Senior to vying for the Junior championship at WKA Manufacturers Cup Series, where he won the ticket for his first trip to the IAME International Final. Also making his Senior debut in France is Kai Palomino from Florida.
#242 – Josh Green (Kart Republic)
#309 – Brandon Jarsocrak (Kart Republic)
#318 – Alejandro Jaramillo (Exprit) – Junior last year
#334 – Kai Palomino (Birel ART)
#348 – Ryan Norberg (Birel ART)
X30 Master: (67 Entries)
United States karting will be represented in the X30 Master class by two drivers holding international licenses from two different countries. The 2018 SKUSA Pro Tour champion Leonardo Nienkotter flies the Brazilian flag while United States Pro Kart Series title winner Laurentiu Mardan hails from Romania. Nienkotter is no stranger to the big stage, having won three-straight SKUSA SuperNationals (2010 – 2012). Mardan, who calls Chicago home, scored his championship against a solid field at the USPKS, also making his first IAME International Final start. Drivers between 500-599 are X30 Veteran status, drivers over the age of 45-year old, something new for the event.
#441 – Leonardo Nienkotter (CompKart)
#482 – Laurentiu Mardan (Tecno)
Two other categories competing on the weekend include no drivers from USA or Canada. The X30 Super class has 29 drivers while the X30 Super Shifter division welcomes 32 drivers.
EKN will have updates throughout the event via Social Media with Facebook/Twitter/Instagram updates as it happens.