Team Nitro Kart Wins More at GoPro Motorplex Karting Challenge – Round 9 and 10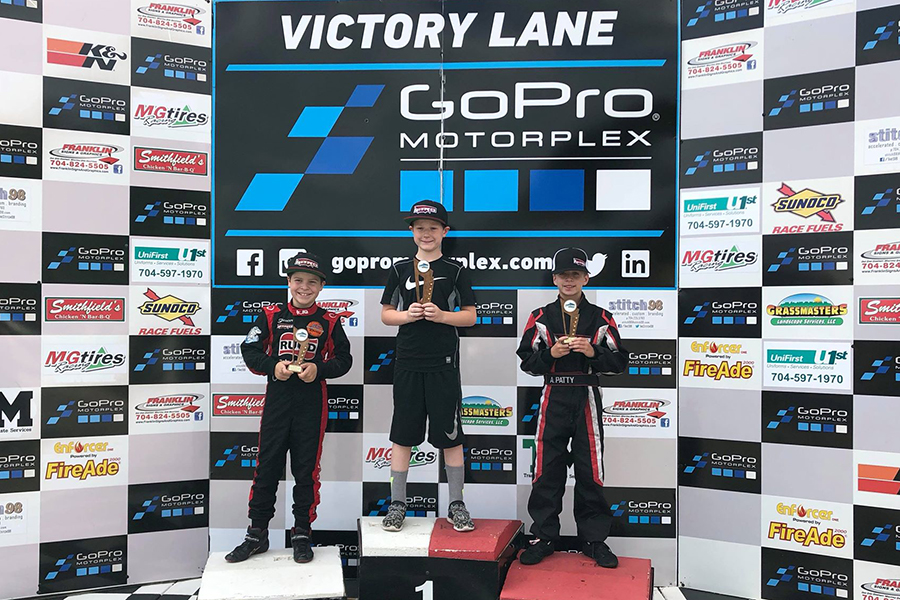 Mohr, Conrad, Patty
The GoPro Karting Challenge saw the second double-header of the season this past weekend with another very healthy racer turnout and a full contingent of Nitro Karts and Team Nitro Kart-supported karts under the big black tent and several found the top step of the podium with Brent Crews and Connor Yonchuk both sweeping their classes for the weekend, and Jacob Graham, Hoyt Mohr, and Max Reaves all taking one win each.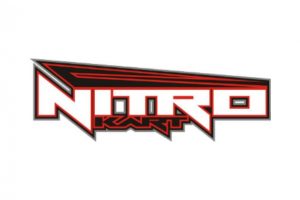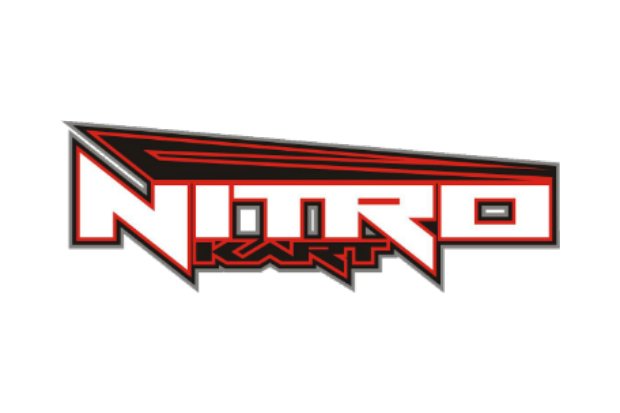 Briggs Cadet
Nitro Kart Drivers: Ben Maier, Spencer Conrad, James Overbeck, Sofia D'Arrigo, Christopher McKeithan, Ayden Young, George Wheeler, Joshua Kline
Saturday
Spencer Conrad put Team Nitro Kart on the Briggs Cadet box with a 3rd place in Saturday's Final. Places 5-7 went to Team Nitro Kart drivers Sofia D'Arrigo, James Overbeck, Ben Maier, and Christopher McKeithan, with Ayden Young in 9th and Joshua Kline in 13th. Christopher McKeithan had a breakout performance in qualifying by setting 2nd fastest time.
Sunday
Sunday's Briggs Cadet pole position went to Nitro Kart's James Overbeck, who led a Nitro Kart top-5 sweep of qualifying. Overbeck won the Pre-Final over Nitro Kart teammate, Ben Maier, but in the Final it was Maier representing Nitro Kart on the podium in 3rd place. Team Nitro Kart racers Sofia D'Arrigo, James Overbeck, Spencer Conrad, Ayden Young, and Christopher McKeithan filled positions 4th through 8th.
Mini Swift
Nitro Kart Drivers: Hoyt Mohr, Ayden Patty, Spencer Conrad, Jordan Sherwood, Mason Cantrell, Vincent Capitillo
Saturday
Saturday was a very good day in the Mini Swift class for Nitro Kart driver, Hoyt Mohr, who swept the day by winning pole position, the Pre-Final and the Final. Nitro Kart swept the podium with Spencer Conrad and Ayden Patty placing 2nd and 3rd, with Mason Cantrell in 4th. Jordan Sherwood and Vincent Capitillo brought their Nitro Karts home in 8th and 9th.
Sunday
On Sunday, Spencer Conrad and Mason Cantrell represented Team Nitro Kart on the podium in 2nd and 3rd place, with Vincent Capitillo rounding out the top-5.
SWIFT
Nitro Kart Drivers: Brent Crews, Ben Maier, Sofia D'Arrigo, Gavan Boschele, Jack O'Brien
Saturday
Team Nitro Kart's Brent Crews often saves his best for last and so it was in the IAME Swift Final on Saturday when he took a tight victory over Sam Corry despite not leading another session all day. Brent was also credited with fastest lap by a healthy four-tenths of a second. Team Nitro Kart driver Ben Maier was 5th and Jack O'Brien finished a fine 6th, with Sofia D'Arrigo and Gavan Boschele both DNF's.
Sunday
Brent Crews did his patented best-for-last trick again in Sunday's Swift Final, for a sweep of the weekend, this time leading his Nitro Kart teammate Ben Maier home. Gavan Boschele was 6th and Sofia D'Arrigo was 7th.
KA100 JUNIOR
Team Nitro Kart-Supported Drivers: Jacob Graham, Hayden Jones, William Cox
Saturday
Team Nitro Kart's Jacob Graham, has been the star of the KA100 Junior class this season in the Karting Challenge and on Saturday he only qualified 7th but got the front to win the Pre-Final and then benefited from some argy-bargy in front of him to take the win in the Final over the 22-kart field that featured National and World Champions. Team Nitro Kart teammate Hayden Jones had another strong race to finish 5th.
Sunday
On Sunday, the top Team Nitro Kart-supported driver was William Cox who had a breakout performance that found him in 2nd place on the podium. Hayden Jones just missed the podium in 4th place and Jacob Graham was 7th after getting shuffled to the back of the pack early in the race.
BRIGGS JUNIOR
Team Nitro Kart-Supported Drivers: Hayden Jones, Connor Yonchuk
Saturday
In the Briggs Junior division, Team Nitro Kart-supported driver Connor Yonchuk brought his Fullerton USA kart home 1st in the Final on Saturday over Team Nitro Kart's Hayden Jones, who scored the fastest lap.
Sunday
Sunday's Briggs Junior Final was a carbon copy of Saturday for Connor Yonchuk and Hayden Jones as they took the top two steps on the podium. This time Yonchuk took the fastest lap in his Fullerton USA kart by just nine-thousandths of a second over Jones.
KID KART
Nitro Kart Driver: Max Reaves
The Kid Kart class only ran on Saturday and Nitro Kart driver Max Reaves qualified 2nd and then took the victory in the Final by almost 6 seconds,
UP NEXT
Team Nitro Kart's next event will be Round 11 of the GoPro Motorplex Karting Challenge on October 20th, followed by the WKA Grand National at GoPro Motorplex on October 26-28.
ABOUT NITRO KART
Nitro Kart is based out of Mooresville, NC; the hub of American motorsports. The company was founded by "Nitro" Nick Tucker with a sole focus on youth karting and specifically the cadet ranks, but has now expanded to serve kart racers of all ages. Nick has applied his years of experience from karting all the way up through NASCAR racing to develop the absolute best cadet chassis on the market with the support to back it up. Nitro Kart and their drivers consistently score prestigious victories in major events around the country, hence the slogan "Race One or Chase One." For more information on Nitro Kart, contact Nick Tucker at (704) 818-7868 or kartworxracing@gmail.com