Five ARKA Road Racers Double at CMC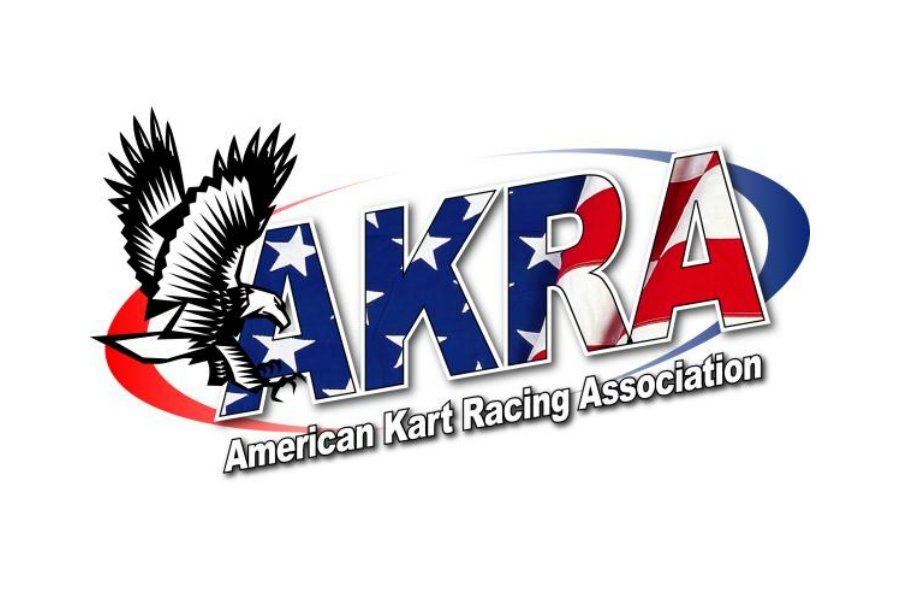 Five of more than 400 racers, in the inaugural August 11-12 American Kart Racing Association (AKRA) National Road Racing Series presented by the New Hampshire Karting Association were double winners at Canaan Motor Club. Entree numbers included Friday practice, Saturday and Sunday.
"The 3 day inaugural event at the NHKA /AKRA road race series at CMC had picture perfect weather Friday and Saturday, but Mother Nature threw in rain on Sunday however the NHKA team was able to pull it off so that most people in attendance got to race on a modified track configuration. The attendance far exceeded expectations at 270 race entries and NHKA and AKRA thanks all that made the event a huge success," said National Director of the AKRA Road Race Series Van Gilder.
Keith Buffo won each day's World Formula Heavy with Dave Nadeau chasing him across the stripe each time. Saturday, from the pole, Buffo blasted off into an early lead with Nadeau knocking on his back bumper.  That went on for 28-laps. They were nose-to-tail across the stripe with Buffo leading by just 0.379 seconds.
Rich Blanchard ran third and was trailed in the top five by Geoff Lockett and David Olbrych.
Buffo won Sunday's Qualifying Race. Blanchard held second until Nadeau pulled up behind him. Nadeau quickly got by Blanchard, but couldn't catch Buffo in the final laps. Blanchard was third across the stripe followed in the top five by Lockett and Olbrych.
Daniel Dupre dominated World Formula Light fields of 19 and 20-racers.  Saturday Dupre roared across the stripe with just a 0.393 seconds edge over Teddy Geldmacher.  Close behind in the top five were Rick Brown, Nadeau and Ken Poulin.
Sunday Dupre blistered the track during the Qualifying race turning a 45.445 seconds around and through the 1.058 mile course that ran around portions of the big oval and through the road course.  From there Dupre beat Geldmacher. Richard Hemingway, Rick Brown and Poulin for the top five of 19.
Prioli won the two TaG Masters classes and soloed World Formula Heavy. Saturday Prioli rocketed into the early lead and went on to build a 10.761 seconds cushion over Kevin Tibbetts. Trailing Tibbetts in the top five were Jim Hendrix, Alan Pope and Brad Danoff.
Sunday Nunes was fastest in the qualifying race beating Prioli by just 0.329 seconds. Prioli turned things around in the feature for his second win of the weekend.
KZ Shifter Kart pilot John Sullivan led the way in that class both days with Zach Morrison finishing second each time. Saturday Sullivan quickly opened a comfortable distance over Morrison who was 18.075 seconds late at the stripe.  Following Morrison in the top five were Tim Hannnen, Chris Rock and Vojtech Kubec.
Sullivan won Sunday's Qualifying Race with Morrison in tow trailing by 0.303 seconds. In the Feature Race the difference was 18.075 seconds.  Behind Morrison again in the top five were Hannen, Rock and Kubec.
Recardo Nunes and Valentine Andrieuex earned their wins on Saturday Nunes grabbed checkers in TaG Senior and TaG Masters while Andrieuex led two classes of TaG Junior across the stripe.
Nunes crossed TaG Senior's stripe with a 5.543 seconds advantage over Christian Abbate. Hugh North was third. Raphael Decampos and William Gunn crossed fourth and fifth.
In TaG Masters Nunes had to battle with Kevin Tibbetts who tried to steal the lead failing by 0.128 seconds.  Prioli passed under the checkered flags next for third. Brad Danoff finished fourth and Keith Tibbetts.
Single race winners include Greg Santos who grabbed the World Formula Light win over Taylor O'Shaughness who was 1.509 seconds late to the party. Rick Brown ran third and was trailed in top five by Freddy Geldmch and Christen Abbate.
Adam Trumbley reached Piston Port Sprint's checkers just 0.291 seconds ahead of Michael Holman. Louie Magiera crossed third with Sorrentino and Ted Carbon rounding out the top five.
One race remains on the 2018 AKRA National Road Racing presented by NHKA.  On Saturday and Sunday September 29-30 Road Racers will compete at Pittsburgh International Race Complex (formerly Beaver Run).  Dart Kart Club is sponsoring this race. Visit their web site at: http://www.dartkartclub.com for downloadable pre-entry forms and other information.
Or you can visit the AKRA website at www.akrainc.com or visit the AKRA Face Book page or call the office at 704-764-8138.