Nitro Kart Storms New Castle Motorsports Park for WKA Manufacturers Cup Series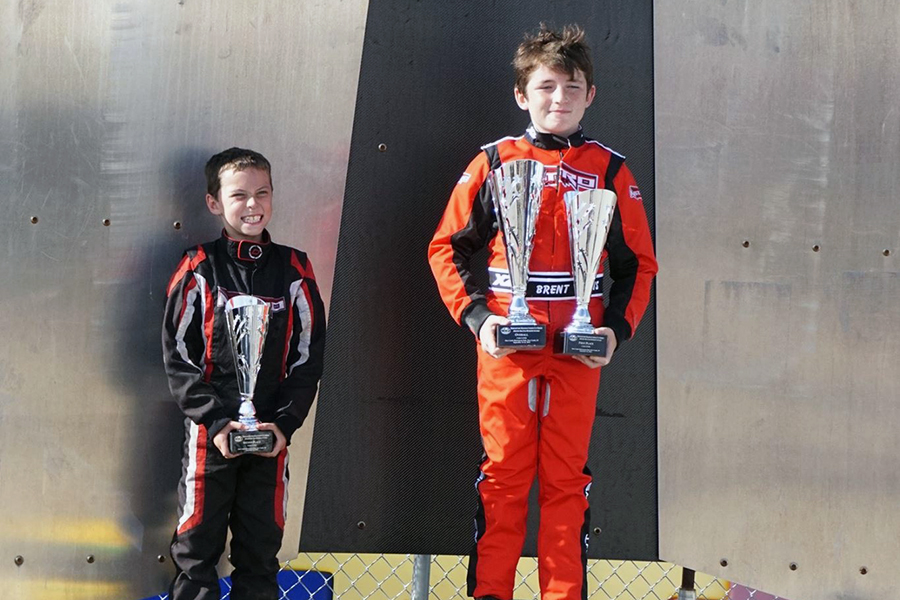 Ayrton Grim and Brent Crews part of the many podium results for Nitro Kart (Photo: A. Grim)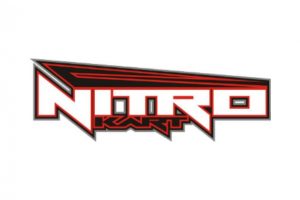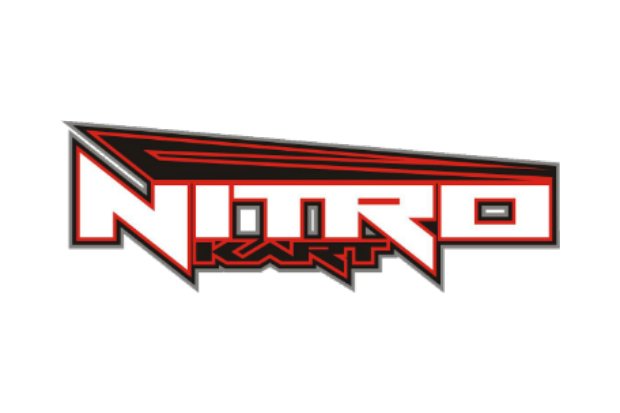 Rounds 9 and 10 of the 2018 WKA Manufacturers Cup Series at New Castle Motorsports Park were billed as the Nitro Kart Fall Nationals as Nick Tucker's ascendant karting operation had stepped up as title sponsor of the event. So, it was only fitting that Team Nitro Kart drivers would take home lots of hardware from the event, with Brent Crews taking 3 wins, Ashley Rogero chalking up 2, and Adam Brickley and Cameron Weinberg both taking a win apiece.
Racers were challenged with a different track layout at NCMP this weekend as the "40" configuration was used which was met with favorable reviews and produced great racing. Weather was not an issue other than some fog early on Saturday morning which lifted before qualifying began.
YAMAHA SPORTSMAN
Nitro Kart Drivers: Brent Crews, Adam Brickley, Addison Ianniello
Team Nitro Kart's Brent Crews won his first Final of the weekend in the Yamaha Sportsman class on Saturday after winning both heat races. Brent swapped the lead with Logan Adams but prevailed at the line by 55-thousandths of a second. Nitro Kart's Adam Brickley was 3rd and Addison Ianniello brought her Nitro Kart home in 5th.
Logan Adams turned the tables on Crews in the Sunday Final in another close battle that saw both drivers lead. Brent was 2nd at the line with Addison Ianniello in 5th place. Adam Brickley unfortunately had a hard crash in qualifying and broke his collarbone and will be on the mend for several weeks.
CADET LO206
Nitro Kart Drivers: Brent Crews, Ben Maier, Adam Brickley, James Overbeck, Aryton Grim, Cade Jaeger, Jason Noe
In the Briggs Cadet class, seven of the eight entries were Nitro Karts, so you could say the odds were in their favor. Brent Crews got his second win of the day in Saturday's Final, but not without a battle from his Team Nitro Kart teammate, Ben Maier. Ben led early and Brent got by just before halfway and led the rest of the way to the flag. Maier crossed the line in 2nd place but was DQ'd in tech for an exhaust issue, so CRP Racing/Nitro Kart driver Aryton Grim was promoted to 2nd place. Nitro Kart drivers Adam Brickley, Cade Jaeger, and Jason Noe finshed 4th through 6th, while James Overbeck dropped out at halfway.
Sunday's Briggs Cadet Final saw another two-Nitro Kart battle, but time it was Brent Crews and CRP/Nitro driver Aryton Grim, with Danny Dyszelski in the mix as well. In the end, it was Crews with the win by 89-thousandths of a second over Grim. Ben Maier was 4th at the finish, James Overbeck was 5th, Cade Jaeger was 6th, and Jason Noe was 7th.
MICRO SWIFT
Nitro Kart Drivers: Adam Brickley, Aryton Grim, Miles Murray, Cameron Weinberg, Carson Weinberg, Hoyt Mohr, Ben Maier (Day 1)
Team Nitro Kart driver, Adam Brickley, has been very fast in Micro Swift all year, but had yet to score a national win.That changed on Saturday when a dominating performance saw him sweep both heats and the Final. His closest competition in the heat races was teammate and Micro Swift points leader, Ben Maier, but Ben was punted out of the lead group in the Final and finished last. His last place finish was still good enough to clinch the Micro Swift championship, so he chose to move up to Mini Swift on Sunday. Nitro Kart swept the podium with series newcomer, Cameron Weinberg in 2nd and CRP/Nitro driver Hoyt Mohr in 3rd. CRP/Nitro teammate Aryton Grim was 5th, with Miles Murray in 6th and Carson Weinberg in 8th.
With Ben Maier moving up, and Adam Brickley injured (as previously noted), it left the door open for another new winner in the Micro Swift division and Nitro Kart's Cameron Weinberg was the driver who seized the opportunity. CRP/Nitro driver Aryton Grim won the Pre-Final, but Cameron Weinberg jumped out to an early lead, and led every lap to take his first national win. CRP/Nitro driver Hoyt Mohr, crossed the line in 2nd but was penalized for contact with another kart. Team Nitro Kart driver Miles Murray landed on the podium with a 3rd place, with Carson Weinberg in 4th, and Aryton Grim, also involved in contact while running up front, in 8th place.
Congratulations to Ben Maier, for his 3rd National Championship of the year!
MINI SWIFT
Nitro Kart Drivers; Brent Crews, Thomas Annunziata, Ben Maier (Day 2)
In Saturday's Mini Swift Final, Team Nitro Kart's Brent Crews came up just 57-thousandths of a second short at the line in a see-saw battle with Mateo Rubio-Luengo and Jeremy Fletcher to take 2nd place. Thomas Annunziata brought his Nitro Kart home in 6th place.
Sunday would again see Rubio-Luengo and Crews battle for the win and Brent would again have to settle for 2nd place in the Final after a lead-swapping affair. Nitro Kart's Thomas Annunziata was 4th, and Ben Maier made his Mini Swift debut with a solid 5th place finish.
YAMAHA SENIOR
Team Nitro Kart Driver: Ashley Rogero
Nick Tucker offered regular Nitro Kart driver coach, Ashley Rogero, the chance to climb into a kart this weekend and she jumped at the chance, proving she is still one of the best out there by winning two close battles with Matthew Mockabee to sweep both Finals in Yamaha Senior.
ALSO OF NOTE;
Team Nitro Kart's Hayden Jones had a very competitive weekend in IAME Junior, and capped it off with a fine 5th place in Sunday's Final.
Team Nitro Kart-supported, Fullerton USA driver, Austin Garrison continued his utter domination of the IAME Senior class, by sweeping both Final events for his 5th and 6th wins of the season.
UP NEXT
Team Nitro Kart's next event will be a doubleheader weekend at GoPro Motorplex for Rounds 9 and 10 of the Karting Challenge club series, on September 29-30.
The 2018 WKA Manufacturers Cup Series will close out the season with the Grand Nationals on October 26-28, also at GoPro Motorplex.
ABOUT NITRO KART
Nitro Kart is based out of Mooresville, NC in the hub of American motorsports. The company was founded by "Nitro" Nick Tucker with a sole focus on youth karting and specifically the cadet ranks, but has now expanded to serve kart racers of all ages. Nick has applied his years of experience from karting all the way up through NASCAR racing to develop the absolute best cadet chassis on the market with the support to back it up. Nitro Kart and their drivers consistently score prestigious victories in major events around the country, hence the slogan "Race One or Chase One." For more information on Nitro Kart, contact Nick Tucker at (704) 818-7868 or kartworxracing@gmail.com`
Please follow and like us: