Driver Diary: Colin Queen – CIK-FIA Academy Trophy – Genk, Belgium
Best result for California driver in final round of youth world championship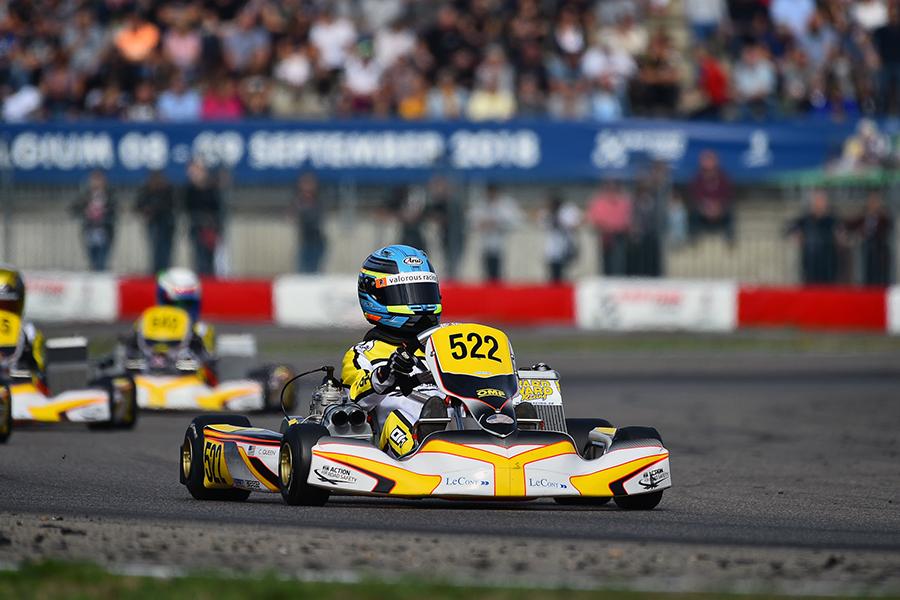 Colin Queen in battle at the CIK Academy Trophy in Genk, Belgium
2018 marks the seventh season of karting for California native Colin Queen. The 13-year-old is into his second season at the Junior ranks, following a successful career at the Cadet level at Superkarts! USA, United States Pro Kart Series and Los Angeles Karting Championship. Queen was one of two drivers selected by the World Karting Association to represent the United States at the CIK-FIA Karting Academy Trophy program for 2018. Colin will represent the USA at three world championship events in France, Italy and Belgium.
Queen is a Junior Ambassador for the Children's Hospital Los Angeles (CHLA) where he has been a patient since the day he was born. Colin and his twin sister, Brooke, were born 8 1/2 weeks early. Colin weighed barely 3 pounds, and was diagnosed with hypoplastic left heart syndrome (HLHS), a life-threatening condition in which the heart's left side is severely underdeveloped. Queen has had three open-heart surgeries along with a number of others due to the HLHS. Currently, he is the only person in the world racing in motorsports with his condition.
Colin is providing eKartingNews.com with a look into his travels and weekends competing at the CIK-FIA Karting Academy Trophy. His first entry of the Driver Diary was from the opening event at the Circuit International de Salbris in central France, followed by the second stop at the South Garda Karting facility in Lonato, Italy. The finale took part at the Circuit Horensbergdam in Genk, Belgium.
Monday, September 3: After another long, tiring, and tedious flight from Orange County, California to Brussels, we got into our Opel wagon rental car and drove to Genk. We checked into our hotel and had a nice lunch. We walked around Genk for a few hours to try and adjust to the time change, but the jet lag forced us back to the hotel at 4pm for some much needed sleep. Good thing we did because Dad had big plans for us for the next two days; including 3 countries, 2 racetracks and a bunch of sightseeing. This was going to be epic!
Tuesday, September 4: We had 2 days before the race, so my Dad and I decided to see the legendary track – Spa-Francorchamps early in the morning. The track was incredible! Eau Rouge was so steep that the elevation change was truly awesome.  TV doesn't do the track justice. We watched some Porsche and BMW race cars fly around the track and even got to see an original GT40, which was my favorite. After a few hours, we drove to the town Maastricht in the Netherlands to see the iconic underground. These caves date back to the Romans where they mined limestone for building. We got our tickets and lanterns, then ventured into the 200km (124 miles) long caves. We walked 2 kilometers into the darkness, where it was 45 degrees and we were only wearing t-shirts and shorts. The walls of the tunnels were marked with historical drawings and paintings. During World War II, the caves provided shelter for residents and even held priceless art from Dutch artist Rembrandt during allied bombardments. Maastricht was the first town in Europe to be liberated by the allies in the war. It was very cool!
Wednesday, September 5: Today, my Dad and I were going to drive to the mecca of motorsport, the Nürburgring. Along the way, we stopped at the Michael Schumacher kart center and drove around in some rental karts and even got to see one of Schumacher's early karts. It was fun, but the real fun was an hour away. The ring opened to the public at 5:30pm.  We pulled off to the side of the Autobahn as our rental was only able to manage 180kmh as Porsches and BMWs blew by us like we were standing still.
We found a little German village called Bad Munstereifel. It was just what I imagined a small German village would look like. Small buildings close together with a stream running through the middle of the town. Dad found a Bitburger Pub where we ate schnitzel and watched the villagers walk around the shops. Finally, we made it to the Nürburgring! First, we checked out the current track where DTM and F1 run and then we checked out the historic Nordschleife. Crazy isn't the word to describe it. We pulled out our phones and took some shots from a viewing area on the back side of the track. We were lucky enough to spy the new Corvette testing along with some other makes in camouflage. It was finally time to fulfill my Dad's dream, drive the Nordschleife. Unfortunately, it was in our Opel wagon rental car. Still, my Dad had a blast and did a pretty good job at the wheel. We parked our rental in the lot where over 100 cars from locals were staged for their next run at the ring.
Little did I know that Dad had a surprise for me.  He booked a ride in a BMW M5 ring taxi piloted by a professional driver. William, our driver, is also a test driver for the BMW factory team. We strapped in and William punched it. We were flying as he was talking us through each turn. I had a grin stretched from ear to ear. I've driven this track 100 times on iRacing, but doing it for real was simply amazing! Rain hit the backside of the track and William just drifted the M5 through each turn and before I knew it, the lap was finished. I can't wait to drive it on my own in a proper race car someday. This was the perfect dose of adrenaline as I headed into the final Academy race in Genk.
Thursday, September 6: It was a typical day to begin the event, our third of the season. We collected the kart, tires, and fuel for the weekend and I met up with my new mechanic from Ward Racing, Tomi. It was great to see all of the familiar faces and of course watching the KZ drivers practice. You can learn a lot from them considering they are on the same tires as Academy and their line isn't the typical shifter line we see back home. The track at Genk is really nice with some good technical corners and great passing zones. We walked around the track to different viewing perspectives to get some education on lines and passing areas. The day was short as was the drivers meeting. We left the track and grabbed a good dinner and caught some zzz's.
Friday, September 7: I have never seen the track before and it was raining for the first practice. In the first session, I experimented with different lines to find grip, but I got collected in an incident 4 laps into the first session. Bummer. The second practice was better as the track started to dry up and I was still lacking overall speed. I went a bit too hot into a corner 15 laps in and stalled the motor trying to avoid a barrier. I missed out on a number of laps in that session. The third session was much better, posting the 8th quickest time and felt confident for qualifying. With over 30 laps under my belt I was set for qualifying. Tomi pushed me out last, expecting the field to slow down and play the usual qualifying games so I could pick and choose a group to follow.  It did not go as planned.  I was all alone and waiting wasn't going to help as I needed laps, considering most of the drivers here have driven this track quite a bit. I qualified 17th in my group and 33rd overall. No bueno. I held my head high as I knew I could fight back for position to make the Final.
Saturday, September 8: I had two heats to make my way forward and reduce the number of points accumulated in order to make the Final. My first heat was good. I started 17th and made up three positions on the first lap and then two more throughout the race, finishing 13th. Tomi noticed that I could make a change that would help me carry more speed around the track for the second heat and it worked! The second heat was so much fun. The green flag dropped and I made up five positions on the first lap. I gained two more by the end of the heat and was right there as far as lap times with the frontrunners. I ended up finishing 10th, but grabbed another position due to a post race penalty on another driver. It was a great day and I was carrying momentum going into Sunday.
Sunday, September 9: I had my final heat and main event today. The last heat was another good one. I finished eighth, up nine spots after winning some good battles. This really helped me get a decent position in the Final considering the rough start on Friday, qualifying 33rd. I made the cut off and transferred directly to the final where I would be starting 18th, one spot off fellow American Jak Crawford.
The crowd there was huge. About five thousand people came from all over to watch the race of the year. Plus, we even got a proper flyover with military jets that were at an airshow a few miles away. I was handed my wooden trophy, which was a model of the Genk track, by CIK President Felipe Massa. Following the pre-race ceremonies, I made my way to my kart. The first few laps were decent as I made up five positions until lap 9 when I made a tiny mistake, which cost me one position. I let it go and began to hunt with four laps to go. I made up the position and finished 14th. Tomi had the kart dialed in and his advice was perfect. This was my best result at Academy to date, scoring my first championship points.
Reflecting back on the weekend, I can say I gave it my all and made the most out of what was truly an arrive and drive weekend. I worked really hard on my fitness at my gym, Athletes Choice, with Tommy Del Favero after the race in Italy. The endurance work and strength training helped me make up the difference in my performance. It takes a team and I wanted to extend a huge thank you to Tommy!
The coaching and kart setup from my mechanic, Tomi, provided at Genk was awesome! He really helped me dial in my driving where I was able to take numerous positions and end the weekend with a good result considering where I started. Tomi, you rock!!!
To my European team, Ward Racing, my previous mechanics Kasper and Dominic, thank you for believing in me. Your support in this experience was so valuable.  It was great meeting all of the Academy drivers from across the globe who provided great competition.
Thank you eKartingNews.com for letting me have the opportunity to share my travels and experiences from the CIK-FIA Academy Trophy series. I created memories and friendships for a lifetime. To the CIK-FIA and WKA, this has been the most amazing experience I've ever had in karting. I've learned a lot, met incredible people, experienced new cultures, and have great lifelong memories. To represent my country on the international stage is priceless, thank you so much!
Of course, thanks to my Dad, Mom and my twin Sister, Brooke, for supporting me through this season. I couldn't do this without you and am so thankful to have you along every step of the way. For more pictures and stories from my travels, please follow my social media pages: Facebook @ Colin Queen Racing and Instagram @ colinqueen111