So Cal Oval Karters Return to Fairgrounds in Perris on Saturday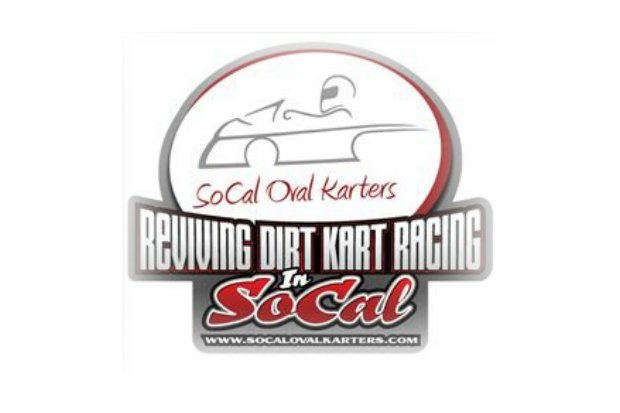 The So Cal Oval Karters 2018 season hits the head of the homestretch this Saturday afternoon, September 22nd, at the SoCal Fair Motorcycle Speedway.  Admission is free for fans at the first-year dirt track that is located about 200 feet outside of Perris Auto Speedway's turn four on the SoCal Fair and Event Center.  Joining the SCOK will be the Norco Mower Racing Association.  The first race will take the green flag at noon.
Counting this Saturday's race, the SCOK only has four races remaining in the 2018 campaign.  The other three races are at Wheel2wheel Raceway in Victorville on October 13th, the road course in the infield of Perris Auto Speedway on November 3rd and the last race of the year back at SoCal Fair Motorcycle Speedway on November 10th.
All the regular SCOK classes – Yamaha of America KT100's, Colt Group Opens, Caltrol Incorporate Senior Clones, Burris Racing F200's, Fair Oaks Ranch Junior Clones and Ancon Marine Junior/Juniors – will be in action on Saturday.  Adding intrigue to this week's event is the inclusion of some sprint car drivers in the show.  Current USAC/CRA Series point leader Brody Roa of Garden Grove, who will be racing at Perris Auto Speedway later Saturday night, will be competing in the KT100 class at the kart race.  In his last appearance in a kart, he won the KT main event on June 23rd.  In addition, Roa is trying to talk another top USAC/CRA driver into racing on Saturday afternoon.  Former sprint car driver, Scott Sloane of Perris, who raced with the old CRA Series in the 1970's and 1980's, just bought a kart and will be making his SCOK debut on Saturday.
With time running out in the campaign, the return of points racing will be vital to many of the karters in the series.  Hesperia's Thomas Southern has dominated the KT100's and the Opens this year.  He will carry a 10-point lead over Art Klein of Las Vegas in the KT's and a 33-point advantage over "Hubcap" Mike Collins of Lake Forest in the Opens.  Things are much tighter in the F200's and the Senior Clones.  In the F200's, 2016 champion Steve Juillerat of Whittier is a mere three points ahead of Banning's Scott Gaynor.  In the Senior Clones, Tyler Hoffman is only three points in front of Jeffrey Butler, but that lead is deceiving as Butler recently moved back to his native North Carolina.   Huntington Beach teenager Shane Holt has a 19-point lead over Riverside's Drake Cardey in the Junior Clones.
After Saturday's SCOK race ends, fans can make it a complete racing day by walking over to Perris Auto Speedway to watch the Glen Howard Memorial for the USAC/CRA Sprint Cars.  Spectator gates for the sprint cars will open at 5:00 P.M. racing with at 7:00.
The SoCal Oval Karters would like to thank 2018 series sponsors Yamaha of America, Burris Racing, Caltrol Incorporated, The Colt Group, Fair Oaks Ranch and Ancon Marine for supporting the 2018 championship season.  If you or your company would like to join the SCOK as a sponsor, please call Matt Jones at (714) 614-8891 or E-mail him at mailto:mattjonesracing@yahoo.com
2018 SoCal Oval Karters Schedule
September 22 – SoCal Fair Motorcycle Speedway – Perris
October 13 – Wheel2Wheel Raceway – Victorville
November 3 – Perris Auto Speedway Road Course – Perris
November 10 – SoCal Fair Motorcycle Speedway – Perris
To keep up with the So Cal Oval Karters on Facebook, please use the following link:  https://www.facebook.com/search/str/so+cal+oval+karters/keywords_search
The So Cal Oval Karters website is available at http://socalovalkarters.com/
The So Cal Oval Karters would like to thank the following sponsors for helping make the championship series possible.  Burris Racing, Hubcapmike.com, Perris Auto Speedway and Yamaha of America Racing Engines.  If you or your business would like to become a partner of the So Cal Oval Karters, please call or E-mail Matt Jones at (714) 614-8891 or  mailto:mattjonesracing@yahoo.com.
Please follow and like us: