Positive Performance Yet Difficult Weekend for Maranello Drivers in Genk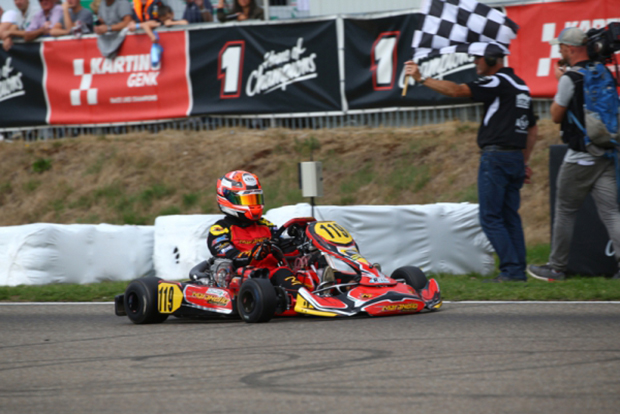 Maranello Kart's drivers had a tough weekend in Genk during the CIK-FIA World Championship "Kart Grand Prix Belgium", but the competitiveness shown by Iacovacci, Bernardotto and De Winter in the toughest and most important race of the year has been quite good.
Francesco Iacovacci –  assisted by SG Race, Enrico Bernardotto of SRP Racing Team, and the driver of TR Motoren, that is Maranello Kart's reseller in Holland, the Dutch Toon De Winter, put in overall great performances among the 105 drivers present in the KZ2 CIK-FIA International Super Cup on September 9th in Genk (Belgium). They showed a good level of competitiveness, but a series of unlucky episodes prevented them from getting the expected results.
Francesco Iacovacci managed to find his way around some initial setup problems and, after a difficult qualifying where he posted a best time of 53.149s, he recovered well in the heats claiming P27 and qualifying for the Final. He could not show his potential in the Final race though, as he spun early on following a contact with some rivals. Restarted as last, Iacovacci completed the race putting in very quick lap times that allowed him to cross the finish line in P19. His progression has been very good nevertheless, as witnessed by the fifth fastest lap of the race in 52.964s, that was two tenths quicker than his qualifying time.
Enrico Bernardotto could not run the Final instead due to an incident he was involved in during a heat on Saturday. The Maranello Kart driver competing for SRP Racing Team had been shining in qualifying where he posted the 7th time of Series 1 in 52.831s. He kept the momentum in the first heat and claimed a good P2, but then he had to retire from the second heat due to an incident, and another incident in the third heat forced him to abandon the event in Genk due to the injury to a finger. That was a real shame as Bernardotto was competing at a level that would have certainly allowed him to fight with the main protagonists.
The Dutch driver Toon De Winter could not show his best in the heats mainly due to a bad time set in qualifying and the positions he obtained were not enough to qualify for the Final, despite an overall good competitiveness.
Please follow and like us: