So Cal Oval Karters Host Southern California's Biggest Kart Race Saturday in Perris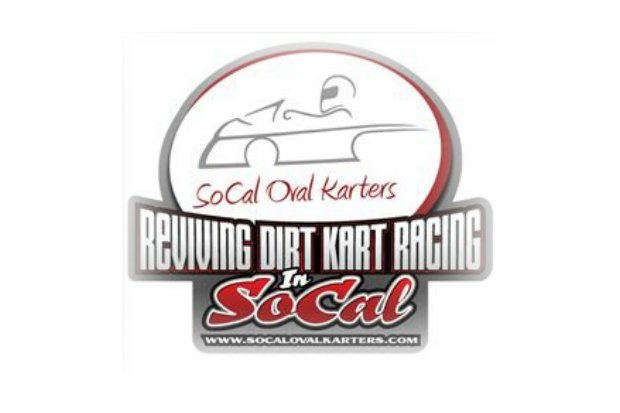 The So Cal Oval Karters will host the 1st Annual Southern California Karting Championship this Saturday, September 8th, at SoCal Fair Motorcycle Speedway on the SoCal Fair and Event Center (Lake Perris Fairgrounds).  The race will feature a purse of cash and contingencies in excess of $3,500.00 and it will be free for spectators in the grandstands.
Saturday's show will feature KT100's, Senior and Junior Clones, F200's, the UAS Open Class, Junior/Juniors and the Modified Mowers of the Norco Mower Racing Organization.  The first practice session will be at 4:10 P.M. and the opening race will take the green flag at 5:00.
"It is the biggest race the club has ever put on hands down," SCOK lead man Matt Jones told Dave Stall on the Racer Radio Show last Sunday.  "We expect 55-70 karts and 15 mowers.  In addition to the locals, we have guys coming from Northern California, Washington, Arizona and Nevada.  This race has gotten a lot of interest for the club from people who did not even know we existed.  It has really sparked a lot of interest and it is going to be a great race."
All competitors in each class will contest two heat races.  After the heats, the top 14 in each class will go to their respective championship main events.
The first-year track is located just outside of Perris Auto Speedway's turn four.  At first, it was plagued by rough and dusty conditions.  However, due to the diligent work of Jones, Ronnie Benton, Lonnie Crabtree of the Norco Mowers and the fairgrounds, the track has come around nicely over the last two months and has become very racy.  In addition to the surface itself, the fair ground management brought in a new sound system while Jones built a new starter stand and refurbished the scorer's box.  For this weekend's race, he is installing a new green and yellow light system in the corners.
Pre-tech and registration will be from 1:00 to 3:45 P.M.  There will be a driver's meeting at 3:50. Racers and fans will enter the fairgrounds at Gate D.
The SoCal Oval Karters would like to thank 2018 series sponsors Yamaha of America, Burris Racing, Caltrol Incorporated, The Colt Group, Fair Oaks Ranch and Ancon Marine for supporting the 2018 championship season.  If you or your company would like to join the SCOK as a sponsor, please call Matt Jones at (714) 614-8891 or E-mail him at mailto:mattjonesracing@yahoo.com
2018 SoCal Oval Karters Schedule
September 8 – SoCal Fair Motorcycle Speedway – Perris
September 22 – SoCal Fair Motorcycle Speedway – Perris
October 13 – Wheel2Wheel Raceway – Victorville
November 3 – Perris Auto Speedway Road Course – Perris
November 10 – SoCal Fair Motorcycle Speedway – Perris
To keep up with the So Cal Oval Karters on Facebook, please use the following link:  https://www.facebook.com/search/str/so+cal+oval+karters/keywords_search
The So Cal Oval Karters website is available at http://socalovalkarters.com/
The So Cal Oval Karters would like to thank the following sponsors for helping make the championship series possible.  Burris Racing, Hubcapmike.com, Perris Auto Speedway and Yamaha of America Racing Engines.  If you or your business would like to become a partner of the So Cal Oval Karters, please call or E-mail Matt Jones at (714) 614-8891 or  mailto:mattjonesracing@yahoo.com.
Please follow and like us: