Time Attack Karting KPX Championship Finale Report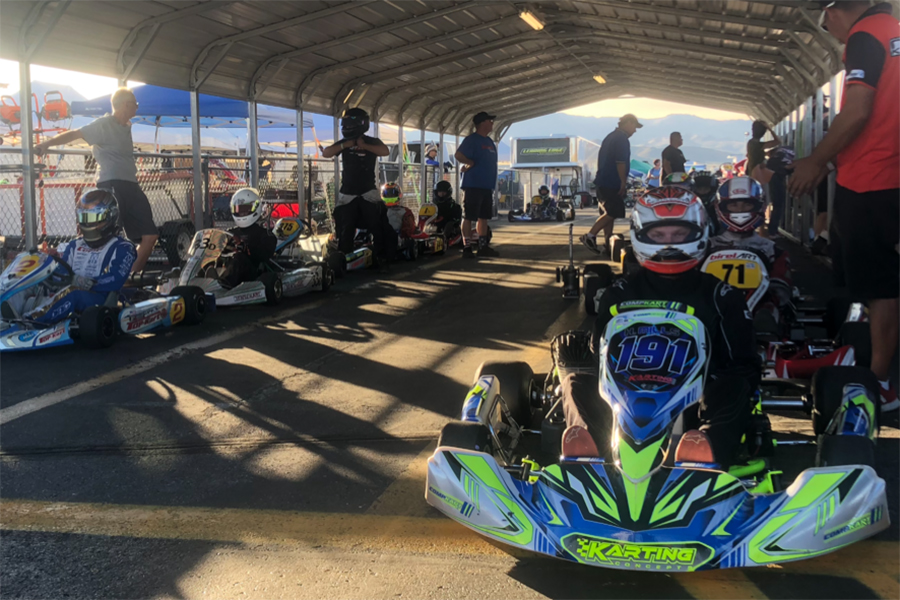 The final round of the KPX Karting Championship took us to Reno for a night race which is the only go kart track outside of California in our series region. Normally our races are practice Saturday and race Sunday but the event was moved up a day to accommodate racing into the night.
Practice went smoothly for the 3 drivers entered, KA100, senior and master 206 but on KA we didn't get axles in time for the race so we had to modify a different axle to work the brake keyway was offset in a different position. Compared to the normal go kart racing we do in the Sacramento area this track had more flowing turns and we knew the grip levels would be different racing at night so we tested many setups trying to predict how the race karts would react.
Harrison Mills put the CompKart on pole for KA100 the final lap of qualifying, Jack Arluck in masters 206 managed to put himself in 4th, and Andrew Kemp managed a 6th out of 25 in senior 206 even with being 9 pounds over which slowed him down a bit. For the heat races the drivers for team Karting Concepts Racing pretty much finished where they started but all races were exciting to watch with multiple position changes.
On the mains Harrison pulled a big gap at the start of the race for the IAME class and maintained the lead throughout the entire night finishing 1st. Jack Arluck made a pass for second at the start of the race and unfortunately got tangled up with the other race kart which tore the other racers valve stem out ending his night. Jack finished the night in 2nd which put him 1st in points for the series championship. Andrew Kemp lost the draft pact at the start of the race and being a little heavier than the class weight the gap spread, we were hoping that the leaders would change positions so that he could close the gap being only a few tenths off pace but it wasn't enough and he finished off the night in 7th maybe another PSI in the tires could have kept him with the draft pack of the other go karts that were racing for the lead but there's always what if's in racing.
Overall a successful race season for us and we still have a few big races coming up, the IKF Grand Nationals is the next race we are prepping for then the Streets of Lancaster Grand Prix, and finally the last club race in the Sacramento region at our home track. Once the last race happens we will then start promoting go kart racing with our Time Attack Karting program in the off season so the new go kart racers have a chance to practice in the off-season. For more information or if you are ready to make the move from indoor kart racing visit https://www.timeattackkarting.com