Top Kart USA Dominates Route 66 Sprint Series Event
Six wins, eight podium results and eight pole positions at Concept Haulers Motor Speedway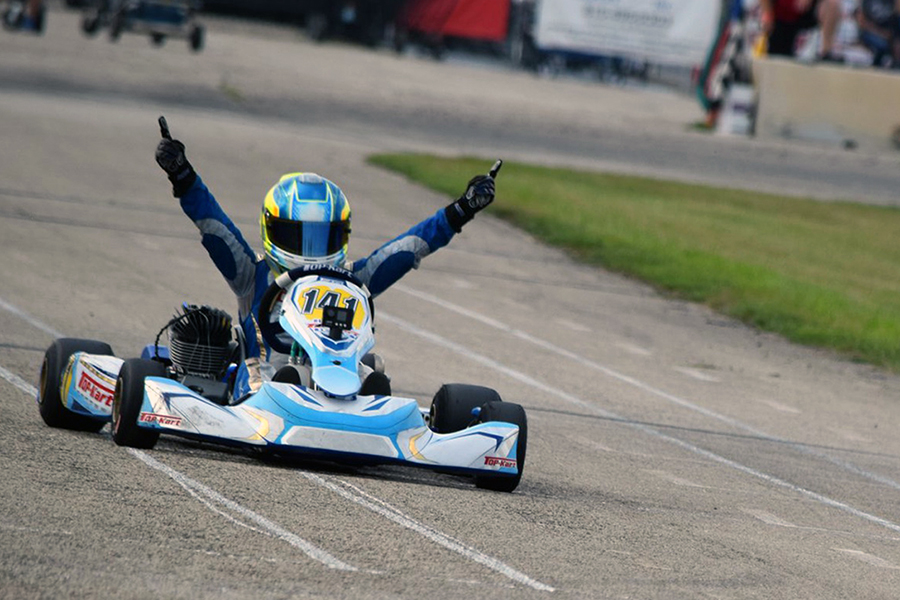 With the 2018 season well past the halfway mark, Indianapolis, Indiana based Top Kart USA shows no sign of slowing down. Competing this past weekend at the Route 66 Sprint Series event at Concept Haulers Motor Speedway in Norway, Illinois, team drivers and customers secured six wins, eight podium results and eight pole positions as they dominated another weekend of competition.
"We are extremely pleased with the results the Top Kart drivers had achieved this weekend!" exclaimed Blake Deister. "Proving yet again that we have the product that consistently puts drivers on the top step of the podium. As we continue our hard work and development of the chassis, we are excited for what is yet to come for the rest of this season and into 2019!"
"Having been a very long summer of racing with no sign of slowing down, hats off to all of the Top Kart drivers and teams throughout the paddock working to get the results," added Bill McLaughlin Jr. "We are happy to support such a great group of people that we call our family and we all get to win together!"
Leading the way for Top Kart USA was veteran driver Alex Kardashian as he secured three of the six wins over the weekend. Standing atop the blocks in the Yamaha Senior division both Saturday and Sunday, Kardashian also secured the X30 Senior win on Sunday after Saturday's second place podium result. Showing solid race pace throughout the weekend, Kardashian was also a fast time award winner as he garnered the X30 Senior pole position on Saturday.
"Feels great to get my Top Kart chassis back on top where it belongs, sweeping Yamaha and taking a first and second in TaG," added Kardashian. "Coming off a couple tough weekends, showing the speed my kart always has feels awesome."
Adam Maxwell added three podium results including a victory to the Top Kart USA resume over the weekend. Securing the pole position for Saturday's KA100 event, Maxwell went on to take the day's main event victory before adding a second place result on Sunday. Pulling double duty and competing in the X30 Junior ranks, Maxwell took home third place honors on Saturday before a disappointing DNF Sunday.
"I am so blessed to race on a team that offers such amazing track support and I have grown so much so far this season being under the Top Kart tent," explained Adam Maxwell. "My hardware continues to grow every weekend and with my first weekend in junior, we walked away with first, second, and third place finishes. We are excited to continue our growth with Top Kart USA and bring home more 1st place trophies. A huge thank you to Top Kart for believing in me and pushing me to my limits."
Kaden Wharff continued the winning ways for Top Kart USA claiming the top step of the podium in Saturday's X30 Junior final after taking the pole position earlier that day. Sunday would see the young gun add another pole position to his tally as well as a third place result when the final checkered flag had flown. Showing his outright qualifying speed, Wharff took his third pole position of the weekend in Sunday's Yamaha Junior division and claimed a pair of top-ten finishes with a sixth place result Saturday and a fifth place finish Sunday.
"I am proud of our team's success over this past weekend in Norway, IL. I was fast all weekend and my kart felt great but the final podium results didn't show the success that I had on track," explained Kaden Wharff. "I want to thank Bill, Billy, Blake and Dean for working so hard to make this Top Kart team successful. Thank you to Comet Racing Engines for the power to keep me up front and on that top step. Thank you to Mike Tetreault for the continued support at and away from the track. Looking forward to my next race to get more wins!"
In the KA100 Senior class, it was Dakota Pasek that led the way on Saturday claiming the victory for the Top Kart brand but could only muster a sixth place result on Sunday. A pair of Austins would compete in the Micro Swift class as Austin Olds turned Saturday's seventh place finish into a third place podium result on Sunday while Austin Jurs added a pair of top-ten results.
Zach Collins had a disappointing DNF result in Saturday's Yamaha Junior main event but returned to the track the next day to claim a 14th place finish while Ben Chefjec improved throughout the weekend turning Saturday's 13th place finish into a fourth on Sunday.
A handful of Top Kart USA drivers competed in the Yamaha Senior ranks and with Kardashian scoring a pair of wins, the rest were left to battle for second. Josh Fierke claimed the pole position and second place result on Saturday but could not match that finish on Sunday as he crossed the stripe in 12th. Carter Pease added a pair of top-five results with third and fifth place finishes while Jake Venberg finished 12th on Saturday and a solid fourth on Sunday. Arie Venberg secured tenth and 11th place results while Nate Dean matched those finishes. Ben Lynch added a pair of top-fifteen finishes and Jeremy Fierke secured a ninth place finish on Sunday.
About Top Kart USA – Top Kart USA is located in Indianapolis, Indiana and is a distributor for the Top Kart product line. Housing a national level race team and competing in the World Karting Association and SuperKarts! USA programs as well as throughout the regional level in the Midwest, Top Kart USA is continuing to evolve and develop Top Kart dealerships throughout the United States. Supported by Top Kart importer Grand Products, Top Kart USA is owned and operated by McLaughlin Motorsports.