Four Double at Nicholson National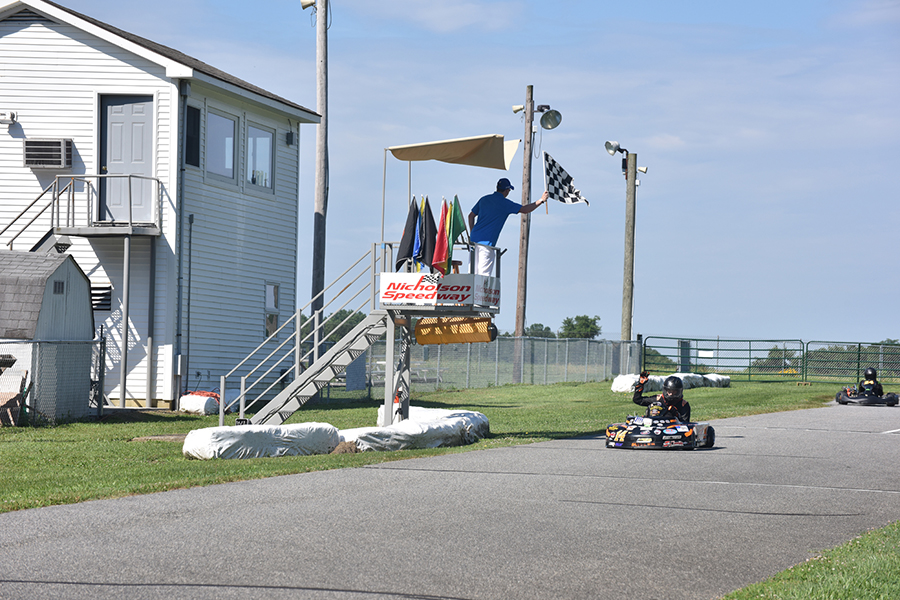 Colin Miller wins 206 Junior (Photo: Bruce C. and Susan Taylor-Walls)
Four of the racers entered in this year's annual American Kart Racing Association's (AKRA) Nicholson Speedway Nationals presented by VEGA Tires, were double winners. Alstead, NH based Matthew Winter won each days 206 Cadet class on the ¼-mile asphalt road course. Saturday the 13-year-old double winner won with an 8.987 seconds cushion over second place Brody Kelly.  Amanda Shaw rounded out the top three.
Winter was the fastest qualifier with a lap time of 23.078 seconds.  Shaw's top qualifying lap, of 23.181 seconds, was 0.103 seconds too slow.  Winter's Scott's Racing Engines powered Intrepid Kart won the Heat Race taking the checkered flags with a 3.897 seconds advantage over Shaw. Kelly was third by 10.854 seconds.
"The kart handled good, "Winter Reported, "Towards the end of the race it got a little loose, but overall it was good.  I want to thank Intrepid for the chassis and Scott's Racing Engines for supporting me."
Sunday Winter won the pole with a 23.018 seconds trip. Brady Atwood earned the outside pole with a lap time of 23.224 seconds.  Lap times of 23.238 and 23.245 seconds had Kelly and Shaw starting inside and outside in row two.
Winter dominated Sunday's Heat race field from start to finish cruising across the stripe with a comfortable 1.090 seconds cushion over Kelly.  Atwood and Shaw were third and fourth.
In Sunday's feature Kelly followed Winter across the stripe with 3.421 seconds separating them.  Shaw crossed 4.169 seconds later in third followed by Atwood who was 4.388 seconds late at the line for fourth.
Colin Miller, of Whiteford, MD, earned both of his wins Sunday starting with 206 Junior where he recorded a 22.605 seconds fast time lap for the pole.  Cam Gruber's fast time lap of 22.750 earned him the outside pole.
From the pole Miller immediately jumped into a never surrendered lead.  He and Gruber broke away with Gruber trying to get his machine by Miller's GT Machine powered Bandit kart.  Reid Marker was third under the checkers 3.120seconds after the final flags waved.
Saturday Gruber grabbed the 206Junior win.  Miller clocked the pole time in 22.687 seconds. Gruber was second fastest qualifier with a 23.762 seconds run that was 1.075 seconds slower than Miller's lap time.
Later that Sunday Miller produced his second win, this one in Pro-Gas Junior where he swept the Heat and Feature races with Brady Atwood crossing behind him.  In the Heat Atwood was 9.666 seconds slower. Atwood picked up his pace in the Feature where he crossed 6.496 seconds behind Miller.
"The Bandit kart handled great and the GT Machine motor worked great," said the 14-year-old double winner who added that, "it was fun running with the L0206's felt good."
Following in his older brother's tire tracks 7-year-old Sydney Miller swept the Kid Kart races. Like his brother, Sydney pilots a GT Machine powered Bandit chassis.
Reigning Kid Kart point's leader Taylon Gaylord, of Monroe, N.C., struggled all weekend with fuel issues.  His mother, grandparents and even master chassis designer and engine builder Paul Rice took turns trying to diagnose the problem.  Despite his struggles Gaylord did start out winning Saturday's pole with a 29.357 seconds covering of the course and he was the Heat race winner, and then his troubles began.
Miller took advantage of Gaylord's misfortune, grabbed the lead and was 9.298 seconds ahead at the stripe. Tristan Marevil was third.
"I had a good time running fast and I did a good job," Miller concluded. He also thanked GT Machine, Bandit Racing Chassis, Mr. Dennis and Janet Headley at Sandy Hook Speedway, and Practical Power Lighting.
Miller returned Sunday and swept the Kid Kart competition again.  This time he led qualifying with a 31.272 seconds cruise through the course.  Gaylord's fastest lap time of 33.515 seconds earned him the outside pole.
When the Heat race's green flag waved Miller shot into the early lead rocketing away from Gaylord.  After 10-laps Miller owned a comfortable l4.040 seconds advantage over Gaylord.
Miller ran away with the Feature.  When it was over Gaylord trailed by 22.059 seconds.  Gaylord thanked his mom, his grandparents and everyone who worked hard on his kart.
Marevil was third fastest qualifier and finished third in the Heat and Feature races.  Roman Marvel won Saturday's TaG Masters race.
Saturday's final Feature started with Parker Maull producing 206 Senior Heavy's pole lap in 22.388 seconds. Riba, MD racer Shannon Spry was second fastest with a qualifying lap time of 22.512 seconds. Parker narrowly beat Spry in the Heat race with just 0.384 seconds separating them at the stripe.  Jason Kwiatkowski was third Cam Gruber was fourth.
The Feature was a dicey battle between Spry's Dover Powered MGM Espionage and Maul's machine.  At the end the top three were nose-to-tail with 0.307 seconds separating first from second at the end.  Kwiatkowski crossed third followed by Gruber for the top four.
"Parker is always challenging, always challenging," Spry said proclaiming, "I'll be back tomorrow."
Maull came back Sunday too. This time with new plan that worked. It started with earning the pole in 22.426 seconds followed by beating Kwiatkowski in the Feature by 0.318 seconds. Spry was third across the Feature's stripe.
Also on Sunday, Larry Collier, of Church Hill, MD, led 206 Masters racers under their checkers and Roman Marevil did the same in TaG Masters. Collier clocked the pole time in 22.821 seconds.
Gruber was 1.267 seconds behind Collier's Faster Motor powered Bandit Racing Chassis.  Gruber got a little closer to Collier in the Feature trailing by 4.692 seconds.
This year's Grand Nationals, presented by VEGA Tires, will be hosted by Carolina Motorsports Park October 19-21.