e-Kart: Nicholas Deskins – evGrand Prix Kart Project – Part 2
Steps to transforming a typical racing kart to evKart specs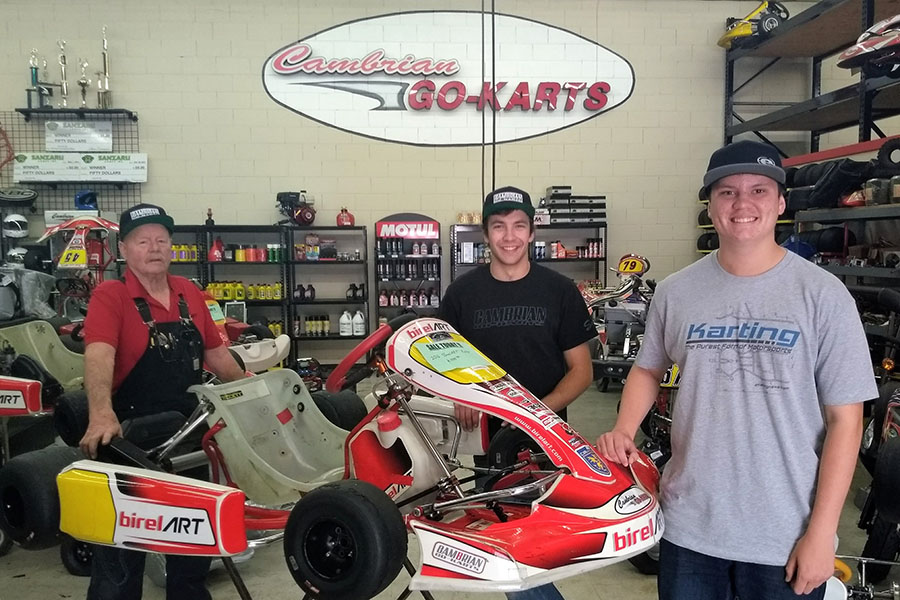 Nicholas Deskins at Cambrian Go-Karts (Photo: Jeff Deskins)
When I launched my first magazine in 1998, I was lucky to have already developed a friendship with Jeff Deskins, having bonded with the transplanted-Californian over racing and karting in my home province of Ontario. Jeff was an avid amateur photographer and, while traveling for work, he made it a point to hit many of the events that we covered in Shifter Kart Illustrated (on his own dime) as our Senior Photography. Over the early years, Jeff's work helped make SKI a possibility and his images dominated the magazine's coverage. Fast-forward 16+ years, and Jeff's son Nicholas reached out to me to discuss his new high school engineering project.  I was thrilled to hear his plans and I immediately knew that this would be an intriguing project that could be chronicled on EKN. I offered Nicholas the opportunity to provide a 'diary blog' so that we could follow he and his team's adventure. Here is a link to the first installment of his editorial series with the following his second. – Rob Howden, EKN Editor-in-Chief
In the first installment of my evKart engineering project diary blog, we left off by providing the EKN readership with an overview of my high school program and goals for the next three years.  Since the moment that we left the shop of Cambrian Go Karts and Don Durbin, we started thinking about our next steps. It's a good thing that our ride home was about 2.5 hours, as we started to layout the ground work to get our Cambrian Birel ART RY30 rolling under its own power.
Just as another preface to my whole story, I could have easily chosen to get a complete evKart kit that has all the necessary parts and pieces to build a 'kit evKart', right down to the chassis.  Thinking through this, I came to the realization that the best way for me to learn more about engineering and the processes that go with it was to make certain that I'd encounter build challenges that would require me to learn to design and fabricate various pieces to make this all go together.  So, with this in mind, and my dad knowledge of how karts function and go together, I knew I had a pretty good learning curve ahead of me.
Now that you know the rest of the beginning to my story, I felt it would be best to start this Part 2 of my diary blog by introducing and describing what makes up an evKart, its components, and how it may differ from your typical kart.
At its roots, if you removed the kart motor/fuel pump/exhaust, fuel tank, and fuel lines and then replaced them with various electrical components, you'd have a evKart.  There are four main components to the evKart set-up.  You have the electric motor itself, some batteries, a wiring harness, and a motor controller.  Most of the components are pretty self-explanatory, but the motor controller might require some detailing.  The way I can explain what it does is much like what a carburetor and pump does for a regular fueled kart engine.  It helps control the amount of power the motor produces, the torque, the power consumption and the rate at which it uses this battery power.  The motor controller has software that I have installed on a laptop and I can manipulate these and other functions of the controller via the software while in the pits.  As with most racing series, you cannot control any of this while racing.  I can develop various power profiles that can I pre-program in the shop, which we will use later during testing to determine our best balance between power, torque, and battery consumption, all which we will be judged on during our race competition.  We can also set throttle rate (how fast you accelerate for aggressive starts). The motor controller and software can also help us troubleshoot the system, as it has the ability to measure and record numerous operating parameters and provide us with some performance data logging.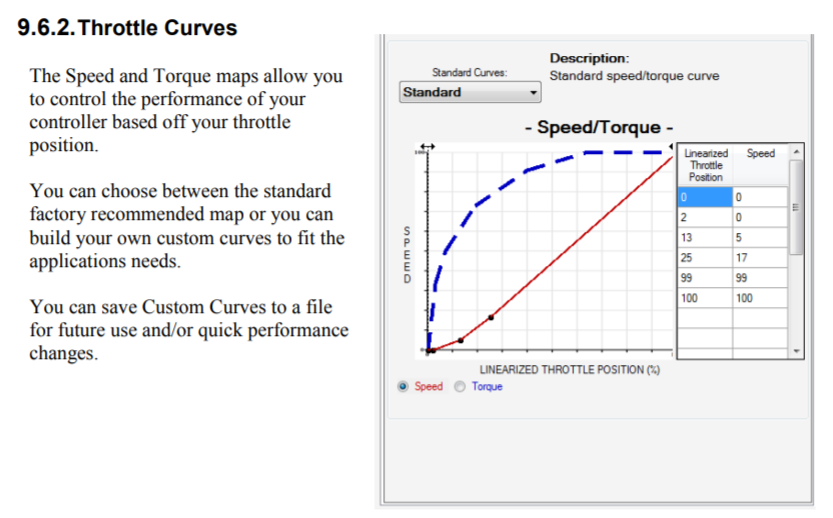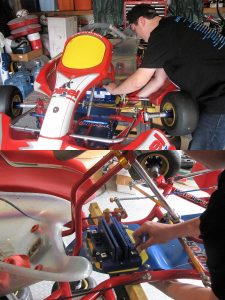 As with any sanctioned karting event, we have numerous rules and component requirements that we must follow.  The Purdue University rules require us to use a spec electric motor, spec controller, and specific battery make/model and they are clearly laid out in the Purdue evKart rule book, which was developed in conjunction with the WKA. My first order of business was ordering these components now that we have our Cambrian Go-Karts supplied Birel ART RY30 in the shop.  Like I mentioned, my goal is to learn as much from this process as possible, so I started by writing a marketing proposal for my engineering teacher to send to a friend who provides students with various funds to support our projects.  I was lucky enough to be awarded a $800 grant and this was enough to purchase my motor and controller. A few phone calls and internet clicks later, and my Motenergy DC motor and Alltrax Motor Controller were shipped to my doorstep and ready for installation.
With these necessary items in the garage, it was time to really get started by figuring how and where to mount these major components.  Since the fuel tank had been removed, the gap under the steering column seemed like an ideal place to mount the controller.  To do this, I had to make a paper template to test the fit, check clearances, and confirm the bolt placement.  I then transferred this template to the floor pan for drilling holes.  This ensured that I had my measurements correct and accurate before drilling.
The next task at hand was getting the engine mounted and, of course, it's a no brainer where that belongs and it just so happens that a X30 motor mount with some additional brackets would be a perfect way to mate my engine to the chassis.  I went to work on adapting the existing X30 mount and adapted it for my specific engine and bolt pattern.  A few turns of the wrenches here and there with a torque wrench, to ensure proper assembly, and I had my engine mounted.
Since these engines utilize a larger #35 chain, I went ahead and replaced the rear gear to fit the chain that is required to mate with the engine sprocket that came with the motor. I also purchased additional front and rear sprockets in different sizes, which we will use later in testing.  While it took a while to get the alignment of the motor gear to the axle gear just right, my dad provided some tips and tricks he's learned over his years of karting.
The next step, which is one of the more complex segments of the build process, was to mount the batteries and enclose them in required battery boxes.  I needed to decide where to best mount these and what size they should be to carry four heavy 12v / 35 amp batteries. I quickly determined that the only place to put these would be along the length of the side nerf bars.  Before I committed any metal to the project, I decided to do a cardboard mock-up of the battery box to make sure I had everything measured correctly and it will fit the way I need them to.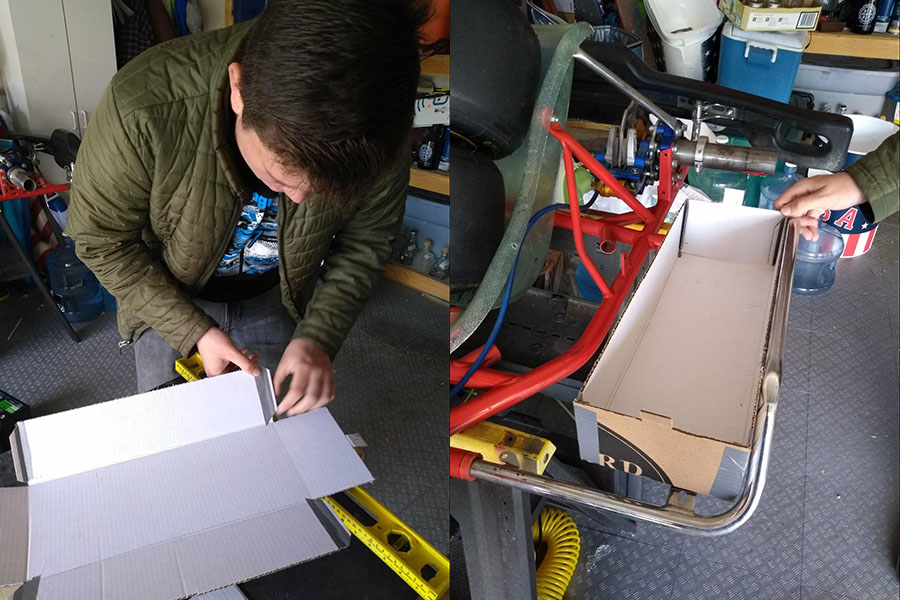 Once I was happy with the mock-ups, I purchased some 16-gauge galvanized sheet metal and used an angle grinder to cut out the battery boxes before taking them to a local metal shop to get them folded into place using a sheet metal brake.  The shop owner even allowed me to have a hand in bending them to my specs and brought them home to pop-rivet them together.  Since these will be heavy, I also figured it would be necessary to provide some additional bracing to support the battery weight.  I purchased some simple angle iron and took the nerf bars to my high school welding shop, where I learned how to MIG weld.  As far as cool factor goes, I now love welding and can't wait to do more in the future.  With the battery boxes now fitted and bolted to the nerf bars, it was time to adapt the side bodywork to get this looking like a proper racing kart again.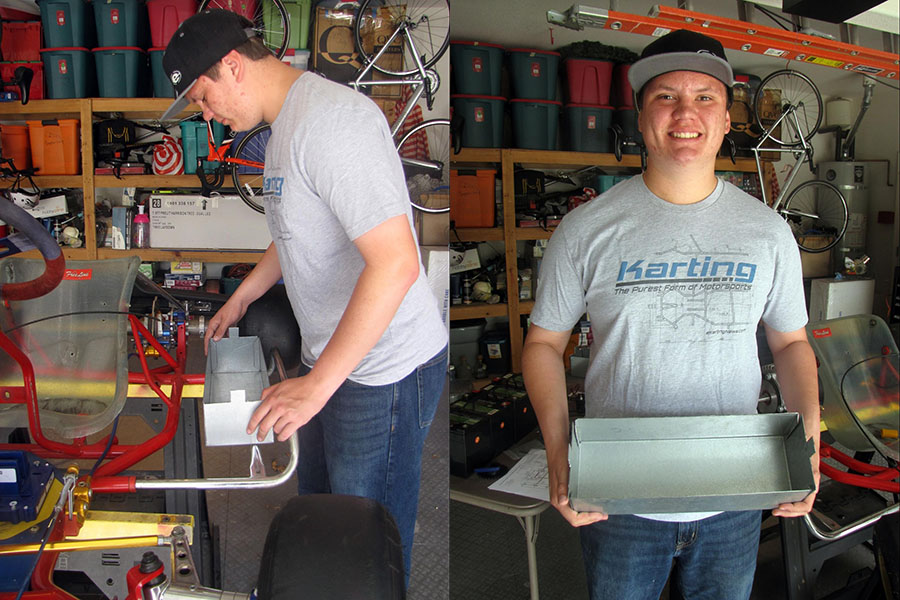 With some trial-and-error fitting of the molded Freeline bodywork and a dremel drill in hand, I was able to modify them to fit around the battery boxes and I think it came out looking quite nice.
The only thing remaining to complete the installation was to wire everything together.  This part of the build took the longest and I easily invested 30+ hours into the wiring portion alone.  The wiring diagram I initially used was incorrect and I had to figure out where everything went on my own.  Since the wiring harness I decided to use also lacked some of the wires I needed, I had to fabricate extensions and connectors that were not included to get things in working order.  The major part of wiring the kart together had to include installing a driver on/off switch, getting all the batteries in series, an emergency stop switch (so track workers can turn off the kart if needed), a throttle potentiometer (connected via your regular throttle cable and pedal), and a contactor (designed with features to control and suppress the arc produced when turning on/off heavy motor currents).  Once all of these got mounted and wired together properly, I was able to get power to the motor controller and hear my new evKart hum for the very first time.  Needless to say, this brought a smile to my face after all of the hours and hard work I had put into this project so far.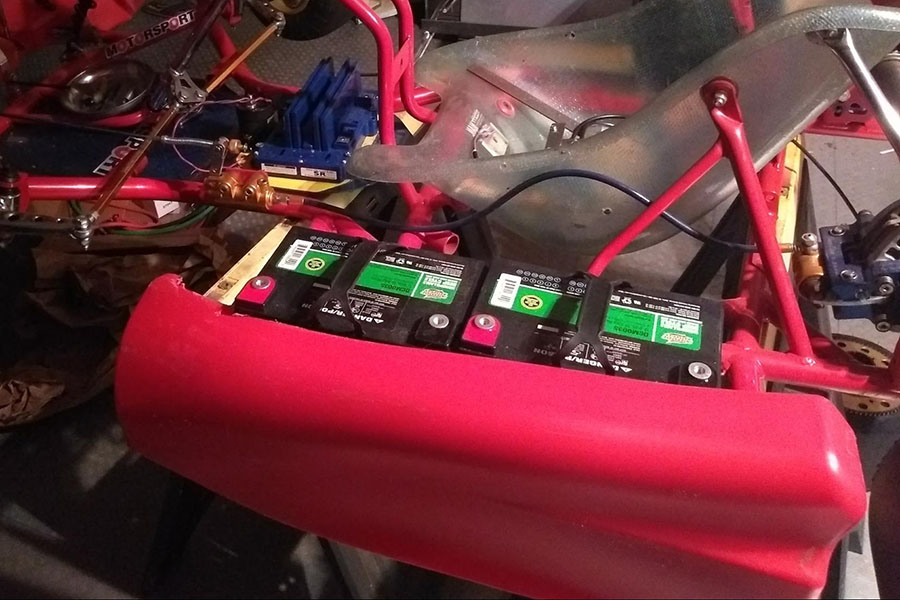 In my next installment of my blog, I will detail my initial testing and Makers Faire Assembly that took place at Templeton High School towards the end of my school year.