Kosmic Kart: Filed the European Championship for OK-OKJ Categories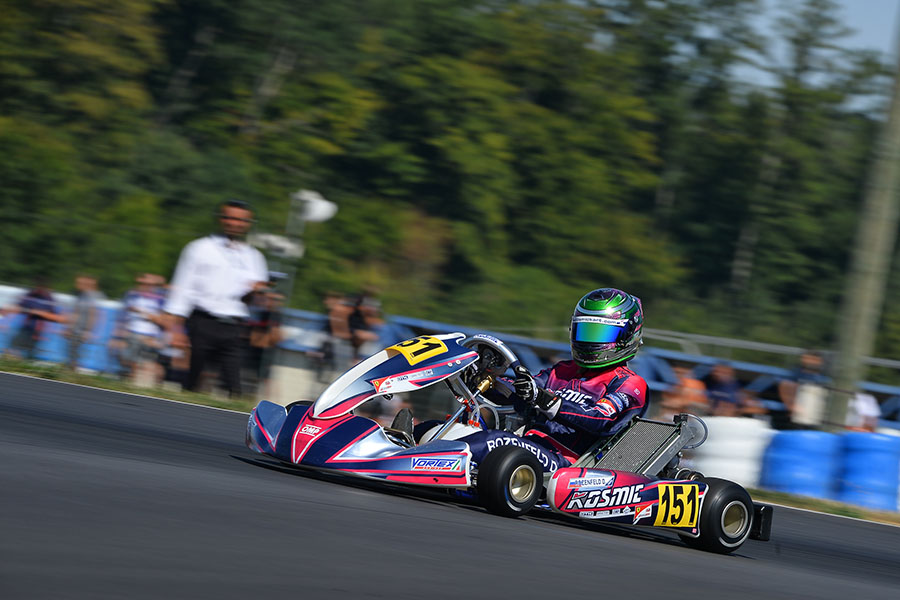 At the French circuit of Essay, seat of the last European Championship for OK-OKJ categories, the Kosmic Racing Department could not give its best due to some collisions in the final.
The spotlights at the Essay circuit are off, at the French track which on the weekend of August 2nd-5th gave life to the Kart Grand Prix – France, the last round of the CIK-FIA Karting European Championship for the single-speed OK and OKJ categories. An appointment that did not bring good luck to the Kosmic Racing Department, since the performances of the drivers of both categories were influenced by some collisions that have vanished the work and performance shown during the whole weekend.
In the Senior category, the trio made up of Roman Stanek, Viktor Gustafsson and David Rozenfeld shows the potential of our material during the heats already. Stanek, winner of the first round of the European Championship held in Sarno, progressively improves and hits a sixth and a fourthposition. Gustafsson imitates him with a sixth and an eighth place that gives him a hope for a leading final, but unfortunately ends earlier than expected for both.
Roman and Viktor, in fact, remain victims of a multiple collision at the curve number 3, during the first lap.
Luck does not even help our drivers in the Junior category. Rafael Camara manages to stand out since the beginning of the weekend: with the tenth timing in the qualifying, the Brazilian driver continues to grow until he reaches an important bronze medal in the eliminatory heats, in view of the decisive race of the weekend. His comeback to the important positions, however, is interrupted by a collisionduring the 13thlap, which takes him off the track and put him out of the track and make slip to the bottom of the group. At the end, he will cross the checkered flag only in 17thplace, a result definitely not up to the performance shown from the Friday's free practice.
The performance of the Mercury S/Vortex chassis is very clear also thanks to the fifth place in the eliminatory heats of David Hadrien and thanks to the extraordinary comeback of Jak Crawford and the Russian David Rozenfeld. The next competitive race for these drivers will be the World Championship for the OK and OKJ categories, at the start on the weekend of September 20th-23rdat the Swedish Kristianstad circuit. The Kosmic Racing Department, on the other hand, will be back on track on the weekend of September 6th-9th, when the Genk World Championship of the KZ class and the International Supercup of the KZ2 will start on the Belgian Genk circuit.