Rosberg Racing: Looking Forward to the World Championship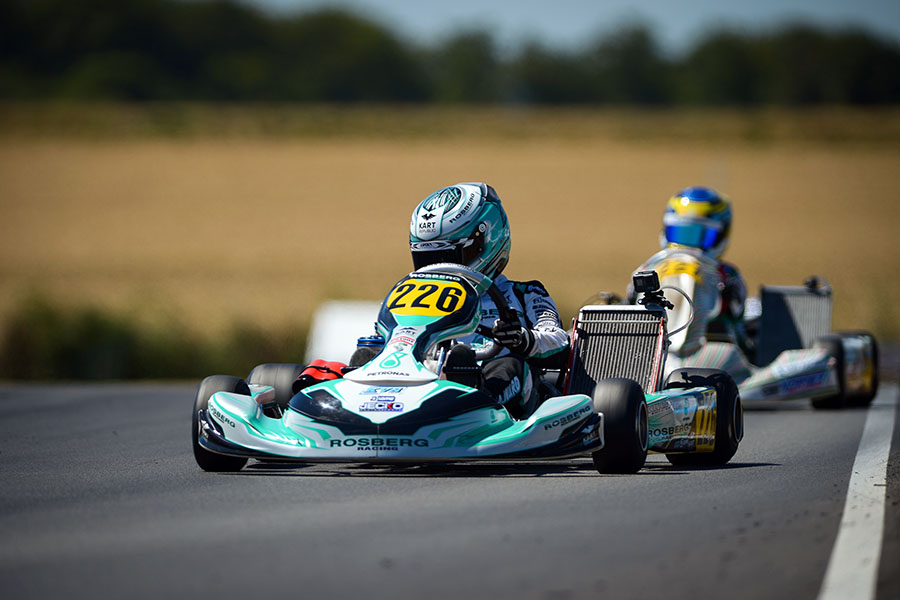 The creation of Rosberg Racing with the suppprt of Petronas and Arexons was only a few months ago. However, this team conceived by Nico Rosberg, Formula 1 World Champion in 2016, has already found its place in the paddock of international karting. Throughout the European Championship, Lorenzo Travisanutto in OK and Taylor Barnard in OK-Junior have been constantly visible. At the French Kart Grand Prix at Essay, this was still the case. Success did not reward the performance by the Italian and the Briton in the Final, but they know that they will be some of the favourites at the 2018 World Championship at the wheel of their KR-Parilla karts.
A success in the heats, then disillusionment
A great protagonist of the first three events of the European OK Championship, Lorenzo Travisanutto experienced ups and downs in France. His 4th place in Timed Practice out of a total of 64 drivers and his victory in a Qualifying Heat seemed to suggest that another podium was in sight for the already familiar Rosberg Racing driver. Unfortunately, several incidents thwarted his progress.
"I still had the opportunity to score major points and finish the Championship in the top five," said the Italian. "But the Essay track didn't  facilitate overtaking and some competitors took too many risks in passing, which caused accidents. Moreover, in the Final, two drivers crashed just in front of me. I could not avoid them and had to retire."
Looking to the future …
In OK-Junior, Taylor Barnard finished with the absolute fastest lap of the event with 46″691! The Briton was very fast throughout the meeting, which resulted in a 2nd in the second heat, as well as a 4th, a 9th and unfortunately a retirement after an incident that involved several drivers simultaneously. "Without this unfortunate setback, Taylor would have had the opportunity to start in 8th in the Final, which would have changed the face of his race," his team regretted. "He then found himself in the middle of the pack and could not avoid another clash in this rather rough Final."
It was all the more unfortunate, as Taylor Barnard's time in the Final was good for Rosberg Racing. "The KR Motorsport team worked very hard to make my KR-Parilla perform well and the end of the championship is not exactly what I was hoping for. I have revenge to take, eagerly awaited at the World event!"
"With Rosberg Racing, Petronas, Arexons, KR Motorsport and the engine manufacturers preparing our IAME Parilla, everything is in place to realise our potential in the second half of the season, including at the World Championship in Sweden in September," said Dino Chiesa, the team manager.